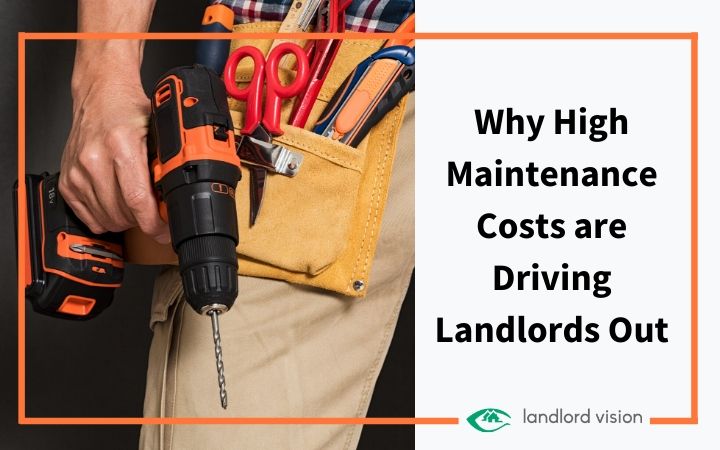 New research commissioned by the Telegraph has found that rising property maintenance costs are crippling many landlords, forcing them to leave the buy to let sector or target more profitable tenants.
The average landlord spent £1,443 on property maintenance last year. At least one ended up spending more than £7,500 on unexpected repairs. These costs are eating into an already meagre profit margin, which is unsustainable in the long-term.
The High Cost of Plumbers, Electricians, and General Trades
The Telegraph research, carried out by Aldermore Bank, discovered that 51 percent of landlords had hired a plumber in the last 12 months. Typical repairs included broken showers and pipe issues. 47 percent had to hire an electrician, who don't come cheap, and 40 percent of landlords needed general trades to do odd jobs. Other costs included cleaning and roofers.
Letting Agents are the Biggest Cost for Landlords
Landlords spend, on average, £1,125 a year paying someone to manage their properties. That's a lot of money!
These costs, in addition to government tax regimes targeting the private rental sector, are making it hard for landlords to make a profit.
One South Yorkshire landlord with a large portfolio of 24 properties is selling up. He says buy to let is no longer profitable for him and he's disposing of his properties when he can.
"I barely made a penny last year, and I'll make even less next year," he told the Telegraph. He's advising new landlords to stick to newer properties, which cost less to maintain.
"The costs go up every year, I just spent £1,800 installing a new boiler. If I was starting today I wouldn't have bought 24 old properties, I'd have bought 12 new properties instead."

The High Cost of Older Housing Stock
Many landlords own older housing stock, which is often cheaper to buy, but older properties are far more likely to have issues such as damp, faulty electrical circuitry, and suspect plumbing. Insulation is often poor too, and with the MEES requirements coming into force in April of this year, that's another expense cash-strapped that landlords have to worry about.
It is Doom and Gloom for Landlords says NLA
The National Landlords Association (NLA) says the situation for landlords is bleak and 25% of its members plan to sell up this year.
"The typical landlord is wrongly portrayed as squeezing vast profits from their rental property," said Richard Lambert. "Most make a profit – 84pc according to our figures – but their profit margin has been falling in recent years."
How to Make a Profit
Landlords are being forced to find innovative ways to make a profit in the private rental sector. Some are looking at short-term letting instead of traditional long-term lets, as this can often be more profitable in popular areas. Others are deciding to let out HMO's because of the higher profit margins.
The NLA says its members are offering extras in a bid to attract tenants. From a bill management service to paying for super-fast broadband and festive gift baskets, the fewer void periods a landlord has, the more profitable his properties are.

The Number of Homes in the PRS is Falling
ARLA is warning that the number of available properties in the private rental sector is falling alarmingly. It says there are now 46k fewer properties on the market, and this number is expected to exceed 200k in the long-term as more landlords leave the sector.
With fewer private rented houses for long-term tenants, the choice will be limited, and many people will end up without a place to call home. This is bad news for everyone, and with social housing in short supply, there could be a housing crisis looming.
Are high maintenance costs crippling your buy to let business? Have you switched to a different buy to let business model to maximise your profits? Let us know in the comments below. You can also contact us on Twitter.
Read More Like This: