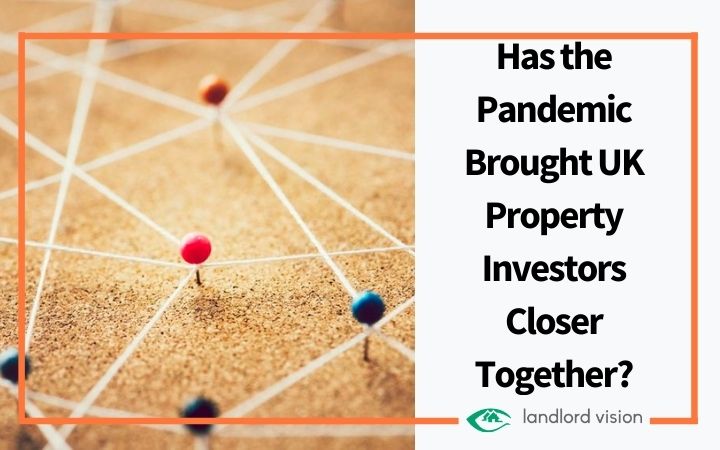 The business of investing in property to let in the UK has always been divided in several ways. The question is – Has the Pandemic caused further divisions or has it brought property investors closer together?
London V the Rest of the UK
The capital of most countries tends to be a micro market and London is a good example. For as long as I can remember London has been seen as a safe bet for both tenant demand, a good rental income and good capital growth. We have often seen a property trend beginning in London and moving out to other parts of the country.
Over the last 12 months London has seen an exodus of both long term tenants and of visitors who often take medium-short term lets. There has been a reduction in interest from investors and property values have dropped, as have rents.
In March this year the 'Home' website reported:
"rental values continue to crash in the Greater London lettings market due to oversupply; rents are down 18.6 per cent year-on-year although several more central boroughs registered reductions in the average rent of 30 per cent. By contrast, unprecedented scarcity is evident in all other English regions, Scotland and Wales, thereby driving up rents.
Meanwhile, London is seemingly a world apart. Cut off from international visitors and haemorrhaging residents to less urban climes, rents are in freefall. Correspondingly, as yields collapse, this places downward pressure on prices"
Also in March Zoopla (always interesting) released some information:
"The proportion of homes for sale that were previously rented has been on a steady upward trajectory in all regions of England and Wales during the past year, according to our latest House Price Index.
The trend has been most pronounced in London, where 13% of homes being marketed for sale in the last three months of 2020 were previously rented, while it is also strong in the south east.
…… as people look for larger properties in commuter zones or well-connected towns. The rise in demand in these areas is pushing rents higher, with the average cost of being a tenant in the UK, excluding London, increasing by 2.3% year-on-year, putting rents back to pre-Covid levels."
We can conclude from this that the divide between the London property market and the rest of the UK remains but has been reversed. The big question becomes –
What Will Happen When the Country Opens Fully for Business?
Working from Home – You either love it or hate it, it seems, but many companies will be looking at the savings from having some sort of home working even if it's only part of the week for part of their employees. The potential savings are enormous, which brings us to another divide in the UK property market but I will talk about that later. Personally I think that it's unlikely that we will see a return to working away from home on the scale that we had before the pandemic.
A report by Alan Felstead (Cardiff University) Darja Reuschke (University of Southampton), HOMEWORKING IN THE UK: BEFORE AND DURING THE 2020 LOCKDOWN
"The proportion reporting that they worked exclusively at home rose eight-fold from 5.7% of workers in January/February 2020 to 43.1% in April 2020 and, even though it had fallen by June 2020, it remained high (36.5%).
The surge in homeworking triggered by the lockdown in the UK was experienced most strongly by the highest paid, the better qualified, the higher skilled and those living in London and the South East.
Two fifths (40.9%) of home workers reported that they were able to get as much work done in June 2020 as they were six months earlier. Over a quarter (28.9%) said that they got more done, while 30.2% said that their productivity had fallen"
In my opinion their productivity would have been improved had children been in school. Many parents were juggling working from home with parenting and home schooling and, as every parent knows, if they can see you they "need" you. Having worked from home since 1981, rearing two children with a husband who was usually away during daylight hours, it's a difficult balancing act – and that's without home schooling. When the children are back in school, home working parents will begin to feel the benefit of not having the commute, having to dress up, make-up, hair ………. This brings us to a big plus – being able to choose where to live without basing it on commuter times and that will change the property market in many ways for both sellers and landlords.
Residential V Commercial
I have never been tempted by commercial property investments despite many colleagues telling me how much easier it is than residential. I'm guessing that many of them have struggled during lockdown as many of their tenants were unable to trade and some will never open again. I know from speaking to two people in paticular during lockdown that they have changed their business practices and do not intend to change back. One young woman got onto Facebook to start her new business and has built up a great fresh meat delivery service while she was on furlough and her parents were forced to close their wholesale butchers. She has already given up her original job and is going from strength to strength. I will not be going back to supermarket meat and I'm sure that many others will be happy to continue to have their fresh meat delivered to their doors. I'm wondering now whether her parents will reopen their wholesale premises and if not how likely is the landlord to find a new tenant?
The second person who has permanently closed her shop in the centre of town is my beauty therapist; she is making more money working alone (when she was allowed to open) from home and no staff to worry about nor overheads to pay. Her clients have no parking charges and are happy to go to her home. High Street shops are going to be very difficult to rent for the foreseeable future.
There will probably be a lot more commercial/retail properties converted to residential over the next few years which will mean more competition for those who let to younger people who may enjoy living in smaller town centres where they previously could not afford to rent, especially if they also work close to those towns
North V South
Properties in Manchester and Edinburgh are renting in 25% less time than in 2019 where London flats are taking up to 20% longer, houses are holding their demand but only renting 13% quicker than in 2019.
In Greater London rents have dropped by 8.3% but only 1.8% in Edinburgh and 0.9% in Greater Manchester.
Full details of winners and losers in the current rental market.
There is no doubt that there will be some recovery – London is London and will always attract investment in my opinion, but just how long the recovery will take and what the rental market will look like in the central areas remains to be seen.
Capital Growth V Instant Cash Flow
This is the subject that I love to discuss with other landlords. Until this century I had not heard of a person expecting to "replace their income in a year" I guess it depends on what you do for a day job, how much you enjoy it and how much you earn. I have seen a lot of people disappointed by the fact that this is not as easy as they have been led to expect and I have seen people do very well with cash flow.
I am still of the mindset that you can have both cash flow and capital growth but it takes time. There was a good expression, which would horrify many investors these days, "as long as it washes its face" that was the criteria for buying a property to let. So long as the expected rent would cover the cost of buying the property, preparing it for rental, furnishing (optional), insurance etc., it was worth buying. This was in the days of 10% interest (after the term Buy to Let had been coined) because before that the only option was a business loan from the bank at rates as high as 18%.
As time passed the rents would rise and the loan would be paid off, often early by using the rent we had saved, (shock horror, yes we paid the loan off and rarely refinanced) and the income would either fund another property or a better lifestyle but we would keep working. When interest only buy to let loans appeared we just saved deposits more quickly and bought more houses, at this point we would borrow as much as possible often 100% because we were earning a wage in addition to our rental income and repayments, even at high rates, we were not a concern for the lender or the borrower.
The Cash Flow V Capital Growth discussion is a 21st century subject with many people who have only been investing in property for a decade or so, believing that they are right to withdraw as much cash as they can and refinance on a regular basis so that none of their cash is left in the investment. I can understand the philosophy of living today but I cannot understand how they intend to repay what they owe?
I understand that their properties will increase in value but HMRC will take a chunk of that increase and I have seen several people come to the point when they want to leave the business but they are trapped between what they owe the lender and their tax bills which will not be covered by the sale of their properties. There must surely be a point at which the loans are repaid and the properties continue to be let in order to build up a pension fund or to become the pension pot?
The old school method meant that we decided when we had enough income we stopped buying, paid off the debt and lived on the income – often STILL working haha!! Those people who had done some smart tax planning and could either sell some properties to buy the finer things in life, travel…. Others were able to pass on some of their wealth to children and grandchildren but we had "the cake and the h'penny" both capital growth and cash flow albeit we waited a few years to achieve both.
The pandemic may have caused some issues for those who were depending on the cash flow for income, while still servicing debt and other costs, if tenants stopped paying rent or left the property and new tenants could not be found. Even a short period without income may have been a problem. For those who were not using the cash flow to fund their lifestyle it would have been easier particularly if they had a job and were provided with Government financial support. At the very least the lesson to be learned is to have a decent pot of money put aside to fund at least 6 months without rent and let's all hope that we do not see another pandemic in our lifetime.
I am sure that this is a discussion which could go on and on with each side thinking that they were doing the right thing – as long as it's the right thing for you – it is the right thing.
"High End" V Actually I Have no Idea!
I often read comments about "high end" HMOs but to be honest I cannot visualise what is actually meant by that term. I'm told en suite rooms are high end – aren't they quite normal these days? I expect this differs in different areas but one thing that I do know is that many new investors run away with the idea that they will attract "high end" rents without actually knowing any more than I do about the difference they need to make to achieve them.
The pandemic has changed what people are looking for and as landlords it's very important for us to keep up if we want to continue to attract and hold on to good tenants.
People reportedly now want:
Connectivity – Recently I heard mobile phones described as the "sarcophagi of our souls" what a brilliant description because, if we were not addicted to our mobile devices post C19, most of us are now, with many people over-sharing and others engaging with like minded people in discussions rather than losing contact with the world during lockdown. It cannot be overestimated the importance good connectivity has had on the mental health of many people and why this will remain at the top of a tenants criteria when looking for a property to rent.
I have changed my own internet provider and upgraded my package during lockdown where previously I swore that I wouldn't encourage an internet provider to charge so much – silly me! Losing signal in the middle of a Zoom meeting or seminar was something I had not heard of before lockdown.
More space Working from home or simply being confined to home after work has made people more aware of the space that they live in. Both more indoor and outdoor space is now wanted, according to Rightmove statistics 26% of renters want more home workspace, 84% more searchers want access to a garden. A bigger garden has appeared on the list and a two bedroomed house is now the most searched for rather than a studio which was top of the list before the pandemic.
Commuting time and Transport – Rightmove report a drop on the wish list which would seem to reflect the fact that many people do not expect/intend to return to 5/6 day a week working away from home. 27% of renters now want access to a parking space or garage
Something I was really pleased to see "Over half of people surveyed – 57% – said they feel there is now a stronger sense of community in their local area than before lockdown, something that we know from previous reports affects how happy people are living in an area." I believe strongly that when we, as landlords, invest in an area we are also investing in the community. We should do everything we can to ensure that our tenants are a welcome addition to that community and that begins when we start working on a property. We need to keep frontages clear, tell our contractors to be respectful of neighbours not to make unnecessary noise outside of normal working hours, not to make it difficult for them to park or to access their properties…
I pride myself that my rented properties only stand out from owner occupied properties that are not well maintained because my frontage, drives and gardens are maintained to the same high level as the inside and I ensure that my tenants understand the importance of respecting their neighbours.
If the pandemic has closed one divide I hope that it's the divide between landlords and other members of communities, not only because the value of our properties depends on the conditions of the properties and the communities around them, but also because we shouldn't drain where we could reinforce.
Read More Like This.