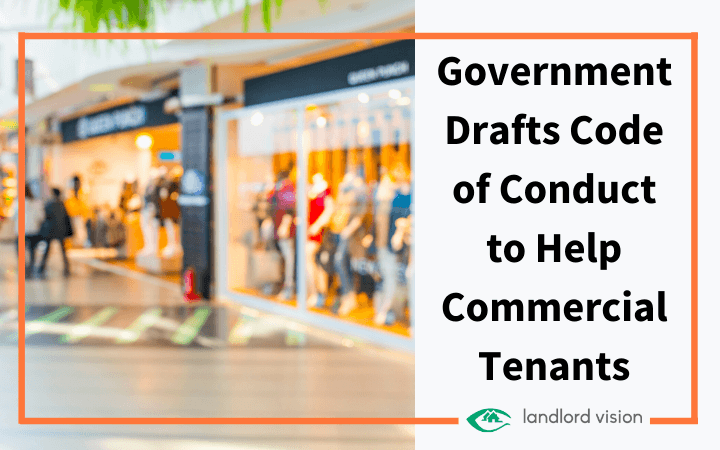 The government has drafted a voluntary code of conduct designed to offer protection to hard-hit commercial tenants, but critics say the plan is "toothless" and it won't protect tenants from aggressive landlords.
According to a report in the Financial Times this week, the draft states landlords and tenants must "…share property-related costs and business risks of the Covid-19 crisis in a proportionate and measured way".
Landlords Must Show Clemency
The gist of the code is that landlords must show clemency to beleaguered commercial tenants, who in turn must pay some or all of their rent if they are in a position to do so. However, it says commercial tenants should prioritise service charges like utility bills over rent. Both parties are expected to come up with a rent repayment plan, but the draft doesn't offer any further respite on evictions, which can recommence at the end of June.
Retailers and other commercial tenants say a code of conduct is entirely reasonable, given the current state of affairs, but they fear it leaves commercial tenants exposed.
The CEO of Waterstones says what retailers really need is:
"…statutory protection against aggressive tactics by landlords. As soon as the current protections expire, I think there will be some pretty serious consequences for smaller retailers in particular."
Commercial Tenants Can't Pay, Won't Pay
Many commercial tenants have been unable to pay their rents since the Covid-19 pandemic hit, as their sales have been virtually wiped out. Fast fashion retailer Primark is just one of many big names to have taken a huge hit to their balance sheet. The retailer withheld an estimated £33 million in quarterly rent payments the day after the lockdown restrictions were announced and its stores were closed. It pays around £125 million in rent each year but estimates that it is losing £650 million in sales for every month its stores remain shuttered.
Primark isn't the only retailer to withhold rent in March. Only around one-third of retailers paid their quarterly rent on time once an eviction moratorium was announced. The next tranche of rent payments is due at the end of June and landlords are expecting rent receipts for this quarter to be equally dismal.
Landlords Hit Hard by Coronavirus Restrictions
Covid-19 has hit commercial landlords hard – property giant, Shaftsbury, has reported a half-year pre-tax loss of £287 million, compared to the £38 million profit it made last year. As a result, it has been forced to devalue its property portfolio, which includes premises in Carnaby Street, Soho, and Covent Garden, by 7.9%. The company is trying to work with commercial tenants to come up with tailored payment solutions but has admitted it will only be collecting around 50% of rents due in the period March-September, and some of that will be paid in instalments over time.
While commercial landlords have cautiously welcomed the government's draft proposal, the British Property Federation says landlords need government grant support to protect them from "insurmountable challenges".
Ministers have not yet said whether the eviction ban will continue past June, but they have hinted that "other interventions" may be on the cards to help commercial tenants survive financially.
Have you been impacted by Covid-19 and the lockdown restrictions? Have your tenants been unable to pay their rent? Tell us about your experiences. You can contact us on Twitter and Facebook.
Read More Like This: