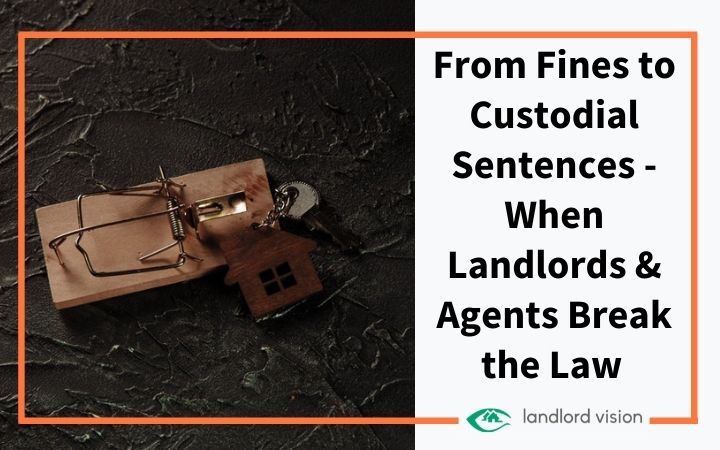 Still no sign of new legislation being introduced and the Government announced last month that the much anticipated Rental Reform White Paper will now not be published until 2022. It had been suggested that it would be published this autumn and I was expecting to write about it today but I'm not complaining; when it is published, I expect that there will be more than just the loss of Section 21 to concern us, but we will see.
I am going to remind you about some of the actions or lack of actions that could cost you a lot of money, reputational damage and possibly more serious punishment.
Beginning in my hometown –
Birmingham City Council Prosecutes Letting Agent for Unlawfully Evicting a Tenant
In this case, it was a Letting Agency that committed the crime of Illegal Eviction Under the 'Protection From Eviction Act 1977'.
The tenant had gone abroad having told the Agency and had arranged for the rent to be paid via a joint tenant. In the event, the joint tenant failed to pay the rent and had left the property. When the tenant was informed, she made the full payment. She also emailed the agency to say that she was coming back to the flat, which she did a month later, only to find that the locks had been changed and she could not get into the flat.
This case is interesting because it was a joint tenancy, and one member of a joint tenancy cannot end the tenancy for everyone during the fixed term, even with the agreement of the landlord. One member can end the tenancy for themselves if the tenancy has rolled into a Statutory Periodic Tenancy but that leaves any other joint tenants still with legal Possession. We can therefore assume that this tenancy had rolled into a Statutory Periodic and the remaining joint tenant, wanting to leave, gave notice and left. We can also assume that the Agency did not communicate with the returning tenant, that they considered the tenancy to have ended for both tenants, and had changed the locks. In the event, the Agency was found guilty Under Section 1 of the 'Protection From Eviction Act 1977' and was given a fine of £10,000 and costs and compensation of £4,308.59 a grand total of £14,308.59 plus their own legal costs – a very expensive mistake.
"If any person unlawfully deprives the residential occupier of any premises of his occupation of the premises or any part thereof, or attempts to do so, he is guilty of an offence unless he proves that he believed, and had reasonable cause to believe, that the residential occupier had ceased to reside in the premises."
Protection from Eviction Act 1977 (legislation.gov.uk)
The only way a tenancy can end legally is when the tenant, or all tenants if there is a joint tenancy in a fixed term, end the tenancy or 'A Court Order for Possession' is granted to the landlord. Non-payment of rent is grounds for possession but does not change the law, we must still go through the legal process and obtain a Court Order. 
Where there is a couple or a family, this also applies if all adults are named on the contract. Where only one adult is named, that person can end the contract on behalf of all occupiers. This is why it's good practice to name all adult occupiers on the contract. If the wage earner leaves, the rest of the family may be eligible for financial help to pay the rent through the benefits system, but there must be a contract with the claimant's name on it for this to happen. If other working adults remain in the property, they become liable for the full rent if they are named on the contract and in the event that you need to remove occupiers who remain in the property but are not named on the contract, it is not a straightforward eviction.
Evicting a Tenant Legally is A Process
Introduced in the Housing Act 1988 (since been updated) Sections 8 and 21 gave private landlords a legal method to evict a tenant, even when the tenant has done nothing wrong, but the landlord needed the property back (Section 21). These processes became very complicated and convoluted during the pandemic, but they are nonetheless processes which must be followed in order to get our properties back without breaking the law.
An easy guide for Landlords, including the Forms needed, is on the GOV.UK website here.
6 Months in Prison for this Landlord
Just a year ago, a landlord was imprisoned for 6 months for being in contempt of court after breaching an injunction. He illegally evicted his tenant after being told to desist by Nottingham Council and the police. He appealed but the appeal was rejected.
"During the national lockdown in March, the landlord had served a handwritten 'notice of eviction' to his tenants. There were allegations that he had tried to force the couple to leave by changing the locks, and in April he was formally warned by the council and Nottinghamshire Police that his behaviour could be seen by a Court as a criminal offence (Protection from Eviction Act 1977)."
Jail for landlord who breached harassment court order… (landlordtoday.co.uk)
Harrogate Borough Council Announces a Big Haul from Landlords Who Break the Law
Harrogate Borough Council issued a statement about the amount of money their landlords have been forced to pay when found guilty of various offences totalling £109,089 and penalties (without court action) £40,589. Most of these landlords had failed to comply with an 'Improvement Notice'. This is a Notice which is given to a landlord where a property is found with fairly low-level disrepair and if the landlord carries out the necessary repairs no further action is taken. In all these cases the landlord ignored the Notice. Some of them apply to notices served where the landlord had failed to comply with a condition of their Licence. Again, if the landlord complies, no further action is taken, therefore Harrogate Council are filling their coffers because landlords are "choosing" not to comply. A situation easily remedied.
In their statement, Harrogate Council also state that they have successfully defended every appeal made by a landlord against a Financial Penalty.
The council issued the statement following a fatal stabbing, which took place in a PRS property which was used by the council to house people who are homeless. There had been 255 reports to the Police because of activities in this property. This property was very much on the radar of local enforcement, and yet a man has lost his life. It begs the question why are they concentrating on fines for low level issues and not putting their resource into a property which clearly needed to be micromanaged either by the council or by the landlord owner depending on the contract between them?
Harrogate council fines landlords more than £100,000 over safety issues – The Stray Ferret
Rent Repayment Orders – for How Much?
A Rent Repayment Order is awarded against a landlord who has broken the law and the legislation limits the amount awarded to 12 month's rent. This can be paid to a tenant/tenants or a local authority who made the payment.
There has recently been a case which was appealed by the landlord, and which has now set a clear guide to how the amount of the RRO is arrived at.
"We knew it was coming, but this presents a whole fresh set of issues for Rent Repayment Order applications.
The FTT will have to assess the appropriate amount of an RRO with a view to the s.44(4) factors
(4) In determining the amount, the tribunal must, in particular, take into account –
(a) the conduct of the landlord and the tenant;
(b) the financial circumstances of the landlord; and
(c) whether the landlord has at any time been convicted of an offence to which this Chapter applies."
Rent Repayment Orders – not ALL the rent. – Nearly Legal: Housing Law News and Comment
There had been a previous case where joint tenants made applications for repayment of 3 years of rent despite having only paid 1 year of rent. This was on the basis that the landlord has committed 3 offenses each of which was liable for a RRO. This case has made it clear that the legislation called for repayment of rent which had been paid, and therefore, regardless of the number of offences, 12 month's rent was the maximum not the starting point. Point a) above is also important because tenants can leave a property with damages and still expect the court to award them the full RRO which is unacceptable.
Banned Estate Agent Given Custodial Sentence
While we need to take care to comply with the law, we should also do due diligence to ensure that anyone that we do business with is also legally compliant, in order to protect our own legal rights. We are going back to the West Midlands for the last case.
"A banned West Midlands estate agent has today been sentenced to a custodial sentence of six weeks, suspended for two years, and fined £4,000 at Wolverhampton Crown Court after pleading guilty to unlawfully engaging in estate agency work.
Between August 31 2016 and November 13 2020, a man deceived customers by continuing to work as an estate agent despite previous convictions for fraud and breaching consumer protection regulations.
Investigations found that Love Your Postcode Limited provided valuations to several consumers which were lower than the "For Sale" price, more often to the sum of £10,000 less, to which Love Your Postcode Limited would retain as a "Performance Fee" as well as the usual commission."
Banned estate agent given custodial sentence… (estateagenttoday.co.uk)
Calls for More Regulation of the PRS
A National Landlord Registration Scheme has been on the agenda of Generation Rent again. Personally, I can't see a problem with this since we already have a legal obligation to provide our tenants with an address in England or Wales for services of Notices. At the same time, I can't see the benefit of this either. Especially a benefit which might justify the cost of maintaining the register. According to Baroness Kennedy, the leader of Generation Rent:
"landlord registration would give enforcement authorities valuable intelligence about this sector, making it easier to inform tenants of their rights, and prevent criminal landlords from renting out homes."
This is a theme, whenever a proposal to introduce MORE regulation of the PRS is suggested, it is always to help enforcement against criminal landlords, and in my opinion, it is time all local authorities were asked to run an audit of their enforcement activities under current legislation. We need to know what is actually preventing local authorities from taking action against these landlords. They now have penalties which require no court action, Rent Repayment Orders when tenants report their landlords for not having a Licence when they should, Information from Deposit Protection Schemes about which properties are rented, EPC register which indicates the condition of a property.
On the Subject of Energy Performance Certificates
"In June 2019, parliament passed legislation requiring the government to reduce the UK's net emissions of greenhouse gases by 100% relative to 1990 levels by 2050. Doing so would make the UK a 'net zero' emitter. Prior to this, the UK was committed to reducing net greenhouse gas emissions by at least 80% of their 1990 levels, also by 2050."
Source: UK net zero target | The Institute for Government
There are proposals to increase the Penalties for renting a property which is below the required EPC standard from the £500-5000 at present to £30,000 if we fail to meet a C in 2025.
"The Government has committed to upgrading as many homes as possible to achieve EPC band C by 2035 where cost-effective, practical and affordable, and committed to reducing fuel poverty by ensuring as many fuel poor homes in England, as reasonably practicable, achieve a minimum energy efficiency rating of band C by the end of 2030. We have also consulted on driving energy efficiency improvements in the private-rented sector and aim to publish a response before the end of the year."
That response will no doubt deal with issues like the amount of money private landlords are expected to spend on a property before we can claim exemption.
At the moment, we must spend up to £3,500 on energy improvements on a single property while trying to reach an E before we can claim exemption. It is rumoured that they plan to increase that amount to £10,000 before we can claim exemption. Both amounts can include spending on energy efficiency measure since 2017.
It is probably time for us to get our EPCs out and read the recommendations made to increase the rating because another way to become exempt is to carry out all the measures listed. If that fails to get the property up to an E (or perhaps we need to reach for a C) we can claim exemption.
This would put the cat among the pigeons
Possibly of more concern than anything else, at the moment, was the inclusion of another way to enforce compliance. In Heat and Buildings Strategy Presented to Parliament by the Secretary of State for Business, Energy and Industrial Strategy by Command of Her Majesty October 2021, link below. The government plan to ask mortgage lenders to disclose the energy performance of their portfolio and may introduce "voluntary" targets to improve the energy performance of those portfolio to average C by 2030. This would put additional pressure onto borrowers, especially since exemption won't help the Lenders averages and may not be acceptable.
Heat and buildings strategy (publishing.service.gov.uk)
Read More Like This.