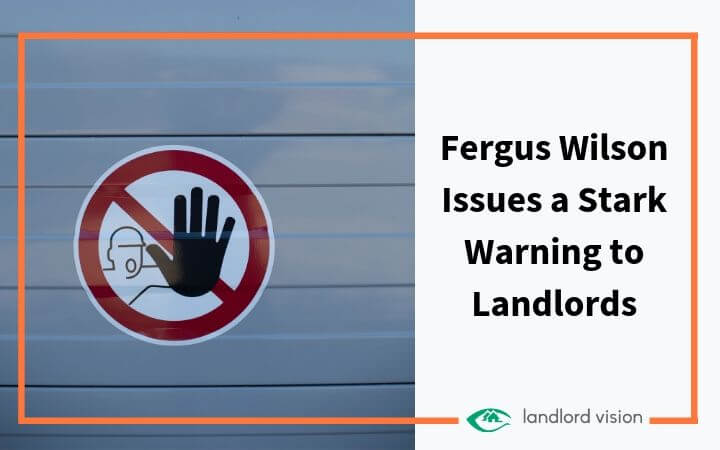 Fergus Wilson, Britain's most experienced landlord, has issued a warning to landlords. He believes that Labour and the Conservatives are committed to working towards lifetime tenancies in a nationalised private rental sector. Wilson thinks the scrapping of Section 21 notices is a step in that direction and he's not impressed.
Wilson warns that lifetime tenancies would be a disaster for private landlords.
Pre-1989, lifetime tenancies existed whereby a tenancy could be passed down from one generation to the next. This meant a landlord couldn't evict a tenant unless they broke the terms of their tenancy agreement. Therefore, they couldn't liquidate their property asset until the tenant was good and ready to move out.
Long-term Tenancies are Desirable for Landlords
Most landlords are happy for good tenants to stay put. Long-term, reliable tenants mean less hassle for a landlord and guaranteed rental income. Wilson says the government is working on the assumption that many tenancies end after six months when a landlord issues a Section 21 notice. But this isn't true.
Tenants stay, on average 4.5 years in a rental property. And in most cases, it is the tenant who elects to move on, not the landlord asking them to leave. Wilson cites examples from his own portfolio to make his point. He says he has tenants living in his houses who moved in 15 years ago and are still there, more than happy with the arrangement.
"The word Politician is a 'dirty word'," says Wilson. "You cannot believe a word politicians say. When they speak think of Pinocchio. You are swimming with sharks!"
Cast Your Vote!
Wilson advised landlords to exercise their democratic right and vote in the European Elections. Wilson claimed if enough people were to vote against the two main parties, it might make them sit up and reconsider their policies. Otherwise, the private rental sector will become even less inviting for landlords, many of whom are already selling up (including Fergus Wilson!).
What are your thoughts on the Section 21 consultation? Tell us in the comments or connect with us on Facebook or Twitter!
Read More Like This
Fergus Wilson's Entire Property Empire is up for Grabs
Stories That Will Make you Weep – The Worst Landlords and Tenants of 2018
Big Brother Landlords are Spying on Tenants