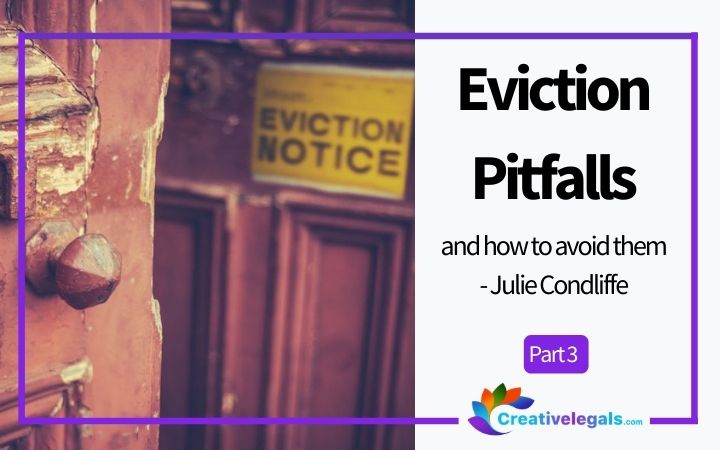 Thankfully, the UK Government finally lifted the eviction ban. Lifting the eviction ban resulted in a lot of eviction traffic to the Court. The increased influx of traffic has worsened the delays in dealing with the evictions as a result of the recently lifted eviction ban. Of course, there had already been court delays occasioned by the COVID-19 constraints.
Below is the standard message you now expect to receive when emailing the Court:
AUTO RESPONSE DO NOT REPLY – CCBC AQ Acknowledgment
COVID- 19 Update;
Due to COVID-19, we may take longer to answer your calls and correspondence and to process claims. We are sorry but, to prioritise urgent work, we cannot provide updates on how your case is progressing.
The County Court Business Centre are currently working a 50/50 split of available staff resource, a week on, week off system to safeguard our team and to comply with social distancing, in our commitment to delivering an ongoing service to our customers.
If you should have any queries please forward to CCBC@JUSTICE.GOV.UK
Thank you for emailing the County Court Business Centre, please accept this as a receipt of your email. Where a response is required we will endeavour to respond to your email within 10 working days (please do not re-send duplicate messages)
If you've submitted a complaint, please note that the Court will aim to reply within ten working days. (please do not duplicate complaint
These delays, whilst inevitable, are costly for landlords. Costly in continued unpaid rents and legal costs. To save time and money, we must avoid eviction pitfalls that could result in further delays, loss of rental income and increased costs.
Property investment is a journey. To avoid the pitfalls in our path, we learn from those that have trodden the path before us. Learning from other landlords' mistakes can save you making the same mistakes. This, in turn, could help save you time, heartache and money.
The primary eviction pitfalls relate to the validity of the actual eviction notice. It makes sense to focus on the five common complaints on the validity of eviction notices as they cause the primary pitfalls. As a natural consequence of considering the said common pitfalls, we will also cover other ancillary matters in the chain of causation.
What Makes Eviction Notices Invalid?
Validity, or rather invalidity of notices, is commonly caused by:
1. The wrong notice
2. The wrong notice period
3. The wrong address
4. The wrong timing of service
5. The wrong time limits
6. The wrong…. oops. The list of wrongs seems to be unending. We said we are focusing on five issues, right? So, let's do that.
We address each point in turn:
Wrong Notice Served
Serving the wrong notice could be fatal to a landlord's eviction claim.
Different tenancies require different types of notices. The exact procedure is dependent on the tenancy type and tenancy terms. Our current focus is on Assured shorthold tenancies (ASTs).
There are two primary types of ASTs. Fixed-term tenancies and periodic tenancies. Fixed-term tenancies run for a defined period of time: for example, six months. Periodic tenancies run periodically: for example, week by week or month by month with no fixed term end date.
A landlord can use a section 21 notice to take back possession of a property after the fixed term has expired subject to defined prerequisites, which we discuss in a separate article. A landlord can issue a section eight notice any time if the tenant has breached the tenancy terms and the relevant eviction grounds are met.
Landlords must comply with all pre-conditions and ensure the correct notice is served.
Wrong Notice Period
Giving the correct notice period is imperative to a successful eviction. Eviction Notice periods have changed.
The eviction notice periods are now longer due to Coronavirus (COVID-19). This applies to section 21 notices and section 8 notices. The specific notice periods do differ.
A timeline of the notice period required for a section 21 notice is as follows:
The eviction notice period before 26 March 2020 was two months
The eviction notice period from 26 March to 28 August 2020 was increased to three months
The eviction notice period from 28 August 2020 doubled from three months' notice to six months.
Outside the section 21 notice world, the position has changed differently. It is worth noting, albeit in passing, that some notice periods have returned to their pre-Coronavirus Act 2020 lengths. This does not directly relate to the subject matter in hand but covers issues of serious concern requiring immediacy of possession.
In section 8 matters, where at least six months of rent is unpaid, a minimum 4-week notice period will be required. If less than six months of rent is owed, then the notice period is six months. Where a tenant has passed away or is in breach of immigration rules and does not have a right to rent a property in the United Kingdom, then a minimum 3-month notice period is usually required.
A 6-month notice period is required for all other grounds
Wrong address for service of the eviction notice
Any mistake on a notice could invalidate it—even an error in the address. Please ensure you pay attention to the address for service contained in the tenancy agreement. An address for service often is but is not always the residential address.
The Wrong timing of service of the eviction notice
Subject to satisfying the relevant requirements of the requisite eviction grounds, a section 8 notice can be served at any time during the tenure of the tenancy.
A section 21 notice, however, cannot be validly served within the first four months of the tenancy. Timing is crucial.
The wrong time limits
The notice won't be valid if it's too short or the landlord applies to Court too late.
Last week, a client instructed us to issue possession proceedings. The client was confident that the section 21 notice served was valid. A copy of the redacted notice is exhibited below (with the client's permission). This seems to have become a common mistake in light of the recent changes.
Competition time
Can you spot the mistake in the notice?
A Form 6a application for eviction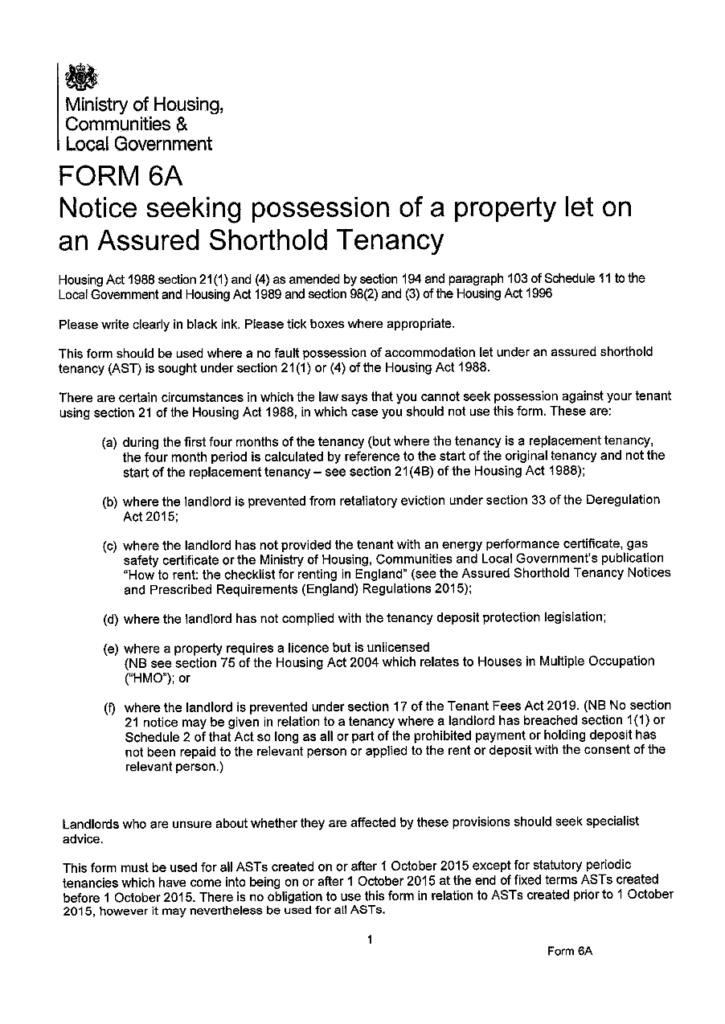 The second part of a Form 6a application for eviction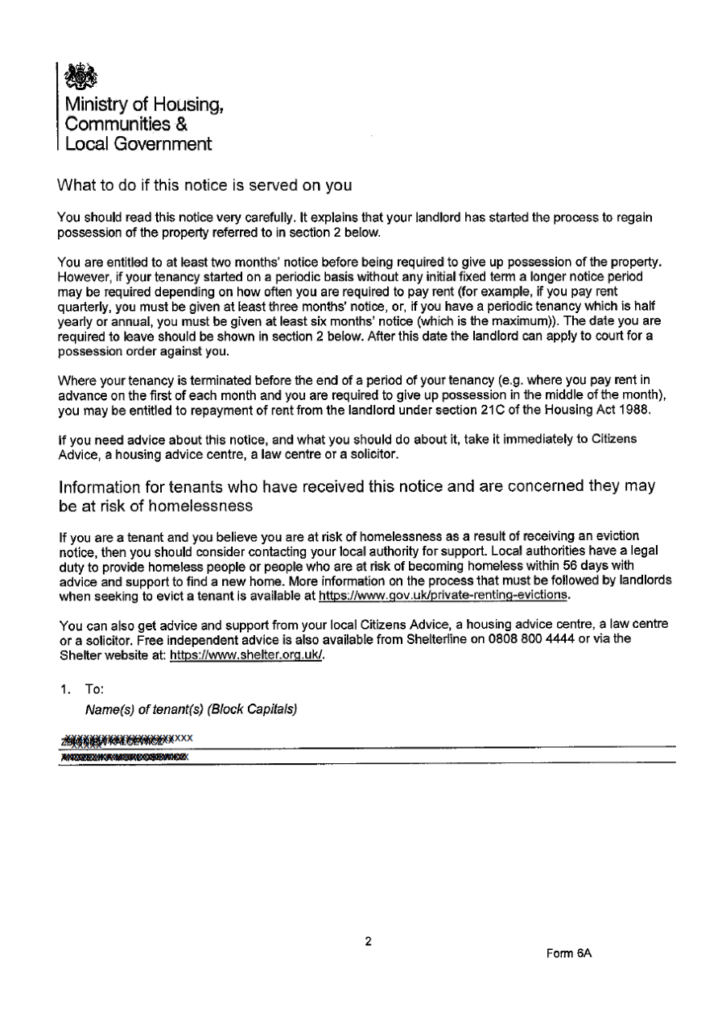 "The third part of a Form 6a application for eviction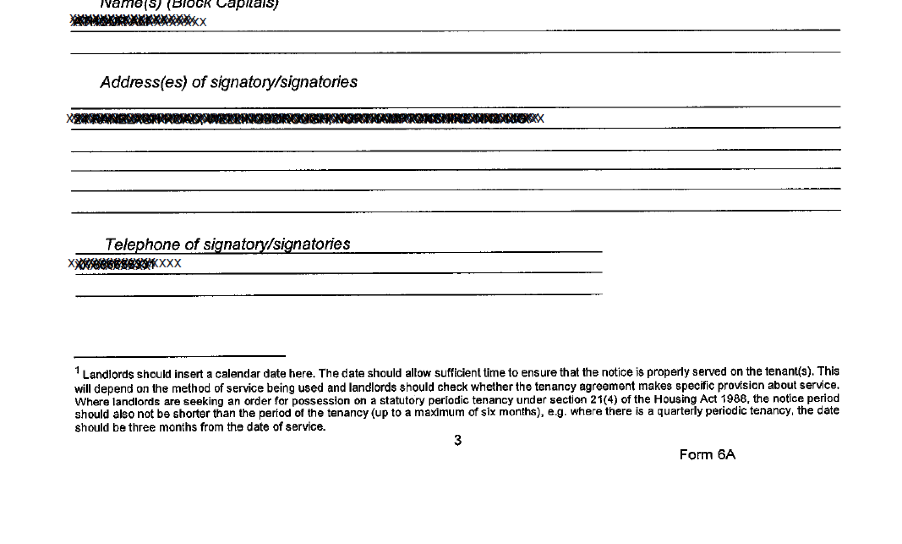 Read More Like This.