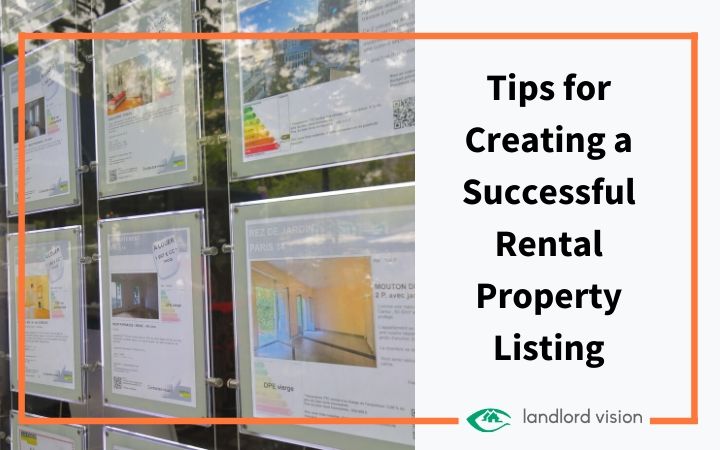 Property listings are an important part of a DIY landlord's journey. Without a suitable listing, you are unlikely to find a tenant. Sadly, it's not often that tenants come along out of the blue and offer to rent your property. In most cases, you'll need to do a bit of legwork. This usually involves creating a property listing for sites like Zoopla, Rightmove, Rentify, and Airbnb. So far so good, but unless your listing ticks all the right boxes, it may not yield much joy.
To find tenants, you need to create an attractive, factually correct rental property listing. In this guide, we are going to walk you through the process. We'll cover the dos and don'ts of writing persuasive property advert copy, as well as giving you some handy tips on photographing your rentals.
So, grab a cup of coffee, find a comfy chair, and read on!
Property Listings 101
There is a big difference between buying and renting a property. Prospective buyers are willing to overlook some things. Poor décor, old carpets, and a listing that says "needs some work" are not always deal-breakers as some home owners will look for a 'do-er upper'. Tenants, on the other hand, have specific wants and needs, so your rental listing needs to make it abundantly clear what's on offer and for how much.
Property Listing Headlines
Depending on where you advertise your property, the headline may or may not be the first thing a tenant sees when they are searching for a new home. On the larger sites, photos take precedence, but on Facebook and listing websites like Gumtree, you need to craft a good headline to catch a tenant's eye.
Headlines should be catchy. Try to capture the reader's attention (in a good way). To do this, decide what the main selling points of your property are and distil them into a single headline. See below for examples:
Spacious 3-bed semi in popular school catchment area – £1150/pcm
NO DEPOSIT house-share close to university – £88/pw
Newly renovated terrace – ALL BILLS INCLUDED – £650/pcm
CHEAP one-bed flat close to station – £300/pcm
All of these headlines offer things a tenant might be looking for. Families want homes near good schools, students want to live near campus, and young professionals want a reasonably priced home near public transport links.
Write down a list of unique selling points. Pick the most desirable and use them in your headline. Avoid adding too many extra words. Keep it short but eye-catching.
Don't forget to include the monthly or weekly rental costs, and whether it includes bills. This is often the main criteria used to sort through property listings.
Photos for Your Property Listing
Photos are the most important aspect of a property listing. Great photos draw the viewer in and encourage them to click on the main ad. Terrible photos are a huge turnoff and could make it much harder to find a tenant.
Before you start taking photos, make sure the property is photogenic. It should be clean and tidy inside and outside.
Ideally, take photos of the property before you let it for the very first time, especially if you have just completed a full renovation and the carpets are new. You can re-use these photos for future listings (unless anything has changed significantly in the meantime).
Indoor property photos
Use a tripod and a decent digital camera to take photos. If you don't have a good DSLR camera, it's OK to use a smartphone, but be very careful to avoid taking blurry photos. And give the filters a miss!
Look for the best viewpoint in each room. The idea is to convey a sense of space. Turn the lights on if it's an overcast day. A dark house is very off-putting as it looks small and unappealing.
Take several photos of each room, so you can select the best ones for your listing. Add photos of key features, such as a log burner or high-quality built-in kitchen appliances.
If you have a high-end rental property, you'll need to go the extra mile. Dress the property with stylish furniture and artwork. It helps a prospective tenant to picture what the place would look like if they lived there.
Outdoor photos of your property
Try to wait for a sunny day before you take external photos. Most properties look better when the sun is shining, and the sky is blue. Try and avoid capturing too much of the neighbouring properties when you photograph the outside of the property. It needs to be abundantly clear which property you are letting. You don't want prospective tenants to show up for a viewing having fallen in love with the house next door!
Try and capture the garden from the best possible viewpoint. Move the bins out of the way. Add a bistro table to the patio – it's a handy way of showing that your property is a great place to entertain friends. Add a hanging basket or two or some pots of flowers.
Take photos of any features you want to promote, such as a fabulous view, a driveway, garage or summer house.
Edit your property photos
Download your photos on to a computer and use some editing software to enhance the lighting, crop out any undesirable bits, and adjust the tonal values and colours. Adobe Photoshop Express is free to use, but there are a few more software solutions like Gimp if you want to experiment. Remember that you shouldn't mis-represent your property in any of your photos. It's fine to adjust the brightness etc. but you want prospective tenants to see the property as it is.
Writing a Property Description
Photos and a headline grab the viewer's attention, but the property's description is just as important. This is where you detail everything the property offers for tenants, including location, number of bedrooms, bathrooms, and whether it has a garden or driveway.
If there are a lot of properties to choose from prospective tenants might not spend a lot of time looking at each listing. The listings that get attention are ones that have good photos and a headline that communicates the key selling features of the property. If the images and headline draw attention then the description is the next port of call for people interested in your property. If all the information up to this point meets the prospective tenants criteria they will likely read the listing in more detail.
Use bullet points to tell a tenant what main features a property has at a glance and make it easy for them to scan the listing. You can expand on these in the main description.
For example:
Four double bedrooms
En-suite shower in master bedroom
Downstairs toilet
Large garden
Gas central heating
Recently redecorated with new flooring throughout
In the body of the listing, go into more detail.
Mention every possible selling point, such as fitted wardrobes, integral appliances, new boilers, double-glazing, etc.
In your listing you should also include details of local amenities that will appeal to your tenant. For instance if you want to rent to professionals mention what kind of transport links are close by and how long it takes to walk to the train or bus station, mention close by shops and supermarkets and how long it takes to walk there. Mention what job prospects are like in the area etc.
Energy-efficiency as a Property Selling Point
Use energy efficiency as one of your selling points. A lot of tenants look for properties that are cheap to heat in winter. Features like double-glazing, UPVC front door, and A+ rated boiler are desirable. If you have refurbished the property and the EPC certificate is C and above, mention this on the property listing.
No Pets in Rental Properties?
Decide whether you are willing to accept pets. If you are happy to allow pets in your properties, make this clear in the property listing. Accepting pets is a selling point for a lot of tenants, so they will actively look for this when searching for a suitable property. Be clear about how many pets you accept. For example, if two small dogs is your limit, say so.

Should You Let to Benefits Claimants?
Not all landlords are willing to accept benefit tenants. That's your call. However, bear in mind that the major sites such as Zoopla and Rightmove will no longer accept ads with "no housing benefit" or "NO DSS" in the listings. By not accepting tenants that are in receipt of benefits you are actively reducing the amount of tenants you can rent to.
Excluding Children in Your Rental Listing
Not allowing children in your properties is a bit harsh. It also eliminates a large sub-set of tenants. However, if you don't want any under 18's in your rental property, do mention this in your listing. This could be construed as discrimination, so if you do exclude children make sure there's a good reason.
How NOT to List a Property
Never lie in a property listing. If you have a very small room, for instance, be honest and describe it as a study or nursery rather than a bedroom. If the décor is not up to date be up front and say that the property needs some work and make sure the price reflects this.
Don't include a rental figure in the listing and then add on a few "extra costs" when the tenant comes to view. This is dishonest.
Don't discriminate in your rental listing
It is not OK to discriminate against tenants for any reason. You should not discriminate on the grounds of race, sex, religious beliefs, sexuality, disability etc. You should not discriminate on these or any other grounds in your rental property listing or during and after the screening process.

Choose the Right Site to Advertise Your Properties
Select the right site for your rental property listings. For short-term lets, Airbnb is the way to go, but if you want long-term tenants, check out the big sites like Zoopla and Rightmove. For the bigger sites you may need to use an online letting agent to list there, but these aren't the only places to list your rental property.
Post your listing on local Facebook groups, Gumtree and other classified sites. The more sites you advertise on, the faster you'll find a tenant.
We hope this guide has been useful, but as always, let us know of you think there is anything we should add. You can leave a comment below or contact us on Facebook or Twitter.
Read More Like This:
A Guide to Renting out a Property as a Holiday Let
Letting Agent Fees the Ultimate Guide
Simple Ways to Save Hours of Time Managing Properties