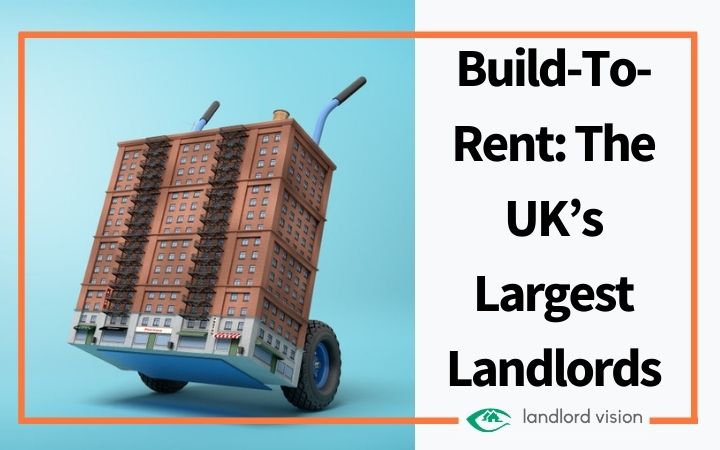 For decades, the UK's private rental sector has been something akin to a cottage industry. The vast majority of landlords operate between one and four properties. Just 17% of landlords have more than five properties, with the remaining 83% having four or less. This includes nearly half of all landlords (45%) who have just one rental property to their name.
Many became landlords accidentally or aim only to supplement their daily living expenses. Multi-million property portfolios are more likely to exist in the world of aspiration and fantasy than in real-life practicality. Yet, the small-scale nature of the UK's private rental sector is under threat. Increasingly, large institutions are entering the rental market through build-to-rent schemes.
What Is Build-To-Rent?
As the name implies, the build-to-rent sector aims to develop newbuild properties with the aim of renting them out upon completion. This differs from general newbuild developers, who usually aim to sell the properties as soon as they complete. Build-to-rent schemes are usually large apartment blocks or housing developments of 50 or more homes and tend to be both financed and let out by large institutional landlords.
The build-to-rent sector is growing rapidly, albeit from a small base. The UK's entire build-to-rent market consists of 62,000 homes, with another 40,000 under construction. Last year, only 5% of newbuild properties were build-to-rent, equivalent to around 12,500. However, Savills forecasts that there could be as many as 1.75 million such homes by 2031.
Proponents of build-to-rent argue that it helps to solve many of the current deficiencies within the UK housing market. The Homeowners Alliance found that one in six renters were concerned about the short-term nature of their leases and the risk of 'unfair' increases in their rent. More worryingly, in 2019, more than a third highlighted struggling to get their landlord to carry out essential repairs. Advocates of build-to-rent spotlight how the sector affords tenants longer tenancy options (up to three years), with clear details surrounding the basis of rent increases.
The government has been especially supportive of the build-to-rent sector. It is hoped that the introduction of build-to-rent and institutional landlords will help to professionalise the country's private rental sector. Institutions will finance the construction of newer, energy efficient homes and maintain developments with on-site management teams. It is believed that this will provide tenants with a more comprehensive and reliable rental experience.
Build-to-rent is not without its costs. Firstly, JLL's Build to Rent Report 2018 highlighted that the average rent on a build-to-rent property was 9.3% higher than that of the average property in the local area. This is justified by the inclusion of communal workspaces, laundry services, concierge, event spaces and gyms. However, premium pricing will only ever attract premium tenants, with many schemes targeting affluent young professionals or over-55s. This does not help to alleviate or support the need for affordable housing. Especially given that the developments have tended to be in more affluent southern locations and in London.
Critics of build-to-rent have also argued that the scheme is fuelling the nations current housing crisis. Institutional landlords entering the market and purchasing entry-level properties will only drive prices higher and make them less affordable for first time buyers. However, the government argues that build-to-rent developments are adding to the housing supply and should be considered as being surplus to current development numbers.
The UK's New Institutional Landlords
Currently, Grainger PLC is the UK's largest private landlord and build-to-rent participant. The company operates over 9,100 rental properties throughout England and Wales. Additionally, they are developing a further 8,850 new rental homes to add to their portfolio.
However, Grainger's position as the UK's largest landlord is unlikely to last long. Lloyds Banking Group, the country's second largest lender, is planning on becoming one of the biggest institutional landlords in the UK. The retail banking giant plans to purchase 50,000 homes over the next ten years, starting with the purchase of 10,000 homes by the end of 2025. The properties will be let out using the newly launched 'Citra Living' brand and would focus on newly built, high-end properties.
Details published online suggest that Lloyds will build a portfolio worth £4bn and expect to generate pre-tax profits of around £300 million, suggesting a target yield of 7.5%. However, Lloyds (Citra Living) is not just focusing on build-to-rent. It has already purchased 45 flats at the Fletton Quays development in Peterborough as part of a separate target to acquire 400 homes this year, followed by the same amount in 2022.
Stepping away from the battle to become the UK's largest landlord, there are a handful of other significant institutional investors who have recently announced their entrance into the market. John Lewis is planning on building 10,000 homes over the next decade. The company says it already has enough land to develop around 7,000 of the properties – many of which will be located above current Waitrose or John Lewis stores. Those properties which are developed will have the option to be fully furnished by John Lewis.
John Lewis is not the only UK retailer to enter the market. Ikea is planning to enter the UK affordable homes market. BoKlok is jointly owned by Ikea and construction firm Skanska, having already developed 11,000 "flat-pack", factory-built homes throughout Sweden, Finland and Norway. Worthing Council has already teamed up with BoKlok to develop 43 properties in the local area, with a programme agreed to develop a further 500 homes in the borough.
Other big names in the build-to-rent sector include large financial powerhouses like M&G and Goldman Sachs. Renowned British insurance group, Legal & General has committed £2bn towards a goal of developing 5,500 properties over the next several years. There are also companies solely focusing on the UK private rental market, such as the investment fund PRS REIT. It owns 4,000 rental properties in the UK and has been launched and advised by Sigma Capital, which helps institutional investors build and buy private rental homes.
How Does This Effect Landlords?
The advent of build-to-rent and the introduction of large institutional investors certainly sends mixed signals for current landlords. On the one hand, small independent landlords cannot compete against the financial clout of global institutions. The ability to finance the development of new properties will allow institutions to potentially build their portfolios at a fraction of the cost that normal landlords may incur. However, on the other hand, the entrance of such companies highlights the long-term attraction of the UK private residential market.
The UK currently has 4.5 million private rental properties. Yet, Grainger estimates that the demand for privately rented accommodation will grow to 7.2 million by 2025. Years of outright hostile government legislation has crippled the supply of private rental properties, with Coronavirus only acting to hasten the fall in supply. It will take more than 100,000-200,000 build-to-rent properties to reduce the current deficit, suggesting that individual landlords will still play an important role.
Landlords may find that, rather than being forced out of the market, they may need to adapt and focus on specific sectors. The market for luxury flats aimed at young professionals may become more competitive and saturated. Equally, large developments may squeeze out landlords seeking to cater towards the 'silver' pound. However, large institutions may struggle to replace individual landlords when it comes to regional single-let's, affordable HMO's and the provision of short-term holiday lets.
There also remains a long-term question around the sustainability of the build-to-rent strategy, especially given the companies entering the market. Lloyds account for 25% of all mortgages in the UK. Becoming the UK's largest landlord will not help to diversify this risk in the face of a property market crash. Equally, managing tenants is no simple task. Not-for-profit housing associations have decades of experience, yet still face their share of mismanagement scandals. It could well be that many of the companies entering the sector today, may find the market to be more difficult and competitive than they originally predicted.
Disclaimer: This 'Landlord Vision' blog post is produced for general guidance only, and professional advice should be sought before any decision is made. Nothing in this post should be construed as the giving of advice. Individual circumstances can vary and therefore no responsibility can be accepted by the contributors or the publisher, Landlord Vision Ltd, for any action taken, or any decision made to refrain from action, by any readers of this post. All rights reserved. No part of this post may be reproduced or transmitted in any form or by any means. To the fullest extent permitted by law, the contributors and Landlord Vision do not accept liability for any direct, indirect, special, consequential or other losses or damages of whatsoever kind arising from using this post.   
Read More Like This.