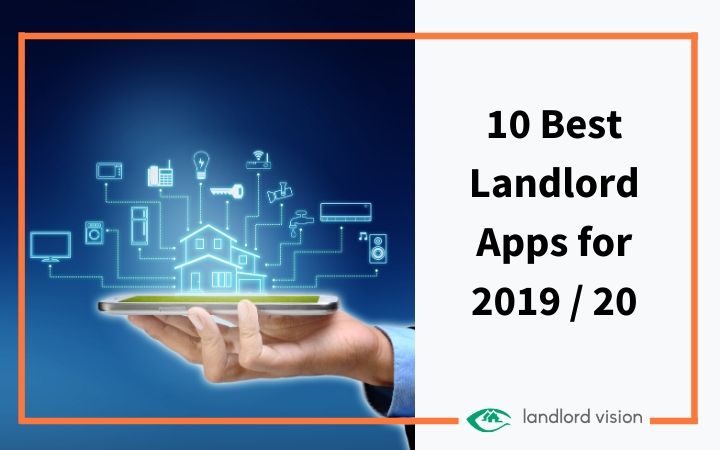 Ah, technology. Love it or loathe it, technology has revolutionised our lives in so many ways. From cute cat videos on Facebook to mobile banking, we bet most of you can't manage without your daily smartphone fix.
It's also pretty handy if you have a property portfolio. So, just in case you're still managing your properties with ledgers, rent books, and Tesco carrier bags full of receipts, here are some apps you might find useful.
Make Landlord Vision your go-to property management app. Our app helps you manage your properties whether you're conducting a viewing or sitting at home watching TV. You can even try Landlord Vision for free, so what are you waiting for?
Platform: iOS and Android
Cost: Free trial available

Rightmove and Zoopla are two of the biggest property portals for buying and renting properties. The desktop versions of both sites are great when you're at home, but if you spot a potential buy to let acquisition while you are out and about, check the details on the Rightmove or Zoopla apps. These apps are also useful if you want to check property prices, rent averages, etc.
Platform: iOS and Android
Cost: Free
Lots of tenants these days prefer to communicate on messaging apps. If you want to keep in touch with your tenants and encourage them to message you informally then WhatsApp is a handy communication tool. The app lets you keep a record of all your conversations, which is useful if you have any disputes. It's also useful for shared properties, such as student houses, as you can set up group chats with multiple tenants. Group chats for HMOs and student tenants are useful for sharing information with all tenants at once.
Platform: iOS and Android
Cost: Free
Property maintenance is often a huge headache for landlords, especially if you have a lot of properties and have to deal with multiple maintenance issues at once. The Fixflo app aims to make managing maintenance issues a lot easier. The app offers guidance and tells tenants how to fix simple problems, like a blocked sink. It also produces reports for contractors, so issues are more likely to be fixed on the first visit to the property. Fixflo is ideal for helping tenants to rectify issues like blocked sinks and it also has an in-built translation tool.
Platform: iOS and Android
Cost: Free demo available. Thereafter, a monthly subscription required.
The Kaptur Inventory Pro app is designed to help landlords manage property inventories at the start and end of a tenancy. Download Kaptur to your tablet and take it with you when you carry out a property inventory. Take unlimited photos and store them in the cloud. The app includes an editing suite, custom reports, job lists, dictation recording, and signature capture.
Platform: iOS and Android
Cost: Different pricing tiers available, including PAYG and a fixed monthly fee.
As we've already said, technology moves quickly and there's no better app for keeping up to date with the latest innovations than product hunt. Not all the apps and products that you'll find featured here are landlord related, but this is the place to find those rarely talked about gems before they hit the mainstream. You can also search by topic to find the latest property tech.
Platform: iOS and Android
Cost: Free
The Landlord Condition & Inventory app helps landlords carry out property inspections. Rather than leaving a property inspection to a third-party such as a letting agent, you can carry out your own inspection and record the actual condition of the property. This gives you peace of mind and will prevent the hassle of disputes at the end of a tenancy. Carry out a property inspection using the Landlord Condition & Inventory app, show the report to the tenant, and ask them to sign it off. Voila! Disputes avoided!
Platform: Android
Cost: £9.99
The Property Investor app is for anyone looking for investment properties in the UK. Whether you are new to the sector or you already own a large property portfolio, this app has you covered. Scroll through lists of prime property investment opportunities, many of which are ready to buy. Set up your preferences in the app and it will let you know if a property comes on to the market that ticks your boxes. You can even use the app to reserve properties. Each property has been fully researched by the app team, so you can see upfront what kind of investment opportunity it offers.
Platform: Android
Cost: Free
Landlords often need to hire tradespeople to fix problems in their rental properties. Install the Checkatrade app on your smartphone and look for a reputable plumber, electrician, or plasterer in your area. Select a trade based on their skills, location, prices, and reviews. The Checkatrade app runs strict checks on all tradespeople listed, so you can hire people with confidence.
Platform: iOS
Cost: Free
Trussle is the app for you if you need to re-mortgage one of your properties. The Trussle app has a high rating on Trustpilot. It offers free mortgage advice from a team of mortgage advisors, who will search more than 12,000 mortgage deals to find one that's right for you. Landlords can save, on average £300 per month on a buy to let mortgage. The app will also let you know when you can get a better deal by switching to a new mortgage.
Platform: iOS
Cost: Free
App Safety
Before you disappear, we would like to remind you that it's a bad idea to download apps without researching them first. Only download apps from the official Apple App Store and Google Play. Some malicious apps represent a serious safety risk to you and your personal data. Apps often request permission to access your data when you install them on your device. Pay attention to this. If an app wants permission to access data that doesn't seem relevant, delete it. If in doubt, search for user reviews online to see what other people thought of the app. If an app is malicious, you will find plenty of negative feedback.
Are there any apps you think we should include? If so, let us know. Leave a comment below or connect with us on Facebook or Twitter.
Read More Like This:
The 10 Best Landlord Vision Developments This Year
10 Easy Ways to Save Time on Property Maintenance
33 Ways to Boost Your Buy to Let Rental Yields