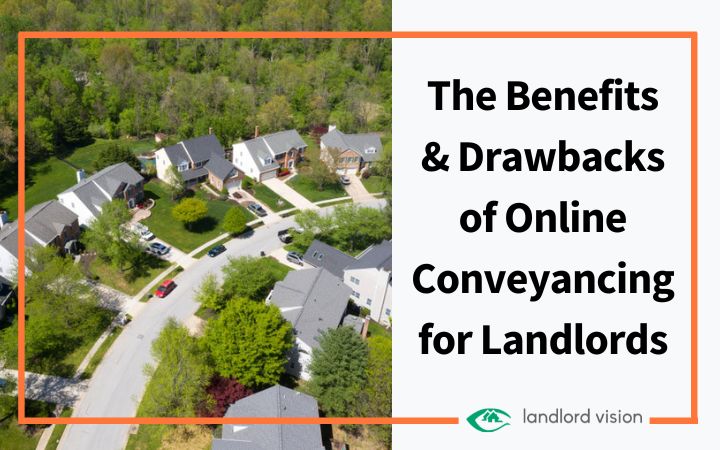 In this guest post we're going to explore the benefits and drawbacks of online conveyancing for landlords to help you make informed decisions about your property projects.
The digital world allows us to improve efficiency across many industries, including the property sector. An online conveyancer in the UK can provide you with much the same service as an in-person solicitor, but without a lot of the hassle.
If you're a landlord with an expanding portfolio of properties, you might be keen to learn about the benefits and drawbacks of online conveyancing. Before we discuss the pros and cons, let's establish the basics of conveyancing.
What is Online Conveyancing?
Conveyancing refers to a series of processes that are used to support property transactions. If you are buying or selling a property, taking out a lease, or re-mortgaging you'll need the assistance of a conveyancing lawyer to guide you through the property deal.
A conveyancing solicitor will guide the buyer or seller through various tasks including liaising with surveyors and lenders on their behalf; drawing up legal documents; and ensuring that the transaction is registered with the HM Land Registry.
If you're a landlord, you might require the services of a UK conveyancing solicitor to help you with your buy-to-let projects. You may also need a conveyancer for leasehold projects, or if you are considering buying development sites or land. Conveyancing professionals can support landlords to build an impressive portfolio of properties quickly.
Essentially, online conveyancing follows the same processes as regular conveyancing, the difference being that these tasks are all carried out online. Online conveyancing offers many benefits for landlords, yet there are also a few drawbacks to keep in mind.
What are the Benefits of Online Conveyancing as a Landlord?
1. Online Conveyancing Makes Processes Quicker
One of the biggest benefits of online conveyancing is that the processes are completed quicker compared to traditional conveyancing. Solicitors can quickly guide landlords through many online conveyancing tasks, including:
Consulting relevant parties including the other party's surveyors, mortgage lenders, and estate agents.
Carrying out searches and checking the legal title to a property.
Reviewing and drafting the sale contract as well as other legal documents.
Making sure the correct amount of money is exchanged.
General advice on landlord responsibilities, including fees and maintenance.
Legally required property checks.
Identity checking and mortgage processes.
Getting a mortgage.
Signing and exchanging contracts partially online.
Registering ownership as appropriate.
Carrying out water and drainage searchers and local authority checks.
2. Online Conveyancing is Less Expensive
Opting for online conveyancing as opposed to in-person conveyancing is less expensive, giving landlords the opportunity to save money and make the most of their projects. Property investments can be lucrative opportunities, but only if the investor understands how to maximize the potential.
When you work with a professional conveyancer you'll benefit from their expertise and experience, allowing you to improve your property portfolio while saving money.
3. Improved Convenience with Online Conveyancers
Working remotely with a conveyancing solicitor means no in-person meetings, which can otherwise be quite a time-consuming process. In a digital world, professionals in many different fields can take advantage of online processes and systems to improve convenience. Saving time on these procedures gives landlords the opportunity to focus their time on other important tasks and enhance productivity overall.
4. Having Access to an Online Conveyancer Makes it Easy to Check Progress
Online conveyancing services for landlords allow the client to easily check the progress of their property project, receiving updates whenever they need to. Having fast and easy access to information can far improve efficiency and allow for improved collaboration between the landlord and the conveyancing solicitor. Online conveyancing allows landlords to keep close track of their cases, scan documents, and share queries.
5. Online Conveyancing is Hassle-Free
Conveyancing processes can be lengthy and complicated. Completing these processes using efficient online systems is a great way to ensure a hassle and stress-free process. Taking advantage of software and online systems is the best way to adapt to a changing sector and make the very best of your investment projects.
Online conveyancing solicitors can also provide landlords with general advice on choosing a buy-to-let property, supporting them to consider factors such as location, leasehold vs freehold, and rental income. Landlords can also access fast advice online concerning:
Financing options
Tax relief
Stamp duty
Buy-to-let requirements
6. There are No Restrictions on Location with Online Conveyancers
Working with an online conveyancing lawyer means that you can complete property projects, even if you are not currently in the country. For those who travel frequently, and would still like to access conveyancing services, it's useful to have remote and easily accessible options.
What are the Drawbacks of Online Conveyancing as a Landlord?
1. Choosing the Wrong Firm
Landlords who choose to work with an online conveyancer must be careful to choose the right firm. When you're exchanging sensitive information and contracts online, it's vital to choose a trusted company.
The firm should have plenty of experience and adequate security systems in place. For this reason, it's important to conduct thorough research when choosing an online conveyancing solicitor.
When you're choosing a firm, it's also advisable to choose a company with an in-depth knowledge of the property market, helping you to maximize the success of your property ventures.
2. Lack of In-Person Collaboration When Working Online
Working remotely means a lack of in-person collaboration, and some individuals prefer to work with their conveyancers in person. Doing so can help them to feel more in control, and comfortable with completing high value transactions.
Choosing to work with a conveyancer online or in-person is a personal decision. If you are unsure, it can be a good idea to discuss the online process with a potential conveyancing solicitor. This will allow you to check that you are comfortable with the processes.
3. Some Processes Must be Completed in Person
There are three key stages to the conveyancing process including offer and acceptance, the exchanging of contracts, and the completion stage.
Not all conveyancing processes can be completed online, for example, when signing contracts, you'll need to physically sign these and return them by post. Some individuals instead prefer to complete the entire process online, finding that it's more suitable for them.
Online Conveyancing Can Work Well for Landlords
As you can see, there are plenty of benefits of online conveyancing for landlords. Using online processes is quicker, more convenient, and less expensive. Those who wish to complete their projects while travelling are not restricted to being in a certain location.
It may not be possible to sign and return contracts online in every case, however, most conveyancing lawyers will permit clients to send contracts back by post, an option that's still incredibly convenient.
Overall, dependent on your circumstances, the benefits of online conveyancing can outweigh the drawbacks, providing that you find a trusted and experienced firm to work with.
Disclaimer*
Please be advised that this article is for general informational purposes only, and should not be used as a substitute for advice from a trained property professional. Be sure to consult a property professional if you're a landlord seeking property advice. We are not liable for risks or issues associated with using or acting upon the information on this site.
Read More Like This.