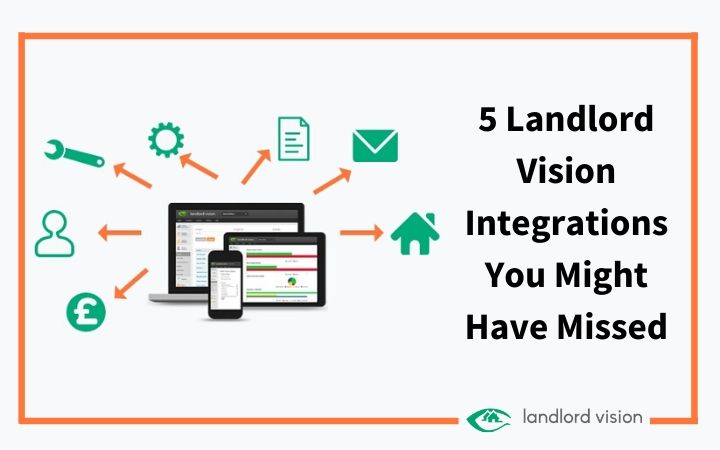 Landlord Vision integrates with third party suppliers to deliver useful and best in class integrations. Sometimes you really do get by with a little help from your friends! In this month's software tip we're going to introduce you to features that are delivered via our partners and show you what's on the horizon for future integrations.
Veryfi
Our newest partner, Veryfi, enables Landlord Vision customers to make the most of cutting-edge technology for easy expense management. Customers can upload scanned in receipts and invoices to Landlord Vision and the Veryfi software will extract all the details. These details will be added to the software as expenses and the receipt or invoice will also be stored next to the expense item. It's actually a little bit cleverer than that, but for the sake of brevity we won't go into all the intricacy here, if you want more details, you'll find them in our introductory blog post here:
If you haven't yet used the expense scanning feature, you're missing out on something that makes expense management so much faster and easier! For more details on how to use this feature check out our receipt scanning tutorial:
Gocardless
The integration with Gocardless is one of our older integrations and it enables landlords to collect rent by Direct Debit in the software. When we teamed up with Gocardless all those years ago, the ability to collect rent by DD was a popular feature request over on User Echo. While there is a fee to use the service, we've kept our margins razor thin to provide you with the best value. Gocardless have recently put their fees up, but as this is their first price increase for years and years and they've continued to improve their product, we can't really blame them.
Setting up Direct Debits for rent collection has many advantages. Not only does it make tracking the rent in Landlord Vision a lot easier (and a bit more automatic) but it's secure for everyone involved. The advantage of collecting by Direct Debit is that should a tenant cancel their DD ahead of the rent due date you'll be informed sooner rather than later. There's also an element of fraud protection as well.
We're not here to get into the merits of direct debit rent collection, just know we think it's something you should learn more about if you aren't already using it. We have a selection of videos for anyone wanting to know how to use direct debits in Landlord Vision.
NetLawman
One of our newer integrations is with NetLawman. This partnership allows us to offer you cast iron legal documents right in the software. Because NetLawman's software is integrated with Landlord Vision any updates they make to their legal documents become instantly available in Landlord Vision. This means the legal documents in the software are always the most up to date and can be quickly changed to comply with any new laws, like the recent Tenant Fees Ban.
Thanks to the integration, documents can be auto filled and customised with information you've already put into the software. This saves a huge amount of time drafting tenancy agreements etc.
NetLawman's documents are put together by a solicitor so you know they can be trusted. In time we hope to expand our NetLawman integration to offer more in-depth legal services to Landlord Vision customers.
Signable
We have integrated with Signable for quite a few years now. Another popular integration that was requested by our customers. This integration allows you to get documents electronically signed from the software. We love the Signable integration because it's better for the environment, it leaves a better legal audit trail and it takes less time and effort to get important documents signed.
With Signable you can send any document off for signing, simply upload your documents to the software and email them to whoever you want to sign. There is an additional charge for getting documents signed, but it is less than the cost of a first-class stamp.
If this is a feature you haven't spent time getting to know, this e-signature tutorial video will help you get acquainted:
Aikidesk
We have partnered with Aikidesk almost since the software was but a glint in the eye of our founder! If you've used the Tenant Portal you'll be familiar with this integration. Aikidesk allows landlords to connect with tenants to manage maintenance issues and other queries. Aikidesk is a ticketing system that makes it easy for landlords to assign and prioritise maintenance tasks and to keep a record of tasks and communications that take place between the landlord and tenant.
What Future Integrations are Landlord Vision working on?
When we integrated with Veryfi we also made it so that the software could extract documents from Dropbox, so we figured while we were at it, we may as well integrate with Dropbox. Keep your eye out for this integration, once it's done customers will be able to upload documents to Landlord Vision from Dropbox.
One of the more popular requests on User Echo is for the ability to send SMS messages to tenants, so naturally we're looking for a good partner to work with on that.
Another thing we'd all like to achieve is to be able to push property details from Landlord Vision into Right Move and Zoopla. Our dream for the software is for it to be able to manage every single stage of the tenant lifecycle, so naturally the ability to advertise from the software is a huge part of that.
Finally, as anyone who reads our newsletter knows, we are in the process of integrating with banking providers so we can offer live bank feeds.
We're also in the process of integrating with HMRC so we can be compliant with MTD, trust us you will know all about this when it is finally live!
As always we'll be guided by the feature requests we get over on user echo and survey results and feedback we receive outside of that as well. So, make sure you're having your say!
Read More Like this: