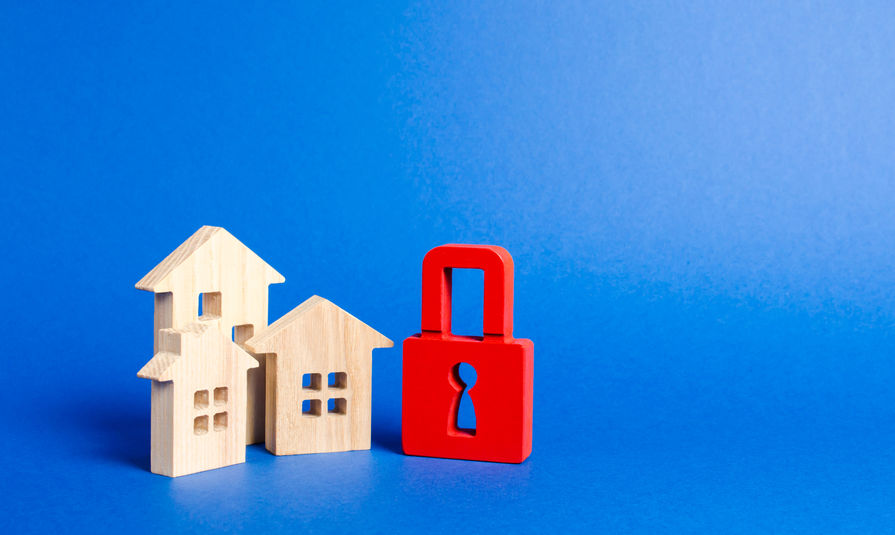 With more than a million burglaries and attempted burglaries taking place across the UK every year, the issue of tenant security is one that should definitely be on every landlord's radar. This is especially true because rented properties are at even more risk of burglary than owner occupier homes.
Private renting households have 63% higher burglary risk, and their members experience 36% more personal crimes than owner-occupiers, according to a 2018 report from Nottingham Trent University.
What's more, when a property has been burgled once, statistics suggest it will be burgled again – and soon.
Several studies have found that 50% of repeat victims were burgled again within a month or two of the original break-in.
Does A Landlord Pay for Damage Caused During a Burglary?
Of course, the landlord's and tenant's belongings should (in theory) be insured. But if there is damage to the property during the break-in, the question of who pays for it will arise.
Landlords are not explicitly required by the letter of the law to assume responsibility for security. But they do have a responsibility to keep their property in good repair.
Government guidance says tenants have the right to live in the property undisturbed and to live in a property that's safe and in a good state of repair.
This means that if any damage occurs to the building due to a burglary then the landlord is usually responsible for fixing it.
When is A Tenant Expected to Pay for Damage Caused During A Burglary?
There are exceptions to this rule – usually where a tenant has been negligible in some way.
Should the tenant have taken some action that led to the break-in or made the damage worse – for example leaving doors or windows unlocked, the responsibility for making good the damage will lie with a tenant.
A similar situation could occur where a tenant has been obliged to obtain a police report as a condition of their tenancy agreement and has failed to do so.
Locks and Keys on Rental Properties
So, bearing in mind this fact and that landlords are required by the law to provide tenants with a secure home, free of all hazards, what should landlords expect to have to install in terms of security?
First and foremost is the issue of locks and keys – one that arises repeatedly in disputes between landlords and tenants.
Changing Locks Between Tenants
Landlords are not obliged by law to change locks and keys when one tenant departs and another arrives. Nor would most landlords think of doing so.
A survey by insurers Direct Line found that on average 9 out of 10 landlords do not change the locks between tenancies. 
But legal opinions are frequently split when it comes to the consequences of not taking this relatively simple step.
Imagine that the property in question had previously been used for criminal activities like drug dealing or escort services.
Now imagine that previous drug dealer still has access to keys and actually uses them to gain access to the property and steal from or harm the tenant.
Some lawyers argue that tenants could have good grounds for taking legal action against a landlord who has refused to change their locks in such an instance.
A landlord could be at risk not only of having to pay significant damages in such a case but also could
also be at risk of bad publicity.
Tenants can Sue Landlords for Poor Security
As with many other things the final decision depends on the landlord's appetite for risk. But as changing locks and keys is a relatively inexpensive step, it surely makes sense to take it.
And for those who are not convinced, be aware that some law firms are encouraging UK tenants who are burgled in rented properties with below-par security to come forward and sue their landlords.
How to Keep Your Rental Property Secure
So, once you have decided to make your property secure, how does one go about it?
It sounds obvious but the essential requirement for a secure home is that every door, window, garage and shed door works properly – can be closed securely and has an appropriate lock.
Police generally advise that a five-lever mortice lock is appropriate for external timber doors or a three multi-point locking system for PVC-u external doors.
Window locks should be installed on windows easily accessible from outside (though not on designated escape windows).
Door chains and, in a shared property like a block of flats, additional security to the main entrance door may also be required.
Some lawyers urge caution about placing locks on internal doors as they say this can lead to properties being classified as a house in multiple occupation (HMO) – a classification which in some cases can require a licence.
When can Tenants Change the Locks on Their Rental Properties?
However, as many a perusal of landlord's forums will reveal, there is more to the issue of keys than simply changing the lock and giving a tenant a fresh set when they move in.
Tenants, for example, may be tempted to change the locks themselves. Such a step is not generally illegal – though the tenant is responsible for installing the previous lock when they leave the property.
While a landlord can lawfully hold a set of keys to their property, lawyers do not generally consider that tenants have a legal obligation to provide the landlord with a copy of keys that they (i.e. the tenant) has installed.
How Locks and Keys are Usually Covered in the Tenancy Agreement
However, these issues have been sufficiently thorny in the past that they are now covered in many tenancy agreements.
Such agreements state that the tenant must not change locks without the landlord's permission, or if permission is given, it will be on condition that the tenant gives a set of the new keys to the landlord.
These agreements should list how many keys the landlord gave the renters when they moved in.
Remember: it is illegal for a landlord to change the locks to prevent a tenant from entering a rental property even if it is because of rent arrears or other breaches of contract. Such a step can be legally construed as harassment.
Additionally, a landlord must give 24 hours' notice if they need to visit their property and visit at a reasonable time of day, unless in the case of an emergency.
If a tenant loses their keys and this makes the property less secure (for example if the keys are permanently lost or fall into someone else's hands) then the cost of changing the locks and cutting a new set of keys will tend to fall on the tenant.  
What, a landlord might ask, happens if a tenancy agreement prohibits changing the locks without permission, but a tenant ignores the agreement, changes the locks, and refuses to provide a set of the new keys?
Lawyers advise that while the landlord might have the law on their side in this situation there is no easy way that they will be able to force the tenant to either change the locks back or hand over a key.
Instead, the landlord will probably be forced to seek an injunction – an expensive and unreliable step.
They may well be able to justify claiming a sum from the tenancy once the tenant vacates the property, however.
Should Landlords use Smart Keys?
One way of sidestepping much of the potential hassle surrounding lock and key changes is to install "smart key" technology, which allows a re-key easily – without a visit to a locksmith.
For example, KwikSet locks are designed to be easily rekeyed by you, so when a tenant moves out all you have to do is reset the lock by inserting the key.
The learning tool allows you to "wipe" the memory of the lock and insert a new key to "teach" the lock.
Landlords tempted to install smart locks – i.e. locks with a code input or an app which opens the door – should be aware that the idea might be unpopular with tenants who fear for their privacy.
Such a move might even be open to a legal challenge – in the US a judge ordered landlords of a New York apartment building to provide physical keys to tenants who didn't want to use the smart locks the landlord had installed when they complained.
It's just another case that goes to show that while the law regarding security in rented accommodation may be far from, ahem… an open and shut case, that is all the more reason for landlords to pay close attention to it and ensure that their tenants are well-protected.
To find out about new posts when they're published follow us on Facebook, Twitter or LinkedIn. You can also subscribe to our free newsletter for a selection of top posts, resources and tips every month.