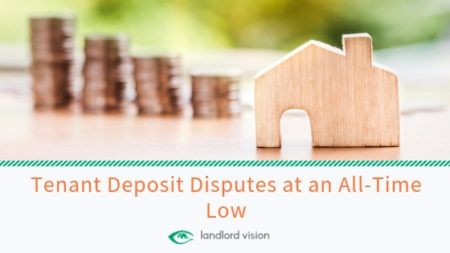 We have good news for you! Data released by the Tenancy Deposit Scheme (TDS) has revealed that tenant deposit disputes occur in less than 1% of tenancies. So, 99% of landlords and tenants don't have an issue when the tenancy ends. Either the tenant accepts their deposit needs to be withheld or there is no damage.
"Despite the number of tenancy deposits protected increasing by over 300 percent in the last ten years, the rates of disputes have remained regularly below 1 percent," says Steve Harriot from the TDS.
"That means the overwhelming majority of tenancies end in agreement between the tenant and the landlord or letting agent about how the deposit is awarded."
This is the 8th consecutive year that tenant deposit disputes have fallen, so it is clear that landlords and tenants are doing something right, which is great for everyone. Unfortunately, things do sometimes go wrong.
Common Causes of Deposit Disputes
Cleaning – or lack thereof – is the main cause of deposit disputes. TDS figures show that cleaning was cited as a factor in 54% of tenant deposit disputes logged with them. Not all tenants leave a property in an acceptable state. If a landlord does a final inspection and discovers the carpets are alive with muck and the oven has more burnt food in it than the local takeaway, it's understandable he/she decides to keep some of the tenant's deposit to cover the cost of putting things right.
Other problems include rent arrears and gardening disputes.
What Can Landlords Do to Prevent Issues?
Asking for a deposit is essential. This protects you against the possibility that your tenants will cause expensive damage. A month or six weeks' worth of rent isn't going to cover extensive damage in the event your model tenants strip out all the plumbing and sell the boiler to the local scrap man, but it should help pay for a carpet cleaner or a replacement oven.
Always take a deposit and make sure you follow the law regarding deposit protection.
Next, conduct regular property inspections. These should highlight any issues before they snowball into a nightmare. If your tenants are not hot on cleaning, remind them of their responsibilities and suggest they invest in some rubber gloves and a bottle of bleach.
Since gardens are a common cause of tenant disputes, be proactive and provide gardening equipment or pay for a gardener to pop over once a week to cut the lawn and keep things tidy. Otherwise, you could end up with David Attenborough shooting a wildlife documentary there in two years' time.
Have you had any issues with tenant deposit disputes? Let us know in the comments section and tell us how you resolved them.
Read more like this:
Major London Landlord Scraps Deposits
Labour Hoping To Reduce Maximum Deposit Landlords Can Charge Tenants
Why Landlords Make Deductions from Tenants Deposits