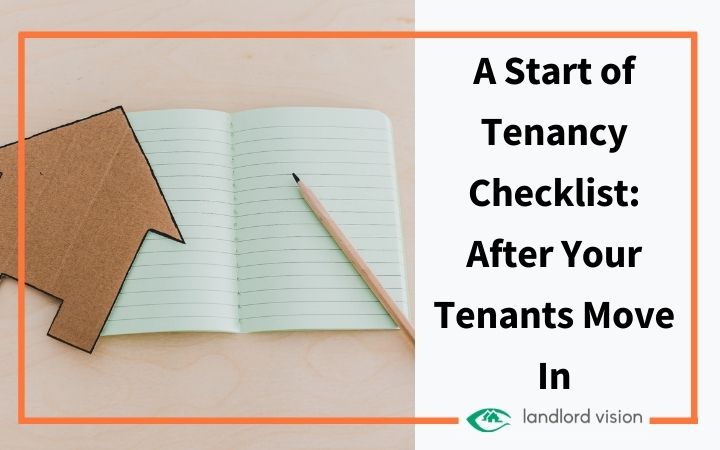 For the fourth and final instalment of 'A Start of Tenancy Checklist', this section will list what you need to do once your tenants have moved in.
You can view the full blog series, as well as download a tick-box checklist for all your start of tenancy tasks here:

While this section is called 'after move in' you may want to provide some of these documents as or before a tenant moves in. There is no legal obligation to provide these before the tenant moves in, in most cases they are fine to be provided on move in day or just a few days later.
Energy Performance Certificate*
Each property should have an Energy Performance Certificate (EPC) and you should provide this to the tenant when they move in.
The rules around when you give your tenant the EPC certificate are open to interpretation, generally you should give the certificate to any prospective tenant at the earliest convenience. The rules don't stop there though. As you might imagine with anything landlord related there are different ways you can interpret the guideline. If you are in doubt or want to ensure you are compliant you can read more in the Landlord's Guild article on EPC certificates.
Some landlords and letting agents will bundle this in with the tenancy agreement and get their tenants to initial it as proof that they have received it.
Failure to provide the EPC certificate to the tenant can mean that you are unable to serve a Section 21 notice at the end of a tenancy.
How to Rent Guide*
This section only applies if you are renting property out in England. If your property is in Wales or Scotland, you don't need to provide this information to tenants.
Since October 1st, 2015 landlords have been required to give tenants a copy of the "How to rent: the checklist for renting in England" booklet at the outset of any new tenancy. This booklet must also be provided whenever the tenancy is renewed. Failure to provide this booklet to a tenant can prevent you from serving a Section 21 notice to your tenant later if you need to.
If you have permission to email your tenants, you can send this to them by email. Many landlords and letting agents include this in the tenancy agreement so that it can be signed and initialled at the same time as the agreement to prove that the tenant has received it.
The government update the guide from time to time, so you'll need to make sure you are providing the tenant with the most up to date version. You can find the latest version of the how to rent guide on the government website.
Deposit Protection Prescribed Information*
We touched on this in part 3 under Deposit and Deposit Information. You will likely ask for and take a security deposit before the tenant moves in. You will then need to pay this deposit into an approved deposit protection scheme within 30 days of receiving it.  
Once you've protected the deposit, you'll be expected to provide prescribed information on the deposit scheme to the tenant which lets them know which deposit scheme you have used and other pertinent information.
More information on this can be found in section 3. Many landlords and letting agents include this information in the tenancy agreement, especially where they consistently use the same deposit protection scheme. Including these details in the tenancy agreement doesn't preclude you from having to provide the prescribed information.  
Landlord Name and Address Details*
Tenants are legally entitled to know who you are and where you live as their landlord, even if you are letting the property out via an agent. You can be fined if you don't provide your tenants with this information within 21 days of starting a tenancy. It is common to include this information within the tenancy agreement.
Tenancy Agreement
Supplying your tenant with a tenancy agreement isn't actually a legal requirement but not doing this leaves both you and the tenant unprotected. So many things can go wrong when renting and without a tenancy agreement neither party has much recourse to rectify issues.
The most common form of tenancy agreement in England is an Assured Shorthold Tenancy (AST) but there are other kinds, particularly if you are renting property in Scotland.
The tenancy agreement is a contract that governs the core principles of any agreement between the landlord and tenant such as how long the tenant can stay and what the obligations on each party are. The tenancy agreement also contains details of any rent payments, notice periods, terms for ending a tenancy and details about the deposit including how much is required and the circumstances in which the landlord can deduct from the deposit.
Once you and the tenant have signed the tenancy agreement you can't make any changes to it without the permission of your tenant. Landlord Vision customers can use an unlimited number of free tenancy agreements which can be found in the legal document centre in Landlord Vision, but you can also download copies from various institutions. Ensure these are correct and up to date though as there are some terms that can't be included in tenancy agreements, such as the requirement of tenants to pay administrative fees which was a common inclusion before the Tenant Fees Ban.
Tenancy agreements range from short and succinct to incredibly onerous. Whichever tenancy agreement you use, ensure you are also OK with all the terms. It isn't just the tenant that has to agree to these terms, they are legally binding on you as well.
Notify Council and Utility Suppliers
If you're renting a property with bills included in the rent, this section won't apply to you. Here we're talking about passing on the responsibility of the utility and council tax bills to the tenant.
In section 3 we mentioned taking meter readings, but once the tenant has moved in you should let the energy suppliers and the council know. Most tenants are good enough to arrange to start paying the utility and council tax bills, but where you have a tenant who is slow to act, or they've just moved in alone for the first time, they may need a gentle nudge from the utility suppliers or the council.  
Letting the council and utility suppliers know that a new tenant has moved in means that they'll chase the tenant for any unpaid bills, and it makes it clear to everyone involved when you stopped being responsible for these payments.
Welcome Pack
The tenant welcome pack is not a legal requirement, but many landlords use a welcome pack to communicate key information about the property to the tenant.
If you have a standardised process or set of documents that you send out in a welcome pack to the tenant it can act as a great reminder ensuring you to meet all your obligations, like including a copy of the EPC certificate or the Gas Safety certificate.
Aside from regulatory pieces of paperwork the welcome pack can (and should) include information like what the latest meter readings are, where the bins are situated (and any specific rules for them), when bin day is etc. If you use Landlord Vision you can automatically generate a welcome pack for your tenant using the property details you've entered into the software.
If you include any important documents in the welcome pack, like the EPC certificate, you should ask the tenant to sign a simple acknowledgement that they have been received. For this reason, it is more common to bundle legally required documents into the tenancy agreement so they can all be signed and initialled at the same time.
You will also need to make sure your tenant knows how to contact you in case of an emergency and any restrictions you have on when and how you can be reached. If you are often uncontactable, you'll need to provide the tenant with an alternative person to get in touch with. If you're letting property via a fully managed agent service this won't apply as the tenant will get in touch with the agent should they need to.
You should also provide the tenant with instruction manuals for any appliances in the property. These can form part of the welcome pack or you can just leave them in the property for the tenant. This isn't a legal requirement, but it means your tenant will know how to use and care for the appliances in the property without having to contact you.
__
If you've completed all the compulsory tasks in this 4 part blog series, you've reached the final hurdle! That's all your tasks done for the start of your new tenancy. Now you can sit back and let your tenants settle in.
If you'd like to download a copy of this blog series, as well as a tick-box checklist to complete for all your start of tenancy tasks, click here:

Read More Like This.