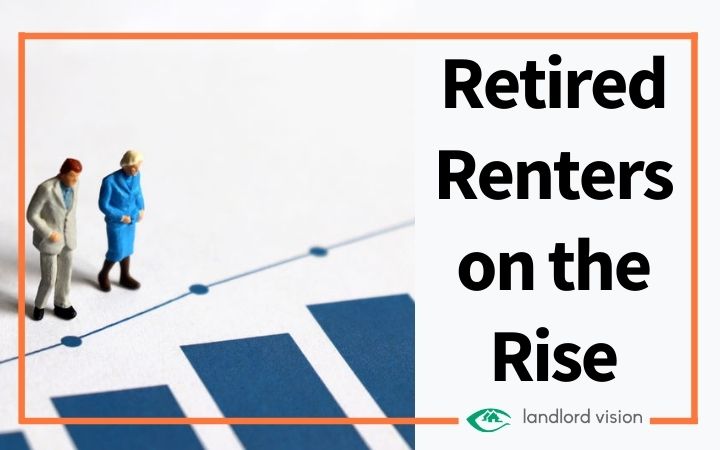 The number of seniors hitting the private rental sector in the last 10 years has risen substantially. Research carried out by Paragon Bank shows renters in the 55-64 bracket have surged by 118% and those in the 65+ bracket have jumped by 93%. This is far higher than the 35-44 age group. What's causing this huge increase? Let's find out.
Rising Divorce Rates Fuel Late Life Renting
There have been many social changes in the last decade, but divorce in later life is perhaps the most significant. Older people are now less inclined to stay in unsatisfactory relationships, as opposed to before. As couples reach retirement age, this is typically when the cracks start to show.
Pensions and Life Expectancy
Other notable factors in the rising number of renters over the age of 55 include diminishing pension incomes and rising life expectancies in men. For this age group, homeownership is out of reach. Those divorcing in later life have to split their assets, which means cashing in the family home and moving into a single-person household. With divorce rates rising, 48% of people in the over 55 age bracket now live alone compared to 23% of those 54 and under.
Homeownership Less Likely for Older People
With the average price of a house in the UK now £254k, it's very difficult for older people reaching retirement with diminished assets and a shrinking pension pot to afford to buy a home. Lenders are less inclined to offer mortgages to people aged 55+. The need for a large deposit makes buying impossible unless there is equity in an existing property.
"With the number of over 55s forecast to rise and new household formation predicted to be driven by older, single person households, the private rented sector will have an increasingly important role to play in providing a home for older tenants," says Richard Rowntree from Paragon Bank.
Fewer Beds in the Care Sector
There is also a shortfall in beds in the care home sector. Many seniors who would otherwise have moved into a senior care facility are being forced to rent in the private sector.
Pension Income Falling
In the last 10 years, pension incomes have fallen in real terms. Inflation has outstripped pensions, which has left pensioners with less money to spend on housing. Low interest rates have reduced income from savings, which many pensioners rely on to supplement their pension.
An Aging Population
Population data from the Office for National Statistics shows that the UK population is aging. Better healthcare and longer life expectancies mean the population percentage aged 55 and above will hit 65% by 2043. The number of homes where one resident is aged 75-84 is expected to rise by 34.5% by 2028, and in the 85+ bracket, by 24%.
Renting can be Beneficial for Seniors
It's not all doom and gloom. Renting can be advantageous for older tenants. 16% of over 55s said renting allowed them to live in an area where they couldn't afford to buy a home. Most said renting gave them peace of mind, as repairs were the landlord's responsibility. 70% said renting suited them and they didn't want the responsibility of being a homeowner. 15% enjoyed the flexibility offered by renting a home.
Why Target Older Tenants?
For landlords, the changing face of UK renters is not a bad thing. Older renters offer some significant advantages.
Older renters are far more likely to be long-term tenants – 46% of tenants 55 and above have lived in their property for 10 years or more.
Older tenants are more likely to take care of their rental home, as they intend to live there long-term.
Tenants living on a pension benefit from a stable income, so rent arrears are less of an issue.
If you're thinking of investing in a property suitable for older tenants, it's worth giving careful thought to what they might be looking for.
Single-story dwellings are great for older tenants with mobility issues.
Walk-in showers and wet rooms suit older people better than baths.
Smaller gardens with no steps are easier to manage.
One-bed properties are more popular, as older tenants are more likely to be living alone.
Location is important, with easy access to shops, amenities, and public transport.
Do you target older tenants? If so, how has this worked out for you? Let us know more about your experiences. You can contact us on Twitter and Facebook.
Read More Like This.