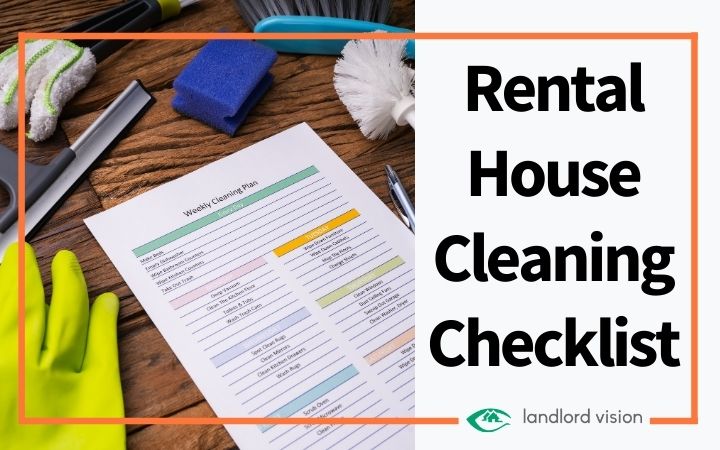 Responsible landlords like to make sure their rental properties are spotlessly clean before the next tenant moves in. It isn't enough to expect a tenant to run over it with a vacuum cleaner and damp cloth. Unless you check the property has been cleaned to a professional standard, chances are, your tenant will do the bare minimum. By the time the next tenant complains, it's too late to dock some money from their deposit.
A rental property cleaning checklist helps you and your tenants do a thorough and professional end-of-tenancy clean. It is a good idea to keep a copy of this checklist and give it to your tenants as part of their welcome pack. That way, you can ensure each task is completed when you carry out a property inspection at the end of the tenancy.
If you spot something amiss, you then know what needs doing before the next tenant moves in. The list can also be given to a professional cleaning crew, so they too know what jobs they need to do when they clean the property.
Leave Enough Time to Clean Between Tenancies
It's important to leave enough time for cleaning. Unless you're a pro, expect it to take longer than anticipated. Remind your tenants to allow enough time to clean at the end of a tenancy. They are probably going to be very busy packing, which means cleaning might be pushed to the bottom of the to-do list. Leaving it until the final morning to clean the property isn't going to work. Jobs will be missed, and you'll have no choice but to deduct money from their deposit.
For this reason, it's often worth hiring a professional cleaning crew to handle end-of-tenancy cleans. That way, you ensure the property is in perfect condition before it's handed over to the next tenant.
Be Organised when Cleaning Your Rental Property
Cleaning is best done one room at a time, so tasks aren't inadvertently missed. Work your way down the house, starting with bedrooms and upstairs bathrooms. Each time you empty a room, clean it from top to bottom, and then close the door.
Finish with the room where the exit door is, so you can quickly mop or vacuum the floor before you leave.
Take photos as you finish each room, so you have a pictorial record of what the room should look like before the next tenant moves in. It's useful to have a before and after shot in case of a dispute later. This is especially useful in the case of gardens, which can quickly get out of control if a tenant doesn't take care of the space.
Now that we've covered the general stuff, let's take a look at what needs doing, one room at a time.
Bedrooms/Living Room Cleaning Post Tenancy
It's best to tackle bedrooms first, as they are usually the first rooms to be emptied. The biggest issue in bedrooms is dust. Dusting with a dry cloth tends to move the dust from one location to another, so use a damp cloth instead.
Start at the ceiling and work your way down. Dust away cobwebs from ceilings. Wipe all surfaces down to remove dust and grime, including doors, skirting boards, and windowsills. Remember to wipe away dust from the tops of doors, picture rails, and dado rails. Clean light switches and plug sockets. If there are curtain rails, wipe them down. Vacuum blinds to remove dust from slats; if it's a fabric blind, vacuum both sides.
Vacuum carpets and clean them if necessary. Mop hard flooring, such as laminate. Vacuum mattresses, too.
If there is furniture in the bedrooms or living room, wipe all surfaces down and clean inside drawers and wardrobes.
Post Tenancy Bathroom Cleaning
Bathrooms must be hygienic and clean, so some extra elbow grease is likely required in this room.
Clean the sink, bath, and shower (if applicable), including taps and shower fittings. Remove dirt, soap scum, hard water stains, and limescale.
Clean drains and remove hair and other detritus.
Wipe down tiles and scrub the grout.
Clean the shower screen and remove water marks and stains.
Clean bathroom accessories, such as soap dispensers and toothbrush holders.
Polish mirrors and glass surfaces.
Wipe down visible pipework, including behind the toilet and sink.
Wipe down skirting boards and other woodwork.
Wipe down radiator and towel rail.
Wipe down light switch, shaver socket, and extractor fan.
Vacuum and mop the floor.
Kitchen/Utility Post Tenancy Clean
The kitchen will probably take the longest to clean, as there are a lot of surfaces to deal with. Be prepared to spend at least 25% of your allotted time in this room.
Remove cobwebs from the ceiling and blinds/curtain rails.
Wipe down and degrease the extractor fan hood.
Once kitchen cupboards are empty, vacuum any loose debris and wipe each one down. Do the same with drawers and shelving units.
Clean the oven inside as well as outside. If the oven is in a state, consider paying a professional oven cleaning service, as they use strong chemicals to remove grime and grease and can restore metal racks and trays to pristine condition.
Scrub the hob and degrease around knobs and gas rings. Metal pan stands on a gas hob can be cleaned in a dishwasher.
Clean inside the microwave and wipe down the exterior.
Scrub and degrease the tiles/splashbacks, in particular, around the hob where grease and splashes are most evident.
Clean inside and outside of other appliances.
Empty and defrost the fridge/freezer. Wipe down rubber seals. Clean underneath and behind if it can be moved. Wipe down the interior and clean all shelves.
Remove the soap dispenser from the washing machine and clean it thoroughly. Remove and clean the filter.
Wipe down all woodwork, doors, handles, light fixtures and fittings, switches, and plug sockets.
Wipe down the radiator.
Clean all work surfaces.
Clean and disinfect the kitchen bin.
Scrub the sink and clean out the drain. Remove hard water marks and limescale from drainers and taps. Polish a stainless steel sink.
Vacuum and mop the floor.
Post Tenancy Hall, Stairs, and Landing Cleaning
Remove cobwebs from ceilings, light fittings, and walls.
Wipe down all woodwork, doors, and handles.
Vacuum carpets and flooring. Mop hard floors.
Cleaning the Conservatory Once Tenants Have Moved
If the property has a conservatory, all windows must be cleaned and polished, all surfaces wiped down to remove dirt, dust, and cobwebs. Vacuum and mop the floor.
Windows
All windows should be cleaned inside. Wipe frames and sills to remove dust and dirt. Clean and polish glass.
Cleaning Outside a Property Post Tenancy
Make sure all sheds and outbuildings are clear of rubbish and items that were not included with the tenancy.
Driveways and pathways must be clean and free from weeds, moss, and oil stains.
Cut the lawn and tidy the borders.
Check external lights are in good condition and replace the bulbs if necessary.
Check gates and fences for signs of damage, wear and tear.
Check the rubbish and recycling bins are in the correct location.
Cleaning a Property When Tenants Were Smokers and pet Owners
Properties let to tenants that smoke or who own pets will take longer to clean. Cigarette smoke leaves yellow nicotine stains on all surfaces and pet hair gets everywhere. Factor in the extra time needed to clean a property like this.
Compare the Condition of the House at Checkout
Use photos from when the tenant was checked in to do a 'then and now' comparison. If there is a significant difference or various tasks from the cleaning checklist haven't been completed, you may want to look into deducting an appropriate sum from the tenant's deposit. The amount you can deduct will have to be proportionate to the costs of making good what the tenant has neglected. As deposits are protected in deposit protection schemes you may need to provide evidence of these costs to the deposit service you have used.
Make sure you complete any outstanding jobs before the next tenant moves in. If necessary, give the checklist to a professional end of let cleaning agency, so they know exactly what needs doing.
A cleaning checklist is a useful way of ensuring all jobs are completed, either by you or the tenant, as it's very easy to overlook small details. Tackle each room in order, and mark off each job as you progress. Remind the tenant they won't get their full deposit back if the property is not returned in the same condition in which they found it. It is helpful to hand your tenants a cleaning checklist, so they know exactly what they need to do when the tenancy ends.
Do you have a cleaning checklist for your rental properties? If so, let us know if we have missed anything off our list. You can get in touch with us on Facebook or Twitter. We'd love to hear from you!
Read More Like This.