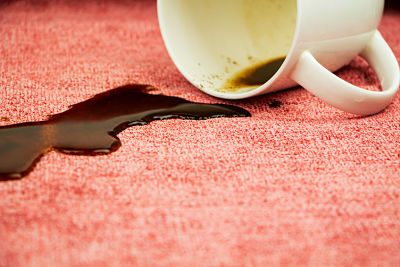 No matter what the property type, a certain amount of wear and tear is unavoidable. Every home has a lifespan and the more tenants you have over time, the more fragile and lived-in it will become. However, there are ways to protect your rental property and reduce the effects of everyday wear and tear. 
This guest post explains what is classed as typical wear and tear and provides landlords with helpful tips for reducing the wear and tear of a rental property. 
What is Classed as Normal Wear and Tear for a Property?
Wear and tear of a property includes natural damage that occurs over time – it's typically caused by ageing or by environmental factors such as harsh weather or sunlight. Most effects of wear and tear are unavoidable, especially if you've owned a property for a long period of time. 
Common examples of gradual wear and tear include:
Frayed carpets 
Minor scuffs and scrapes on wood or flooring
Faded curtains 
Chipped paint
Dirty or aged windows
Loose handles and locks 
Worn wallpaper 
Plaster cracks 
How to Prevent Wear and Tear in your Rental Property
Whilst wear and tear is only natural, there are still ways in which you and your tenants can work towards reducing the effects. There are several approaches you can take, these include:
Conduct Regular Property Inspections
Arrange regular property inspections. Visiting the home every 3-5 months will help you keep track of any maintenance issues and provide peace of mind that your tenants are looking after the property. 
Make notes as you walk around the house and take notice of any minor issues that could become a larger problem if neglected. Don't forget to discuss these inspections with your tenants first to arrange a time that is convenient for you both. 
Monitor Plumbing in your Investment Property
It is vital to keep track of the state of your property's plumbing when carrying out the inspections mentioned above is. Damaged pipes and incorrect plumbing can result in leaks, damage to neighbouring homes, or even damage to your rental property and the contents inside. Make sure you replace any aged pipes and perform regular maintenance checks. 
Ensure your Rental Property is Regularly Cleaned
Create a reasonable and acceptable standard for your tenant. Ensure they clearly understand your expectations and remind them that regular maintenance and cleaning helps to reduce wear and tear. 
You can even hire a cleaner for your rental property if settled as part of the tenancy agreement. This should ensure that the cleanliness of communal areas, such as the kitchen, are well kept.
Create a Property Inventory 
Every landlord should have an inventory. This will act as proof of what the property contains at the start of the tenancy and can help you cover the costs of any potential damage. It will set the standards for your tenants and allow you to keep track of the property's condition. 
Use Durable Materials Throughout your Rental Property
Think carefully about the fabrics and materials you're purchasing when updating the property. Hardy and easy-to-clean materials will help reduce the effects of wear and tear over time. 
Vinyl, hardwood, and laminate are often popular choices for flooring as they are simple to install and are often water-resistant. When fitting a kitchen, you may want to consider plastic countertops rather than wood as it is very easy to keep clean. You should also use splash guards and gloss paint to reduce the risk of moisture damage. 
Renovation Ideas to Make Your Rental Property More Durable
Another factor to consider when reducing wear and tear in a rental property is what durable and long-lasting renovations you could arrange to improve the home's condition. 
Renovating your rental property can not only improve its condition, but it may even increase the value, helping you long-term. Discuss your options with a professional architect or builder and research which materials would be the most beneficial to use. 
When organising the work required for these renovations, consider using self-storage facilities to safely store and protect your furniture. Space is vital when conducting work on a home and the best way to reduce the risk of damage to you or your tenants' contents is by storing them in a professional and reliable storage facility. 
There is a range of storage unit sizes to choose from, ensuring even the biggest and most awkward items are protected whilst work is being done on the property.
Some long-lasting renovations to consider include:
Changing carpets to wooden flooring 
Remodelling the kitchen and bathroom
Converting the garage 
Adding more storage 
Converting the loft 
Reduce Wear and Tear in Properties with Pets
One major factor that can increase wear and tear in a property is the presence of pets. Despite the potential for accidental damage, many landlords can lose a significant portion of the rental market by not accepting animals, resulting in more and more rental properties becoming 'pet-friendly'.  
However, there are ways you can make a property 'pet-friendly', such as avoiding rugs and carpets, removing white or light-coloured furniture, and using fireguards should there be a real fireplace present. Hardy fabrics that are easy to clean, such as leather, Ultrasuede, outdoor fabrics, and woven fabrics are the most popular choices when catering to tenants with pets. 
Keep a Good Relationship with Your Tenants  to Reduce Wear and Tear
Ensuring you maintain a good relationship with your tenants is key when working towards reducing the level of wear and tear in your property. Your tenants will be living in the home 24/7, meaning they will be responsible for a lot of the basic maintenance that can prevent gradual damage. 
It's important your tenant feels like a resident and not just a renter. Keep an open line of communication, show your professionalism and be responsive. Happy tenants will stay in a property longer and be more inclined to take good care of the home. 
Do you have any other top tips to reduce the wear and tear of your rental property? Let us know by leaving a comment below or getting in touch on social media.