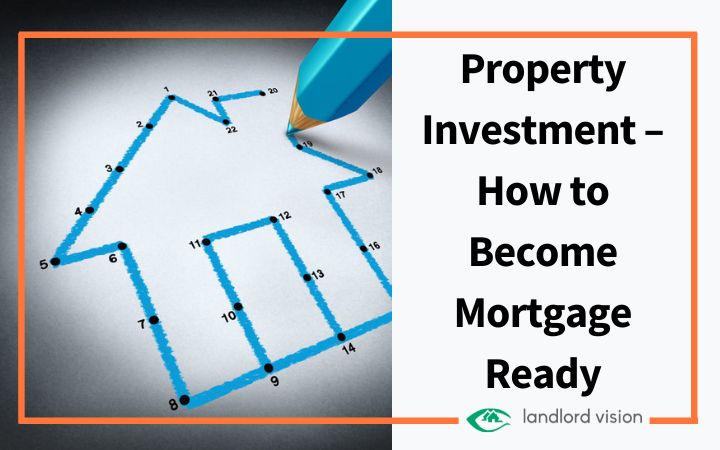 When you want to take out a mortgage on a home you wish to rent out, there's a bit more to consider than on a standard residential mortgage. Whether you're a new landlord looking for your first buy to let mortgage, or an existing landlord wanting to expand your portfolio, there are some key things you can do to make yourself mortgage ready. In this post, we'll introduce you to some of the things you should be doing in the months leading up to your mortgage application.
Prepare a Mortgage Deposit
Everyone knows that a deposit is necessary to take out a mortgage, but in the last few years the amount of deposit you need has increased drastically. First-time home buyers may be able to get away with a 5% deposit, but 10% is the standard. Landlords, however, are more likely to need 20%+. The larger your deposit is, the more favourable rates you'll find and the more choice of lending products you'll have.
If your deposit funds are not liquid, you'll need to figure out how quickly you will be able to liquidate them. You'll also need to factor in any costs or tax implications of liquidating assets. This will help you to understand exactly how much deposit you are able to put up.
Financially Model Your Mortgage
While saving for your deposit, or in the run-up to applying for your buy to let mortgage, you should do some financial modelling. Figure out your property purchasing budget by looking at how much deposit you can put up, how much you will need from a mortgage, whether you can afford the re-payments etc. You should run a few mortgage cost scenarios based on different interest rates, deposit amounts, mortgage terms, etc until you find the scenarios that look right for you. There are plenty of online tools and calculators to help you do this.
Understand what Kinds of Mortgage Products are Available
There are different lending products available for buy to let purchases. You will need to understand the pros and cons of these products and work out which one is best for you. For instance, it is common for buy to let mortgages to be offered as interest-only repayments instead of capital which means you'll need a plan to repay the capital at some point in the future.
You can also get variable or fixed-rate mortgages. Lenders offer multiple products, and these differ from brand to brand so it pays to shop around and understand the associated costs and attributes of any products you are considering. For this reason, it is common for landlords to use a mortgage broker. This enables you to give all your financial information and requirements to one person whose job it is to find you the mortgage that most closely resembles what you're looking for and what you can afford.
If you hold your properties in a company, you may find that the products on offer to you are different again to mortgages offered to personal buy to let investors. There is less choice in mortgage products for limited companies and you may need a specialist broker to help you find something suitable.
Prepare Your Credit Rating for Hard Searches
Before you take out a mortgage, a lender will want to conduct a credit search on you. This will allow the lender to check that you can afford repayments and will show them if there are any risks in your financial history like CCJ's, missed payments, etc.
There are plenty of ways to check your own credit score. You are able to pay some of the credit reference agencies to get access to your credit report, but you can also access it for free with Credit Karma which is offered by Trans Union.
If you have a poor credit score you will need to take steps to improve it before you get your mortgage. This includes taking out credit and re-paying it if you don't have much of a history or consistently not missing payments if you have a history of late payments. The service you sign up to when you access your credit report will likely give you advice on improving your score. You can also contest inaccuracies on your credit report – i.e. addresses you were not linked to, products you haven't taken out, re-payments that have been marked as missed but were actually paid.
In the run up to your mortgage application and during the course of the application you should avoid applying for any other forms of credit that will leave a footprint on your credit report. A hard search performed by another company can impact your score. You will know if a search is to be carried out as part of an application for something else as you need to give express permission for credit searches to be conducted.
Prepare Address and Identification Documents
You will be required to provide proof of address and identity documents to your mortgage lender, although this is not always required if you are an existing customer. Before you get to this stage you should make sure that you have up-to-date and accurate identification and address documents. You should also make sure your address is consistent across your bank, DVLA, etc, so that there are no discrepancies that will hold up your application.
Consolidate Your Debts
If you have a lot of debts, consider consolidating them or paying them off where necessary. A lender will look at whether you are able to afford all your debts and re-payments and if you have a lot of them, you may find yourself being turned down for a mortgage. Your mortgage lender will also factor in the possibility of interest rate rises, so if you have debt with variable interest rates the lender may still decline you based on a forecast of rate rises.
Evidence Your Income
When you want to take out a mortgage a lender will ask for proof of income. If you're a PAYE employee this is usually quite straightforward as you can provide copies of your payslip. However, if you earn money via other means you will need to understand how to provide evidence of this. You should also take into account that lenders may have different rules around income sources they can and can't accept. For instance, many lenders will not accept benefit payments as an income source.
When it comes to sole traders, you will need to check the income criteria with your lender. Some lenders will only accept sole trader income if you can show a year's worth of income or more from sole trading. If you want the lender to consider, for instance, profit made from your properties as income, you will need to find out which lenders accept this as an income source and how they expect this income to be evidenced. This allows you to prepare ahead of time, especially if there are rules about how long the income should have been coming in etc.
Find a Mortgage Broker
There is so much to consider when taking out your mortgage. Especially if you're a landlord, and you have existing mortgages it can become a bit of a minefield. If you don't have the time to do thorough research on mortgage products and lenders and their criteria, then it might be time to consider a specialist broker. Sometimes you'll pay a fee for this service that will be included in your mortgage, sometimes they are paid by the mortgage company, but they will take into account your personal circumstances and find the options that are most likely to work for you. If you do go down this route, make sure you pick a good broker that has good reviews and one that is choosing from a wide panel of lenders to ensure you get the best service.
Read More Like This