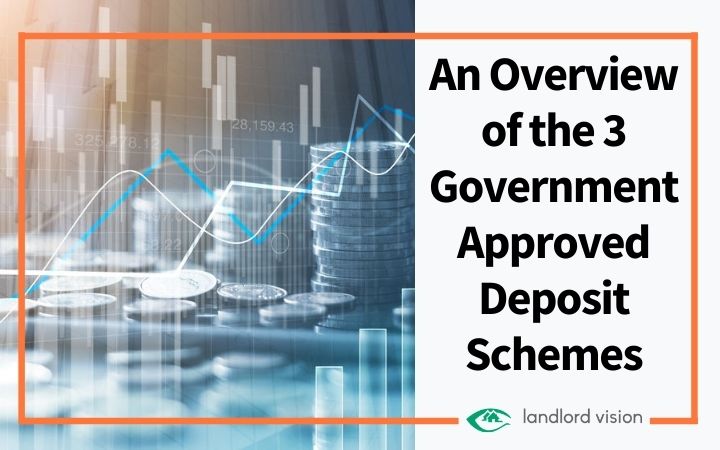 Most landlords ask tenants to pay a deposit when they move into a rental property. A deposit gives the landlord a measure of security in case the tenant causes damage to the property or skips off without paying the rent. It might not cover all the damage or rent arrears, but it is helpful, nonetheless.
If a tenant on an assured shorthold tenancy pays a deposit, it must be protected in a government-approved scheme. If a landlord doesn't do this, the tenant can take court action to have their deposit repaid to them. The court can order a landlord to repay up to 3X the amount of the original deposit. Not protecting a deposit also means a landlord can't evict a tenant using a Section 21 notice.
Now that we've established that not protecting a tenant's deposit is a seriously bad idea, let's take a look at the three government-approved deposit schemes.
Deposit Protection Service
The Deposit Protection Service (DPS) has been around since 2007. It's the largest deposit protection scheme in the UK, holding more than 7 million tenant deposits. The DPS offers two deposit protection services, one of them free.
It's very easy to set up a DPS account: all you need to do is provide an email address and create a password. You will also be asked to answer some security questions, so the DPS can validate your identity at a later date. You're free to create an account at any time.
Custodial Scheme
The Custodial deposit protection service is free to use and you can protect as many deposits as you like. This scheme is the most popular. The DPS holds your tenant's deposit and then repays them when the tenancy ends.
Simply create an account, add the details of the tenancy, and pay in the deposit. The DPS will then prepare the prescribed information for you to pass along to your tenants.
A free Custodial account with the DPS gives you access to free training, free dispute resolution, and the latest DPS Rent Index, so you can track tenant trends and make more informed decisions about your buy to let business.
Once you have created a Custodial account, you can add a property to your account. This can be done even if the property has not yet been let to a tenant; it means you have everything set up and ready to go as soon as the tenant pays you their deposit.
You'll need the name and title for each tenant listed in the tenancy agreement, contact details, the rent amount, when the tenancy starts and how long it is for, and the deposit amount. Information can be added as and when you receive it, but the application can't be completed until all of the information has been added to your account.
When you receive the tenant's deposit, simply transfer it to the DPS. Bank transfer is the fastest way to do this, but if you would rather use a different method, contact the DPS's customer service.
Insured Scheme
The Insured scheme lets you hang on to the tenant's deposit while paying insurance to protect it for as long as the tenancy lasts. This costs £9.50 per month.
When you create an Insured account, the DPS will send you a direct debit mandate.
To be eligible to use the Insured scheme, you must have Client Money Protection (CMP) in place via one of several CMP providers, including:
Propertymark
Client Money Protect
Money Shield
Safeagent
The Insured scheme is more applicable to letting agents and larger corporate landlords with many properties in their portfolio.
Dispute Resolution
The DPS offers a free dispute resolution service if landlords and tenants can't agree on how a deposit should be divided at the end of a tenancy. The service is easy to use and is a much better solution than pursuing a claim through the courts.
Landlords submit their evidence in support of a claim, for example, photos of damage and estimates to put it right. Tenants can then provide their own evidence to support their position.
All evidence is sent to an independent adjudicator. They'll review everything and make a decision about how the deposit must be repaid. The final decision is then sent to the landlord and their tenant.
If you use the Custodial deposit protection service, you and the tenant have 14 days to submit your evidence once you start the adjudication process. The adjudicator has 28 days to reach a decision. A decision is final and binding, but you are free to come to a mutually agreeable solution before the adjudicator has ruled.
MyDeposits
MyDeposits has been protecting deposits since 2007. It's part of a wider network of organisations that help and protect landlords, letting agents, and tenants. This includes Total Landlord Insurance and The Property Redress Scheme. MyDeposits is run by Hamilton Fraser, a buy to let insurance expert. It is the only deposit protection scheme endorsed by the National Landlords Association.
MyDeposits also has a dedicated MyDeposits Wales page. This helps landlords and letting agents stay compliant with Rent Smart Wales and the Renting Homes Act 2016.
MyDeposits for Professional Landlord Businesses
Any type of landlord can use MyDeposits, including professional landlords with large portfolios. There is a bulk deposit upload feature, which allows larger landlords to protect multiple deposits at once. This helps to reduce property admin. This streamlined system is especially helpful when you are managing student properties and a large number of tenants are moving in and out at once.
MyDeposits has a business development team for larger landlords. You'll be assigned a named contact and have access to high-level account reports. There is also face-to-face training and support available. MyDeposits can be integrated with landlord software for automatic deposit protection.
Tailored pricing and flexible PAYG membership are available for business users; contact the Business Development Team for more information.
To use MyDeposits, you need to set up a member's account. Next, decide whether you want to use the free Custodial service or the paid-for Insured scheme. Once a tenant pays a deposit, you have 30 days to protect the deposit, provide details about the tenancy, and give your tenant Prescribed Information about their deposit.
Custodial Scheme
The Custodial scheme is free to use. All you need to do is sign up for an account, register the deposit, and transfer the money. The online dashboard is easy to use and you can use it to manage your protected deposits and deposit releases.
Deposit money can be transferred to MyDeposits by direct debit, bank transfer, or cheque.
Insured Scheme
The Custodial scheme costs £14 per deposit. The tenant's deposit is held in your own account and MyDeposits offers an insurance-backed guarantee. At the end of the tenancy, it's your responsibility to return the deposit to the tenant.
Once you have protected a tenant's deposit using the Custodial or Insured scheme, MyDeposits creates the legal documents you need to serve to the tenant. This prescribed information tells them where you have protected their deposit and how they can get it back when the tenancy ends.
Your member account will notify you when action needs to be taken, such as protecting a deposit when a tenancy is extended.
If you Need Help
MyDeposits has an in-house call centre if you need help with deposit protection. There is also an FAQ and Resource Centre, where landlords can find information on a range of topics. This includes dispute resolution, rent arrears, and ending a tenancy early.
Dispute Resolution
Tenants and landlords don't always agree about deposit deductions at the end of a tenancy. MyDeposits provides a free and impartial dispute resolution service for landlords and tenants, to help you solve a dispute without the hassle and expense of taking legal action.
If your tenant agrees, you can withhold part of a deposit when a tenant moves out. You don't need to notify MyDeposits. If the tenant doesn't agree, you can use the dispute resolution service to help you both resolve the issue. MyDeposits say this applies to less than 1% of protected deposits.
The tenant must contact MyDeposits to raise a dispute if they are not happy about some or all of their deposit being withheld at the end of a tenancy. MyDeposits will then investigate. Money not in dispute will be returned. Evidence must be provided by both parties. An independent adjudicator will make a final decision, which is binding. The deposit will then be returned, as per the adjudicator's decision.
You can check the status of any outstanding disputes by logging into your MyDeposits account.
Tenancy Deposit Scheme
The Tenancy Deposit Scheme (TDS) was established in 2003. It is the oldest of the three government-authorised deposit protection services. The TDS is also a non-profit organisation, which sets it apart from the other two. It's backed by the National Residential Landlords Association (NRLA), ARLA Property Mark, and the Royal Institute of Chartered Surveyors (RICS).
The TDS offers deposit protection services in Scotland (SafeDeposits Scotland) and Northern Ireland (TDS Northern Ireland).
Like the other two schemes, the TDS offers two types of deposit protection: Custodial and Insured.
TDS Custodial
If you join the TDS Custodial scheme, you pay the money to the TDS and they look after it for free. All landlords can use this scheme.
TDS Insured
To use the TDS Insured scheme, you must register an independent landlord account. You hold the deposit unless you are involved in an adjudication, in which case, the deposit is sent to the TDS for safeguarding.
The TDS Insured scheme works on a PAYG basis. It costs £17.50 for each registered deposit of less than £500 or £24 for a deposit of £500+. This lasts for the lifetime of the tenancy agreement. A maximum of £25,000 worth of deposits can be protected using the TDS Insured scheme. Proof of property ownership will be required.
Corporate landlords can take advantage of an annual subscription service that runs from 1 April to 31 March. This will be based on how many deposits are protected, following consultation with the TDS insurers.
The joining requirements for both schemes are as follows:
To protect a deposit with TDS Insured for landlords:
own the rented property to which the Deposit relates;
be named on the relevant AST agreement as the Landlord;
be protecting no more than £25,000 of deposits with TDS at one time;
if protecting as a company, it must be domiciled in the United Kingdom
You must also agree to abide by the rules of the scheme and the rules of adjudication
To protect a deposit with TDS Custodial:
own the rented property to which the Deposit relates;
be named on the relevant AST agreements as the Landlord;
if protecting a company, it must be domiciled in the United Kingdom
The TDS Despite Resolution Service
The TDS offers a dispute resolution service. If you want to raise a dispute at the end of a tenancy, log into your account if you are using the TDS Custodial service or go to your tenancy summary page if you're using the TDS Insured scheme.
If the tenant refuses to accept a deposit repayment request, the deposit will automatically be subject to the TDS adjudication service. Both parties must agree to use the service. No reply means automatic consent. A decision is normally reached within 28 days. This decision is binding; the deposit will be repaid as per the adjudicator's ruling.
Disputes must be raised within three months of the end of a tenancy if you are using the TDS Insured scheme. There are no time limits if you're using the TDS Custodial scheme.
Evidence will be required if you use the adjudication service. This includes a copy of the tenancy agreement, inventory report, work estimates, receipts, etc. All responses and evidence submittals are done online via the Online Evidence Portal. Your tenant can see any evidence you upload, and you can view theirs here too, so it's a good idea not to upload anything you don't want the tenant to see.
TDS Help and Advice
The TDS has a 'TDS Lounge' area where you can find answers to any questions you might have. There are also templates, guides, case studies, a blog, and more.
The TDS Academy offers training courses and workshops. The TDS Foundation Course covers deposit protection and is aimed at landlords and property managers/administrators. If you're interested in adjudication, the TDS Adjudication Workshop teaches landlords how to 'think' like an adjudicator. TDA training events are listed in a calendar, so you can look ahead to see what's coming.
Which Deposit Protection Service Shall I Choose?
All three schemes offer the same service and if you use the Custodial service, it's always free. Fees for the Insured scheme vary between the three, so depending on how many properties you manage, this is likely to be a factor.
Check out each of the three sites. Look at how they work and how intuitive the online dashboards are. Ask other landlords which scheme they use, and which one they would recommend. Read reviews on Trust Pilot too, as this is a useful barometer of how well a service provider meets customer expectations.
If you try a deposit protection scheme and find it isn't for you, simply move your deposits to a new one.
Which deposit protection scheme do you use? Are you happy with it? Or would you not recommend it's service? Let us know. You can get in touch via Facebook or Twitter.