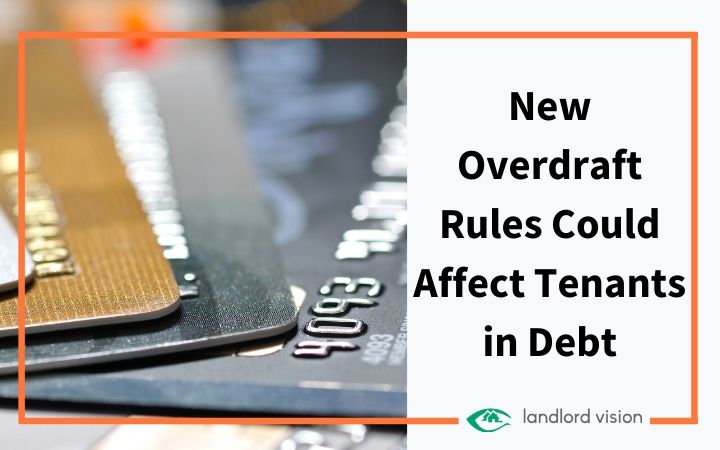 The Residential Landlords Association is warning landlords that many tenants are living in their overdrafts. With the new FCA rules on overdraft fees coming into effect in April, it's likely that many tenants will slide further into debt – which could impact their ability to pay the rent on time.
New FCA Overdraft Rules
From April, banks will no longer be able to charge additional fees for unauthorised overdrafts. Instead, they will only be able to charge a simple annual interest rate. The FCA says this will make it easier for customers to compare overdraft costs. It also says 70% of customers will be better off as a result.
It is likely that the banks will want to recoup the money they will be losing from overdraft charges. This could mean that banks drastically increase the interest they charge on overdrafts. Fears are that banks could charge more interest than the flat rate of 39.9% much higher than a standard credit card. For tenants that live in their overdraft from one month to the next, it could be rather costly.
Tenants in Debt
The 30% of people who won't be better off after the FCA overdraft changes could fall into more debt. Research carried out by comparethemarket has found that 13% of people use their overdraft to pay their rent or mortgage. With the average rent in the UK now £886 a month, the interest charges will soon stack up. Some banks have said they will link interest rates to a customer's credit score, so anyone with a poor credit score will end up paying even more, which is likely to push them deeper into debt.
Landlords may not think twice about how their tenant pays the rent, but it might be time to pay this more mind. If a tenant is already struggling to pay the rent and is living in an overdraft from one month to the next, it won't be long before they get into financial trouble.
Monitor Your Rent Payments
Monitor your rent payments closely. If a tenant is late paying their rent talk to them and find out what the problem is. They could be experiencing a temporary cash flow problem, but if they are in debt, they might need some extra help. Consider discounting the rent temporarily, if it will help, but you may need to act fast before the situation gets out of hand and you end up looking at significant arrears.
Have a Heart!
Exercise some compassion. If a tenant is having a hard time paying rent because they've lost their job or their personal circumstances have changed, give them a chance to regain their financial equilibrium. If the tenant has a guarantor, get in touch to let them know the tenant is behind on their rent; that will normally do the trick.
Evicting a Tenant
Remember, you can't evict a tenant until they are two months in arrears. If you decide to follow this path, make sure you do it legally. It's not OK to throw a tenant out on to the street with all their belongings in a bin bag.
Finally, it's worth looking at landlord insurance that includes rent guarantee cover, especially if you have a mortgage to pay.
Read More Like This: