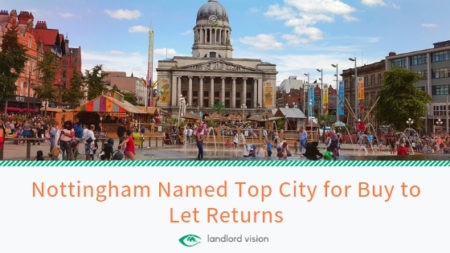 Location is very important when it comes to buy to let returns. Most property investors know that London is no longer as attractive, due to punitive property values, but the good news is there are several other cities where rental yields far exceed anything on offer from a high street savings account.
University City Comes Out Top
Research carried out by Totally Money has revealed that Nottingham in the Midlands is cream of the crop for buy to let rental yields. Two postcode areas in Nottingham – NG1 and NG7 – appear in the top five places to invest, with rental yields of 11.9% and 8.89% respectively.
Liverpool is #2 on the list, with rental yields of 9.79%, closely followed by Cleveland in the North-East, boasting returns of 9.45%. At the bottom of the list, is Bradford, sitting at number 10. But don't despair, you can still enjoy yields of 8% if you buy a property in Bradford.
What Makes These Cities So Successful?
Property prices are affordable in the top ten cities. This makes a huge difference, and it is why buy to let in the South-East is not as profitable. The other important factor is that cities like Nottingham have big student populations. Nottingham has not just one, but two universities: The University of Nottingham and Nottingham Trent University. Whilst students typically live in Halls of Residence on their first year, they move out into the private sector in subsequent years, which means landlords have a steady supply of available tenants.
Liverpool has three universities and a student population of 70,000, so it, too, is a great place to invest.
Research has consistently shown that university towns and cities are smart choices for buy to let investors. Students always need accommodation, so if you buy a property in the right postcode, you won't suffer many void periods.
Choosing the Right Property
This doesn't mean you can't make money from buy to let in more expensive places, such as London, but you will need to find the right property to enjoy reasonable rental yields.
Read more like this:
Landlords Declare the Death of Buy to Let
Landlords Driven Out of the Buy to Let Sector
North-South Divide in Buy to Let Market