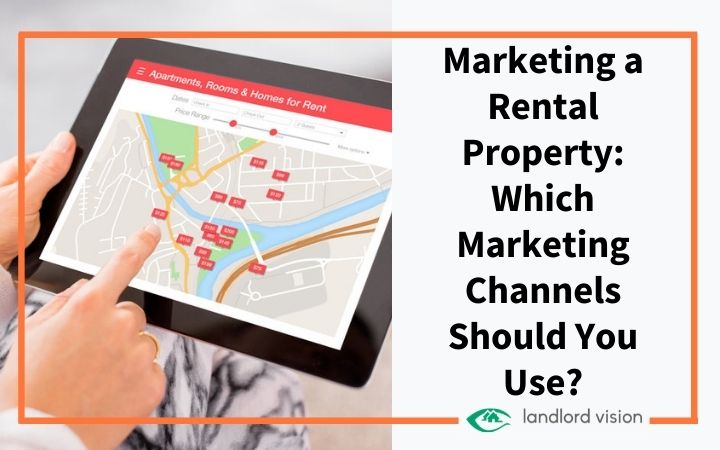 So, you've got a rental property that's in need of tenants. The first question on your mind is probably where are you going to find them?
An understanding of marketing channels can make or break your search for suitable tenants. A good marketing campaign will attract the right tenants, limit void periods and reduce the fees you spend on advertising. A bad campaign targeting the wrong tenants can increase void periods and will make it difficult for you to find a tenant. 
In this post we're sharing the best marketing channels use to attract the right tenants.
Definite the Target Audience for your Rental Property
First things first, you need to know who you're looking to attract. Unless you know the kind of tenants you want to attract, your marketing efforts will fall short. If you understand who you are trying to attract it will help you choose the right channels to advertise on. In turn this will save you money and make sure that the time and effort you put into advertising aren't wasted.  
If you aren't sure what kind of tenant you want to target, take a look at previous people you've let your property to. Were they students, older tenants, professionals, families? You'll find there are patterns in the kinds of tenants that rent from you.  
In our Finding and Keeping good tenants guide you can learn more about buying a property to attract the right tenants along with what kinds of property you need to purchase to attract your target tenants. If you haven't yet purchased a house get familiar with this guide to make sure that you're buying the right property.  
What Marketing Channels Should You Use to Market Your Rental Property?
Channels are just a fancy way of saying platforms. For instance, social media channels would be Facebook, Twitter, etc. Social media marketing channels for landlords are covered in depth here.
There are a huge range of channels open to you depending on the amount of time, effort and money you want to put in to advertising your property. 
The channels you use will vary depending on the type of tenant you are targeting. If, for instance, you are looking for students, you're unlikely to find them by advertising in newspapers.  In this section we're going to look at the most popular channels landlords use, the kind of demographic you are likely to find using these channels and the amount of time, effort and budget you'll need to put into each one.  
How to use Social Media to Find Tenants
Social media is a great way to advertise your properties to potential tenants. You can base your choice of social media decision based off the demographic you want to attract. These platforms don't require a lot of effort to setup, and even less if you already have existing accounts.
If you're building a completely new account, it will take time to build up your following. There is the option to buy social media channels that come with an already established following, but we wouldn't recommend this to an average landlord. The details of buying a social media account with a following are beyond the scope of this post.
The following you have on social media must be relevant to the product/service you're promoting, otherwise the audience you market to will not be interested in what you have to offer. So in this case, it's useless to build up a following consisting of people are not interested in renting a property.
Once your social media channels are set up, you have to post consistently to keep your followers interested and engaged in your profiles, and with some luck this will grow your channel too. Promoting properties to tenants isn't the only use for social media. Tenants may use your social profiles to contact you, so you'll need to check these platforms regularly for tenant messages.
For more insight into social media marketing for landlords, check out our post on social media channels that you can use to find tenants. This post takes a closer look at how to market your properties on Facebook, Twitter, LinkedIn and Instagram.
Advertising your Rental Property on Rightmove and Zoopla
There is no doubt that Rightmove and Zoopla are some of the most relevant channels out there. They both have a high number of visitors so if you're looking to rent out your property or you're looking to sell it then it makes sense that you'll find a lot of your target market here.  
One of the most frustrating things about using these channels is that you can't just create a listing and have it displayed on Rightmove or Zoopla. You need to go through an online letting agent to list your properties here.  
Open Rent is a great solution if you're looking to just advertise rather than take up the full services of an online letting agent (more on that later). Once you've managed to get your listing onto these prodigious channels there's still no guarantee that your property will let or sell, especially if you haven't done the leg work properly. We'll go into this later in this guide.  
Rightmove and Zoopla are not free to use either. An online letting agent won't list your properties there free of charge. While there are a lot of potential tenants using these platforms, there are also a lot of other landlords and letting agents advertising their properties here. So, before you go to the lengths of paying for an online letting agent, see what the competition looks like. If there are a lot of properties coming up for rent in that area, you might find it difficult to get yours noticed.  
The chances of getting your property let on these channels depends on the price you're letting at, the quality of your photos, the details in your listing and a whole host of other factors. If you're going to advertise on these channels you should put the effort into making a listing that really stands out. 
Look at other listings and find out what would make yours stand out from the crowd. If you aren't confident in persuasive writing hire a copywriter to write the listing details for you. If your photos are anything less than perfect, hire a professional to take the photographs for you. It may seem like a lot of work or expense, but if you do a great job you'll find a tenant quickly and you'll be able to use the same photographs and blurbs on different channels. You should also be able to re-use the photographs and blurb if you're letting the property out again in the future.   
Going to Rightmove or Zoopla with a poor listing can be an expensive mistake to make. Find out more about how to write the perfect property listing here.
Is it Still Worth Advertising Property Rentals in Print Advertising?
Print advertising involves taking out an advert in a newspaper. Some marketers say that print is dead, and let's be honest, they aren't that far wrong, but if you're trying to attract older tenants then print ads may be your best option. Most people reading newspapers are over 35, though the demographic will vary slightly from paper to paper and town to town. If there's a free newspaper in the area you are renting a property in, this can be a good way to attract over 35's. Free newspapers tend to be distributed quite widely so you'll reach a wider demographic if you advertise here.  
One exception to mention is the Metro newspaper. While this is a national one it's available for free on public transport, so advertising here may bring you to the attention of commuting professionals.  
Print advertising is not free, since newspapers have declined in popularity the ad space pricing has gone up as advertising is the method by which most newspapers sustain themselves. It is quite straightforward to take an ad out. You usually pay for the amount of words in the ad, its size and format, and for the length of time it is displayed. Pricing will differ from paper to paper. 
Unless you want to pay for a half or full-page ad listing you will generally have a lot less space in a newspaper ad. This means if you want it to be effective you will need to choose your advert wording carefully. If you've hired a copywriter to help with your listing you should be able to pick out a few good lines of their copy, if not though, you'll have to choose your words carefully for your ad to have an effect.  
While text only adverts do work, they don't work as well as adverts with pictures, so if you're considering using print advertising, you'll need to take this into account when deciding if this is the right channel for you. 
Pay Per Click (PPC) Advertising for Property Rentals
The chances of you needing to use pay per click advertising are slim. Unless you have a huge portfolio and your own website you won't even need to get into this beast of a strategy. If you have your own website though and you have a lot of properties on offer at any one time, you'd be remiss not to at least look into pay per click advertising.  
How PPC works is way beyond the scope of this guide and would require a guide all of its own, but you can find some great tips, tutorials and guides over at Wordstream and PPC hero if you want to learn more.  
The good thing about PPC is that you have a lot of control over your budget, the types of ads you want to display and where you want to display them. The downside is that it can get expensive and usually requires a lot of testing to get right. Once all your testing is done, Pay Per Click ads still take a lot of work to maintain.  
Google ads is the most popular place to set up PPC, but there are other places you can do this like Bing ads and Facebook. If you have the time and the inclination it's a channel that usually performs well, even for amateurs. If you don't have an entire empire of properties to rent out the chances are you won't need to get into this at all. It requires a lot of time and effort, so if you're considering this, you'll need to make sure it's worthwhile. You may find it easier to hire an expert to help you if you haven't used this method of advertising before. 
Listing Your Property Rental Vacancies with Open Rent
This is a lesser-known website that is growing in popularity. It's been built specifically for private landlords to advertise their rental properties. There is a free plan so you can advertise your property on this site without paying any fees at all. However, if you want to pay £29 (at the time of writing this post) your property will also be listed on Rightmove, Zoopla and other sites for 3 months. If  you aren't keen on using an online letting agent, OpenRent might be just the ticket. They also offer other services such as tenant referencing, photos and floor plans, etc.  
There are a lot of other online companies where you can advertise your properties for various fees, but a site Like OpenRent will allow you to create a single listing that will then be advertised on a wide range of property sites. This is a huge time saver as you then won't have to create multiple listings across different sites. 
Advertise Your Property with Online Classifieds Ads
Online classifieds can be a great way to find a tenant, the people who use these sites are often from a wide age range and variety of backgrounds. Sites like gumtree can be free to list on, and they usually have a large audience. You'll find that enquiries from this channel are fewer and further between than those from the more well-known property sites, if you're on a tight budget though this is a good option. 
Display Tenant Reviews on Your Property Rental Listings
It is a well-known principle of marketing that people are always happier to try or buy things if they can see their peers have done the same and have had a good experience. This principle will also work for advertising a property and it's rarely used by landlords and letting agents, yet it will have a huge impact. 
If you've got other tenants and they're happy to give you a review about how they've gotten on with you, how they've found working with you as a landlord, how they feel about your property, etc. then you will stand out against competitors also trying to let property in the same area. 
Imagine seeing a rental listing with a review that says something along the lines of: "I've rented a property from Bob for the last year and he's been excellent, he takes care of the property and always reacts quickly when I call him". It's short and sweet but really sends a message to prospective tenants and will increase the number of enquiries you get.  
It's easy to ask your tenants for a review. You can send them an email and just ask them for a few words you can use in your next rental advert. Most tenants will be happy to oblige.  
If you're using a quote in your rental advert, don't forget to use the name of the tenant that gave it to you so that others can see it is a genuine review. 
If you have a lot of properties or tenants, then it may be better to collect reviews on an independent review site like TrustPilot or maybe on your Facebook page as these add an extra element of trustworthiness and show you haven't just made the reviews up. Never just make the reviews up! You can get into all sorts of trouble for doing that. 
Harnessing Word of Mouth Property Referrals to Find Tenants
The most successful advertising in the world is still word of mouth. People trust other people and recommendations are still the best sales pitch around as they come from people we trust and believe. Encourage your existing tenants to spread the word if you've got properties for let. You can even encourage this by providing incentives, for instance you and your friend get £20 cash back if you recommend them and they move in. This is just an example, there are a whole host of incentives you could dream up to help tenants promote your properties to people they know. 
Of course, you'll want to make sure you only give this option to tenants you trust and are happy with to avoid receiving applications from unsuitable tenants. Remember you'll still need to screen tenants that have been recommended, just because they are friends with a good tenant, doesn't mean they are a good tenant themselves. 
We hope this post and the tips contained within give you food for thought and help you to stand out when advertising your rental property. As always get in touch if you have any questions and remember to always do your research before spending money on advertising.  
Disclosure: Some of the links in this post are affiliate links and if you go through them to make a purchase, we will earn a commission at no extra cost to you. We link these companies and their products because we rate their quality and not because of any commission we may receive. Whether or not you decide to buy something is completely up to you. Commission earned is what allows us to continue offering free top-quality content.
Read More Like This.