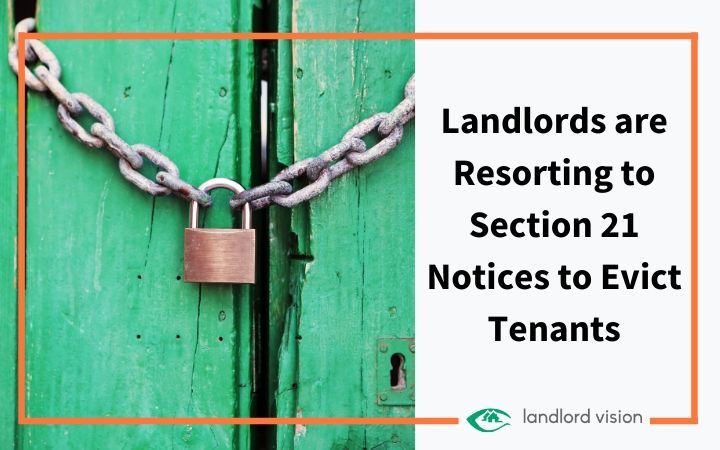 Landlords sometimes need to remove a tenant from their property. This could be because they want to sell the property, or it could be because the tenant has defaulted on their rent or trashed the place. New research shows that landlords are waiting for the tenancy to end rather than following the process that's set out for dealing with evictions during the tenancy term…
Section 8 Vs. Section 21
A Section 8 notice should be served by the landlord if the tenant has defaulted on their tenancy agreement, the most common reason being unpaid rent. If the tenant is not in arrears, the landlord can issue a Section 8 notice if the tenant has been convicted of illegal activity, caused damage or neglected the property, given false information at the start of the tenancy, and a host of other reasons.
A Section 21 notice is used to evict tenants at the end of a shorthold tenancy. They can also be used at any time if the tenancy has no end date. It cannot be used within six months of the beginning of the tenancy.
Interestingly, research carried out by Landlord Action, a leading eviction specialist, has found some landlords are using a Section 21 notice in place of a Section 8 notice, even when there are clear reasons to issue a Section 8, such as rent arrears.
The Courts are Failing Landlords
Paul Shamplina from Landlord Action says he thinks the switch to Section 21s is because landlords have no faith in the UK court system.
"Not only is using Section 8 already more time-consuming, tenants can delay the process further for landlords by counter-claiming. In addition, discretionary grounds of Section 8, such as anti-social behaviour, can be extremely difficult for landlords to prove, meaning it has a lower success rate."
Shamplina says many landlords are taking the view that it is better to write off rent arrears in order to take possession of their property much faster. The research carried out by Landlord Action found 43% of landlords reported their tenants moved out when given a Section 21 notice. A further 42% ended up resorting to court action in a bid to remove the tenant.
Landlord Action is warning that attempts to ban Section 21 notices could backfire on the industry. It says landlords are already concerned about the problems they face in trying to recover properties from tenants who play the system for all its worth. It can sometimes take a landlord many months to get the property back after filing a Section 8 notice. Meanwhile, the rent isn't being paid and the house invariably ends up trashed.
Landlords Might Leave the Sector if Section 21 Notices are Diluted or Banned
Shamplina believes removing Section 21 notices, or diluting their power, would be disastrous for the private rental sector.
"Section 21 gives landlords and mortgage providers the reassurance and flexibility to recover their asset, if they need to. To abolish it, or even dilute its current use, as has been suggested, will require significant reform to Section 8, which offers reassurances to landlords that, if they had to use the Section 8 route under grounds for rent arrears, moving back into the property or selling it, there would not be significant delays in the court process."
He thinks the end result would be a further exodus of landlords, which would deplete the stock of private rental housing even more.
What's your experience of Section 21 or Section 8 notices? Tell us more!
Read more like this:
Landlords Are Waiting Months To Reclaim Properties After Applying To The Courts
Tenants Can Now Sue Landlords For Poor Housing Conditions