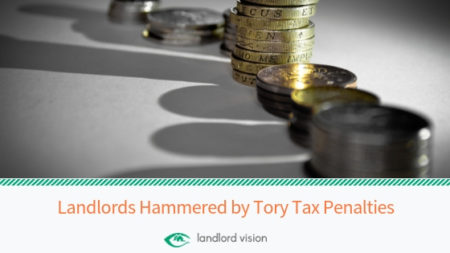 A Daily Mail report has concluded that the government's crackdown on buy to let landlords has forced many smaller landlords out of the market. Analysis by the Daily Mail has found that mortgage applications have fallen by 60% in the last ten years, from 183k in 2007, to less than 70k in 2018. Landlords are also selling off their investment properties, with Britain's largest landlords, the infamous Wilsons, in the process of offloading their extensive portfolio this year.
Buy to Let is No Longer Viable Say Landlords
A combination of increased Stamp Duty Land Tax (SDLT), the loss of mortgage interest tax relief and 'wear and tear' tax relief, have all contributed to making buy to let investment less profitable. A lot of landlords bought into buy to let to boost their pension plan and generate some passive income, but the tax changes have pushed many of them into the higher rate tax bracket, which wipes out their profits. One experienced landlord says her tax bill will soon eliminate virtually all of her profits – and she is not alone. And the morass of landlord regulation surrounding buy to let doesn't help either.
"It has become draconian," says Margaret Melrose, a landlord with 40 years of experience under her belt.  "There are around 125 pieces of legislation landlords must adhere to. Soon, I will be paying more money in tax than I make."
The Loss of Mortgage Interest Tax Relief Cuts Deep
Landlords with mortgages are the worst hit. People who used the equity in existing properties to invest in more houses are watching with dismay as taxes eat away at their meagre profits.
"For small landlords like us, there is a lot of work that goes into maintaining the property, meeting regulatory requirements, for very little return," said one landlord with two buy to let properties.
Many smaller landlords are now making plans to sell their properties in the next two to three years. With profits all but wiped out, the time and effort it takes to manage a landlord portfolio is simply not worth the effort for small-scale landlords. And with property prices stalling as Brexit rumbles on, landlords can't even look forward to generous capital gains.
Tough New Lending Rules
To make matters worse for landlords, tough lending rules have made it much harder to obtain a buy to let mortgage. Interest rates may be low, but lenders are subjecting would-be borrowers to stress tests and insisting rental income is at least 25% more than the cost of the mortgage payment.
Experts say there are still opportunities to make money in buy to let, but would-be landlords must do their research. University towns and cities represent some of the best places to invest. Areas with low property prices and high demand, for example, Manchester, are good for landlords. However, it is vital that you take professional advice before you take a leap into the unknown, or you could be stung by the tax man.
Are you thinking of selling up and leaving the PRS? Let us know – we'd love to hear more about your experiences.
Read more like this:
Most Landlords are Struggling to Make Ends Meet
Do These Figures Validate the Government's Landlord Taxation Policies?
Nottingham Named Top City for Buy to Let Returns