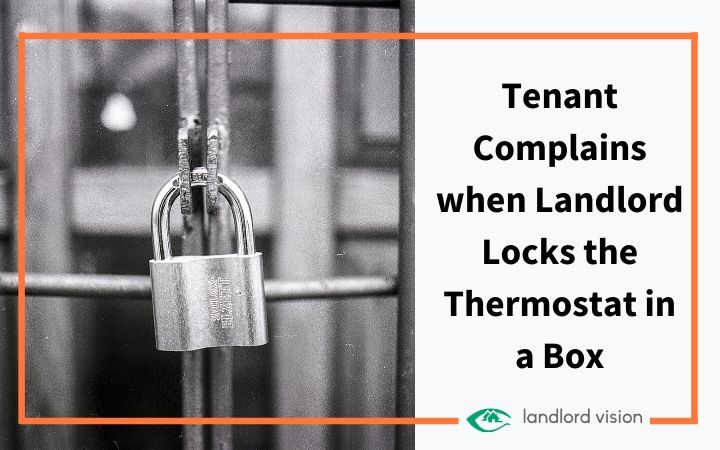 Heat and hot water are two things a landlord must provide. Bedrooms should be at least 18 degrees Celsius and living areas 21 degrees Celsius. Most tenants expect to have control over when the heating comes on, for how long, and also whether there is any hot water…
However, in a story that went viral this week, a landlord decided to exert control over the heating and hot water by fitting a plastic box over the property's Google Nest thermostat.
Caged Heat
The tenant first realised what had happened when the heating went off and one of his housemates pointed out the thermostat had a "cage" over it. Since the box was fitted, the tenants have no idea what temperature the house is, as the light-up display doesn't work under thick plastic.
Although the tenant described the situation as "funny", he soon took to Twitter to complain:
"On Sunday night I woke up in a sweat because the heating was on, but the next morning I had to shower at work because there was no hot water."
It wasn't long before the Twittersphere was commenting on whether caging a thermostat was legal. Apparently, it is.
Landlady In Control
The tenants live in a shared house. The rent they pay covers the utility bills, which includes heating and hot water. It seems likely that the landlord had decided she was paying too much for gas and electric. By preventing the tenants from switching on the heating, turning it up, or using too much hot water, she can ensure the bills remain at a modest level.
Indeed, some landlords duly piped up that caging a thermostat was a good idea if tenants were abusing the all-inclusive heating and hot water arrangement.
It was also suggested that the tenants could take matters into their own hands by plugging electric heaters if they were cold, which would almost certainly push the electricity bill through the roof.
The RLA Comments
The RLA stepped in.
"It is a matter of good tenancy management," said policy director, David Smith, "And we encourage landlords to speak first with tenants before taking such action."
At least one lawyer said boxing off a thermostat would likely depend on what's in the tenancy agreement. He also pointed out that:
"It's a basic right to be able to turn on heating and hot water, and it would be a breach of health and safety if the tenant could not."
So, the moral of this story is, think carefully before you fit a plastic box over your tenant's thermostat. If doing so prevents a tenant from having adequate hot water and heating, you are the one who could end up in hot water!
Read More Like This:
Edinburgh Landlord Fined Over Fake Holiday Let
Government Tax Changes Impact Accidental Landlords
Celebrity Ordered to Pay 70K After Trashing Landlords Flat