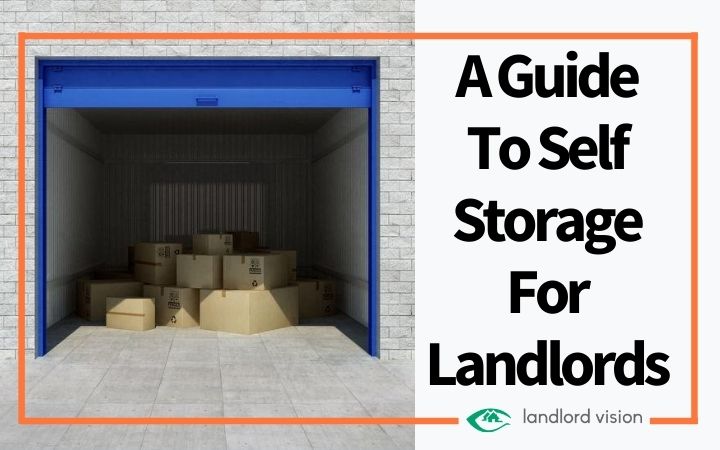 Self storage is a service wherein individuals, households, and businesses are provided with clean and secure private storage spaces, which they may use to keep old furniture, unused appliances, seasonal clothing and equipment, and much more.
As a landlord, you may very well say that a storage unit is vital to your operations. You will find that renting a self storage unit can be helpful to you, especially in finding prospective tenants, keeping your current tenants happy, and making sure your properties are in tip-top shape.
With the help of this guide, you will be able to determine why a storage unit is useful for your business, get a few tips on how to store your items in a storage unit, and get some ideas on how to save on storage costs.
What Can You Use A Storage Unit For?
Providing Space For Long-Term Tenants Who Wish To Bring In Their Belongings
While some tenants prefer to find a few appliances and furniture items when they move in, some, often long-term, tenants prefer moving in with all of their belongings. They would want to use their own appliances and furniture instead of the ones that you've provided.
For tenants like the latter, you will need to find a place to store the things that your property currently has, and a storage facility may be just what you need.
Keep Handy Replacement Furniture Pieces, Appliances, And Miscellaneous Items
When you have a collection of properties being rented out, you will need to be prepared for anything. Whether it be a busted lightbulb, a chair with a missing leg, or a new TV in the living room, your tenants will be coming to you.
So, rather than keeping these things lying around your own property, or going back to the store every time you need something, you may easily keep a few replacement pieces in a nearby storage unit. You can also get huge discounts when you buy in bulk, so using a storage unit will allow you to take advantage of this.
Clearing Out And Decluttering Your Property For Upcoming Tenant Viewings
When showing your property to prospective tenants, you only have one chance to makea positive first impression. Often, you would want to go all out and spring for home staging or property styling. While this would be extremely beneficial, you don't always have to go all out.
All you have to do is make sure your property is in move-in ready condition. That means making all the necessary repairs, cleaning and disinfecting the property, and lastly, decluttering.
You may use a storage unit to keep all the furniture and appliances out of the way during the repair, cleaning, and decluttering processes. You don't want furniture lying around while you're renovating your property as they will, more often than not, get scratched up.
Store Old Items That You May Need In The Future
A storage unit will also be useful when you have small items and appliances that you don't need now, but find yourself needing down the line.
Similarly, if your former tenant leaves some of their belongings, do not throw it all into a storage unit. Make sure to check for things you may still have use for and for things you can dispose of.
Benefits of Using A Self Storage Unit
You may be thinking, "Why do I need a storage unit for all that when I already have a storeroom in my property?" Here are some reasons why:
You Don't Have To Worry About Anyone Getting Into Your Stuff
Often, a landlord will need to store a lot of appliances and furniture pieces that may, collectively, cost a whole lot of money. By keeping these items in a self storage unit, you can rest assured that your items are safe and secure.
Most storage facilities offer 24/7 security, round-the-clock CCTV coverage, and state-of-the-art smoke and fire detectors. Moreover, as a rule, commercial storage facilities are also not allowed to ask for a copy of your keys or your lock code, which means your things are only accessible to you and those you trust.
This is not to say that your tenants or future tenants are not trustworthy. However, with a large sum of money on the line, it is better to be safe than sorry.
Even After Some Time, Your Belongings Will Be In Relatively Good Condition
The downside of keeping things in storage for a long time is the fact that most items deteriorate a bit quicker than how they naturally would, due to exposure to extreme temperatures, moisture, and dust.
Because self storage facilities encourage proper storage practices, and give you the option to store your items in a climate-controlled facility, you may be able to prevent, or at the very least, slow down the deterioration of the stuff you will be storing.
Storage facilities are free of rodents, termites, and other insects that may otherwise get to your stuff and ruin them!
You'll Always Have A Helping Hand
Often, being a landlord is a one-man-show. That means you'll most probably be lugging and carrying the items you plan on keeping in your storeroom by yourself. However, by renting a storage unit, you'll always have a few extra hands to assist you.
Moreover, most facilities have trolleys, pallet trucks, loading bays, and strategic car parking slots. You can even hire a man and van partner of your storage facility to make your life easier.
There Are Many Storage Unit Sizes Available
A commercial storage facility can easily accommodate you, no matter how much stuff you have. That is because storage facilities often offer storage units with a wide range of sizes varying from units that can fit anything from a few medium boxes to a small vehicle.
It's Cheap
You're keeping your property clean and organised, keeping your current tenants happy, and keeping your property attractive for prospective tenants all at a low cost. What more can you ask for?
There's no need for a long-term commitment! Most self storage facilities provide you with the option of signing a short-term lease, which can last anywhere from a week to a couple of months. Awesome, right?
Minimising Self Storage Costs
If you've been convinced that you should go for a storage unit, and are now looking for ways to minimise your spending on such, here are some tips you can take note of:
Make Sure You're Renting the Right Size
The storage unit size is the biggest factor to consider when determining how much you'll be spending on a storage unit. So, before you sign a lease or pay the down payment on one, be sure you're renting one that is sized appropriately based on your needs.
Self storage units in the UK usually start at 25 sq. feet, and can go all the way up to 300 sq. feet. As mentioned above, most storage facilities in the UK have units with a wide range of sizes that can fit anything from a few medium boxes up to a small vehicle.
To make sure you are paying for an appropriately sized storage unit, you may refer to this storage size calculator.
Only Store What You Need
While the point of you renting a self storage unit is for you to hold on to things that you may need again in the future, all the while keeping your property organised, you need to determine if you truly will find a purpose for the items you store.
Disposing of things that you won't need or don't have any use for will allow you to use a smaller unit, which will then reduce your self storage fees.
Get Your Items Insured
It is a common misconception that your goods are already insured while they are in storage. Insurance is usually an extra, offered by storage facilities. Wherever the insurance for the items in your storage unit is coming from, though, you must get it.
By getting insurance for the contents of your storage unit, you can rest assured knowing that you will be fairly compensated if they do get damaged, broken, or stolen.
Properly Packing Your Items for Storage
Now that you know why a storage unit is beneficial to your property letting business, it's time for you to learn how to properly pack your items for storage. Below is a list of items that landlords commonly put in storage and how you should pack them:
Fragile Items
For fragile and breakable items, make sure everything is individually wrapped in bubble wrap or wrapping paper. Keep them close together, avoid stacking them too high, and make sure they are labelled as fragile.
Wooden Items
Wipe down wooden items with wax or varnish to prevent them from getting damaged due to dryness or moisture.
If you have wooden furniture that can be dismantled, make sure to do so, as this can help save space in your storage unit. Do not forget to bag and tape up the nuts and bolts of each furniture piece for safekeeping.
You may also want to reconsider stacking together items made of wood, as they may end up scratching each other. However, if stacking them is unavoidable, make sure to put a layer of heavy fabric like blankets or rugs between each one. You can also get a climate-controlled storage unit to avoid extreme temperatures from damaging your items.
Couches/Sofas
Do not store your couch or sofa without any kind of protective covering like cloth or plastic. This will prevent the fabric or leather from getting damaged or dirty.
Also, make sure to store them on their feet. Keeping them sideways or upside-down may cause structural damage.
Mattresses
Wrap mattresses in protective bags before putting them in storage. This will not only keep them clean and protect them from the elements, but also make sure they are protected from accidental damage in transit. Stand the mattresses upright and prop them against the storage unit wall to save some space.
Metal/Metal-lined Items
Make sure to clean and wipe them down with oil to prevent oxidation and protect them from rust.
Machines and Electronics
Wipe down and keep the door of fridges, freezers, and similar items open before putting them in storage. Remove the shelves inside and use the space to store small, light items.
For small electronic devices and appliances, make sure to store/wrap the wiring and cables properly. If possible, keep such items in an air-tight plastic container to prevent moisture and dust from damaging its components.
Read More Like This.