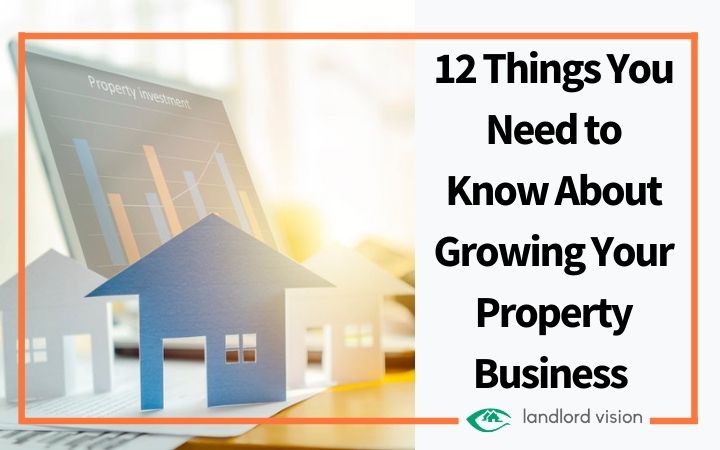 Visit any landlord focussed blog and you will find the obligatory "x tips for new landlords" post. The posts usually contain good but generic tips for getting started with property. What you won't often find is the post that needs to come after that, the one about growing or scaling your property business – how to level up. Well, this is that post.
There's a lot to consider when scaling a property business, it isn't just a case of buying and renting more properties. This is something that you need to go into with your eyes wide open. In this post we'll explain what you should be aware of, what you need to plan for and some all-round good advice for taking that next step towards financial freedom via your property portfolio.
Keep your Personal and Property Finances Healthy
Hopefully if you're serious about your business you've been doing this anyway. Needless to say you should at the very least be tracking your income and expenditure. Before you consider scaling you should be adept at monitoring your bottom line, producing cash flow reports, recording expenses for your tax return, and managing your money well enough to be able to carry out repairs and replacements at short notice. If you're not at this level, you're not ready to grow.
Being able to manage your finances is an important part of growing a successful property business. If you're not comfortable doing this then you're best off hiring an accountant or bookkeeper to help you. You will need to be able to understand:
When you can afford to take on more properties
How to adjust spending to accommodate new properties
What you can cope with mortgage wise if interest rates change
How much money you can put back into your portfolio
How each property helps you move toward your ultimate goal
You will also need to make sure that you're living within your means and that both you and your company have a healthy credit score. It's unlikely that you have enough cash to grow your investment solely through cash purchases, so it stands to reason that you may need financing to help you grow. You don't know where your next investment will come from. There will be times on your journey where you're not actively looking for an investment, but one presents itself. To take advantage of these situations you need to know you can obtain finance quickly. Keeping your credit score healthy and your finances in order will help you take advantage of these situations.
Re-invest your Money Back into your Properties
Once you start to grow and make more profit it's tempting to put that money to use in your personal life. Instead, while you're growing, you should invest that money back into your business first. This is especially true if you're managing your properties in a limited company or any other company structure. With companies it is rarely a simple case of transferring money back and forth, so it makes sense to keep profits within the company so it can pay for its own mortgages, maintenance etc.
You will need to build a sinking fund that covers at least a few months of rent, and one that can cover maintenance and property running costs as well. The more properties you have the bigger the fund you'll need. It's much better to have the money in your business ready to go than to suddenly have to find £20k for a new roof. Better that you're prepared for a prolonged void period than worrying about where your next mortgage payment is coming from.
To some extent the previous point helps with this. If you've got a good grasp on your finances and you're keeping them healthy then you'll know realistically how much money you should keep in the business and how much you can withdraw.
Understand Property Taxes
We're not just saying this because of our sister sites Property Tax Portal and Tax Insider. We understand fundamentally that the difference between a profitable business and one that makes a loss can come down solely to how much you understand tax treatments.
If you're not clued up, you can end up with some hefty tax bills that you have no option to pay but could have avoided. A little bit of research can help you legitimately reduce taxes.
Some good places to start include:
Learn how to make use of company structures to grow your portfolio in a tax efficient way
Claim all your revenue expenses
Claim losses and pre-trading expenditure
Be mindful of tax traps
Consider marriage allowance and spousal partnerships to share the tax burden
Tax is probably not the most compelling topic to read about, but it is worth doing because it will save you money in the long run. There are plenty of books and resources out there to help you get to grips with the savings you can make.
Diversify Your Property Portfolio to Spread Risk
You've likely heard about diversifying your portfolio before, it's a particularly hot strategy following Covid, but it's nothing new. Diversifying means that you aren't' relying on all your income coming from one investment, so not putting all your eggs in one basket. Here are a few of the more popular ways to diversify a property portfolio:
Buy different types of property. i.e. flats, bungalows, houses etc. Each of these attract different types of tenants and have their own market characteristics.
Buy across verticals. You could invest in residential property as well as commercial property. A common model is to own a flat above a shop and the shop below it.
Diversify geographically. Buying properties in different parts of the country or even in different countries.
This isn't an exhaustive list, you can also consider branching out into holiday lets, buying and renting garages or allotments, or you can mix strategies. The important thing is that your income doesn't just come from one place.
As an example. If pre-pandemic you'd had only properties in central London, you'd likely be looking at voids and losses in rental income right now due to London becoming far less popular in the last year. If however, your portfolio was split between properties in London, Leeds and Manchester, you'd likely be making more profit on your northern properties right now due to increased demand. This would be helping to tide you over on any loss you're making on your London properties until you can decide what to do with them.
One word of caution. Diversification is important, but it's more important that you play to your strengths. If, for instance, you know that you're terrible at running HMOs and you don't enjoy it, then don't do it. If you're good at residential but you don't like running commercial and you're not good at it, stick to residential and diversify within that model.
Spend More Money on Your Properties
This very much falls into the bracket of speculating to accumulate. To grow a portfolio, you need to buy more properties, to do that you need more money. To get more money you need your existing properties to pay you more, to do this you need to increase their value. Increasing the value can be done by investing in the property. Here are a few of the more common ways to increase the value of your properties:
Renovate them to fetch a higher rent
Rent out fully furnished
Rent out fully furnished with high end furniture and electronics (you will need to make sure there is demand in the area for this type of property for it to be successful)
Add a conservatory
Add a loft conversion
Landscape the garden
You get the idea. There are a lot of ways to increase the capital and revenue value of your property in tandem.
This increased value should then give you more money in the long run that you can use to buy more properties. It is worth noting though that you will need to plan this carefully. Going back to keeping your finances healthy, if you have a good grasp on your finances, you can work out what improvements are likely to give you the best return.
Refinance Properties to Make the Most of Mortgage Deals
Earlier we said that you should always be on the lookout to cut costs. Mortgages are likely to be your biggest cost if you're growing a portfolio. Make sure you're always looking for deals and that you're getting the best rates as this is a significant way to cut costs.
Have Clear Property Business Strategies
Every growing business needs a business plan. The plan acts as a blueprint for growing your business, helps to give you focus and direction, keeps you moving toward your goal and can help you secure financing and partnerships too.
The plan needs to detail how and why you're growing, what your end goal is, how you'll get there, what risks you might face and how you'll deal with them as well as how and when you will exit the market.
If you want to obtain financing or you plan to form property partnerships, they will likely want to see your business plan. Better to create your plan before you start to grow, and it will then inform everything you do.
Use Property Management Systems and Processes
It isn't easy to manage properties at the best of times. If you have one or two properties, using spreadsheets and other more manual systems are fine, but they become not fine really quickly when you start to grow. If you're planning to grow, put in place software systems before you start. Usually, you have to enter historical data and information about your properties, tenants etc. Trust us when we say that's a lot easier when you have three properties than when you have twelve. So, plan ahead. Find an established software you can trust and one that will grow with you. A software system will make it easier to manage multiple properties at once. It will also allow you to run reports and conduct in depth analysis giving you important insights that you can use to make sound business decisions.
Aside from a management system, you will find it easier if you put documented business processes in place. You will find it hard to grow your business without these. Processes allow you to define repeatable actions making them easy to follow and easy for others to follow as well. If you're planning to bring on staff or partners, processes will allow them to quickly understand how you deal with certain scenarios and allow them to deal with these scenarios in the same way. The kind of processes you need to document will differ depending on how much of the portfolio you're managing yourself. For instance, if you're self-managing you will likely want to document processes for dealing with late rent, tenant screening, inspections etc. If you're using a letting agent though they'll likely have their own processes for these. Decide which elements of the business you're responsible for and what processes you find yourself carrying out repeatedly and document these.
Property Investment is a Journey not a Race
You might have epic plans to scale up your empire, but you don't need to rush it, in fact if you do rush, you're likely to make mistakes or bad business decisions. If you're really keen to grow It can be tempting to force a round peg into a square hole, for instance paying more for a property than you should or buying a property without doing the due diligence. You need to take time to do things properly rather than cutting corners. Bad and rushed decisions cost money in the long run. If you want to grow your properties, you will need to adopt the mindset that it might take some time to reach your goal.
Consider Property Partnerships
No landlord is an island! If you've done the maths, you'll know that to scale your property business using finance can make it more difficult to attain the profit margin and capital goals you're aiming for. However, you could do worse than forming good property partnerships.
Building a property partnership with one or more investors can help to remove the need for financing or at least reduce the amount of finance needed. This helps when it comes to the bottom line.
Partnerships are not uncommon, but they do come with their own quirks. You will need to trust the people you're building a partnership with and be good at working with them over time. You'll need to put a contingency in place for what will happen if the partnership falls apart or if someone wants to leave the partnership and roles and responsibilities need to be crystal clear.
Hire People to Help you run your Property Business
If you're serious about building a big property business, one thing that will become apparent very quickly is that you can't do it alone. You will need to hire people, good people, trustworthy people, and you will need to learn how to delegate to and manage those people.
Who you hire will depend on what you need most help with. For instance, if you've got the day-to-day stuff down pat, you may need to hire an accountant to keep the finances in check. If you're got the finances under control but are struggling to keep on top of finding or managing tenants, you might want to hire a letting agent. You might be struggling with everything and in need of a property manager. Whatever you need help with, go get it and learn to delegate things to those people.
Hiring people doesn't fix everything. If you want to grow you can't just hand over the running of your entire portfolio and forget about it. You will need to keep an eye on what's going on, do your own spot checks and keep your ear close to the ground. Even if you trust the people that you're hiring, if you want your business to grow then you need to know what's happening in your business.
We've already talked about looking for opportunities to cut costs, ways to increase the value of your properties, taxes etc. Letting agents and property managers typically don't do those things for you, so you will need to be doing the strategic work while they run the day to day.
You cannot afford to slack when it comes to knowing what your staff are up to and how they're managing your business. If you want to build your business and scale it you need to know that your customers are happy, your finances are in check and that things are running to your specifications.
Learn More About Property Investing
If you want to maximise your investment and grow a profitable company then there's nothing for it but to keep reading and learning. You need to be absorbing knowledge like a sponge! There is no fast, cheap, easy way to grow a solid profitable portfolio. Certain investors might make it look easy, but you don't see the amount of time they spend reading, researching, watching videos, asking questions and making mistakes. You have to be relentless in your pursuit of knowledge.
So, there you have 12 things you need to know about growing your property portfolio. Don't forget to sign up to our free newsletter for more posts like this one as well as free tax tips, legal tips, resources and details of licencing schemes and consultations.
Image Credit: Copyright: jittawit / 123RF Stock Photo
Read More Like This.