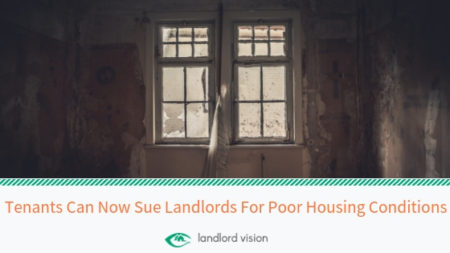 The Homes (Fitness for Human Habitation) Act has made its way into the statute books. How does this affect landlords? Let's find out.
Tenants Can Sue Landlords for Poor Housing Conditions
The Homes Act gives tenants the power to force their landlord to make sure a rental property is fit for habitation. If a landlord fails to deal with problems like damp, a tenant can take them to court and seek an injunction forcing the landlord to get the work done.
The bill was proposed and pushed through by Labour MP, Karen Buck. It has taken her three years to finally get her private members bill into law. Ms Buck first proposed her bill back in 2015, but it didn't get very far. She tried again in 2016, but Conservative MPs decided the bill caused too much red tape and would deter landlords from investing in more properties. In 2018, however, the government backed the bill, which cleared the way for it to enter the House of Lords.
"It's been great to have such support from the government this time around and from a wide range of housing organisations," said Ms Buck, "But the credit goes above all to [housing lawyers] Giles Peaker and Justin Bates who drafted the bill and have worked so hard and supported me every step of the way."
Damp and Insect Infestations No longer Tolerable
The Homes Act will force social landlords, including housing associations, and private landlords to improve the standard of their properties. Damp and insect infestations will no longer be tolerated, and landlords will have to fix such issues.
Currently, private tenants are reliant on environmental health teams from their local authority. Housing inspectors are obliged to check out properties when a complaint is made and issue an enforcement notice if they find problems. Unfortunately, these teams are often overstretched, and it can take months to tackle problems, which leaves tenants in limbo.
When Does the Homes Act Come into Effect?
Any new tenancies are covered by the new legislation. Existing tenancies are covered in three months' time. A fixed term tenancy is covered when it rolls over into a periodic tenancy.
Housing charity, Shelter, is happy with the new bill. In a statement issued to the media, it said the new legislation would "help to raise conditions generally, through the broader positive impact on landlord education and awareness of their responsibilities and the risk of being sued".
Read more like this:
5 Months With no Hot Water, High Profile Landlord Fined
Tenants Given More Powers in the Fight Against Rogue Landlords
What Landlords Need to Know About the Budget in a Nutshell
Want to get our best news, resources, tips and reminders every month? Sign up to our free newsletter.