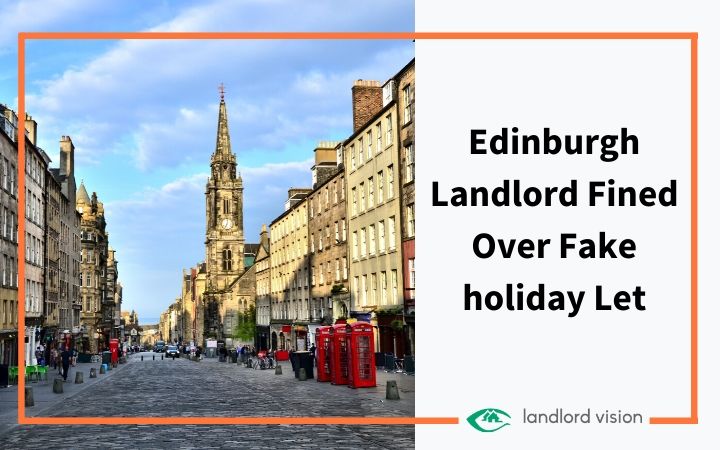 An Edinburgh landlord has been fined after claiming his flat was a holiday let when it clearly wasn't. He told the tribunal the property was owned by an overseas relative and he was only the manager rather than the legal owner, and as such he was ignorant of his duties. However, this defence was firmly rejected by the court and the landlord was told to cough up £7,500.
Living Rent Helps Students Win Their Case
The five-bed property was advertised to students in Edinburgh and a mixture of students and young professionals moved in. Unfortunately, the landlord failed to protect his tenants' deposits, which came to light when the tenants disputed money withheld because of alleged damages. The landlord tried to resolve the dispute with the tenants, but they took him to a property tribunal with the help of tenants group, Living Rent.
When the case was placed under the spotlight of a property tribunal, it transpired that the landlord had tried to claim his property was a holiday let and, therefore, exempt from rules that apply to regular rental properties. Not surprisingly, the tribunal didn't believe him when they looked at all the evidence.
A Victory for Tenants
"This case is an important victory for tenants and sets a clear precedent: landlords cannot simply pick and choose which laws apply to them, and no amount of coercing tenants into signing sham leases can change that," said Gordan Maloney from Living Rent.
Mr Maloney said he was aware of other landlords in Edinburgh doing similar things. Living Rent published a report earlier this year, highlighting the issue of landlords claiming their properties were holiday lets to avoid landlord regulation, in particular, HMO licences. Maloney issued a warning that they would not get away with such shady practices for long.
The case took 10 months to reach a judgement stage, something Mr Maloney was critical of. He emphasised the need for more regulation in the private rental sector, particularly where landlords claim their properties are holiday lets when they clearly are nothing of the sort.
"People shouldn't have to be experts on Scottish housing law in order to find somewhere safe to live, and it should not have required tenants to undertake ten months of legal action to get this verdict," he told the Edinburgh Evening News.
Holiday Lets are Not as Regulated
Holiday lets are less regulated than traditional rental properties. Tenants are not protected when they rent a holiday let, as landlords don't have to protect their deposit in a government-approved scheme, they can make bogus deductions from deposits, there is no protection from eviction, and there are also fewer health and safety regulations to adhere to.
So, if you own a property and you advertise it as a holiday let, when it clearly isn't, you might want to reconsider!
Read More Like This:
The Inside Scoop on Holiday Lettings
Letting Agent Offers Expert Tips for Landlords
Landlords Warned About Illegal Holiday Sub-lets