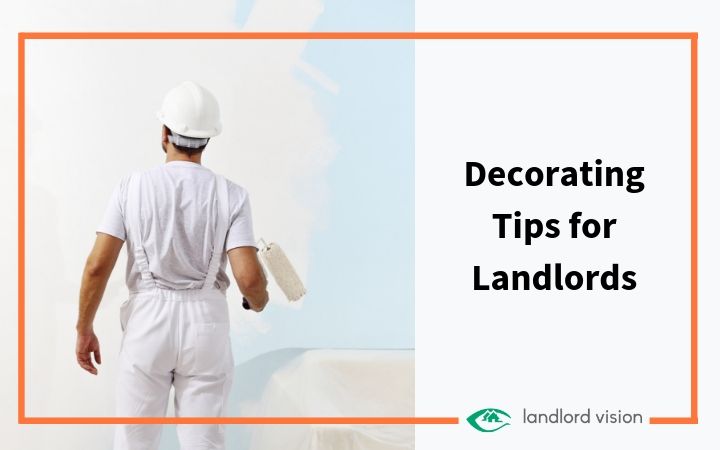 Decorating a buy to let property is very different from decorating your own home. The point of decorating a rental property is to make it more attractive to tenants.
If you personalise the décor, you are immediately alienating a percentage of potential tenants. You don't want to spend days lovingly painting walls in Farrow & Ball 'Dead salmon' for prospective tenants to be put off by your colour choices (and yes, in case you're wondering, this is an actual shade!)?
Less is definitely more when it comes to decorating a rental property. Think of your property as a blank canvas ready for future tenants to make it their home. The more neutral it is, the better.
Not all tenants look after a property and accidents happen, so having a budget in mind for replacement paint/décor is useful too.
So without further ado, here are some top decorating tips for landlords:
Paint Vs wallpaper
Most rental properties are painted rather than wallpapered and there's a good reason for this. If you use a common paint (more on that in a moment), it's far easier to touch up or re-fresh the decor between tenancies.
Any marks or damaged sections of wallpaper are hard to replace without re-papering the whole wall. On the whole it is cheaper and lower maintenance to use paint instead of wallpaper.
Magnolia rules
Ah, magnolia paint. Love it or loathe it, we can all agree that magnolia is very inoffensive. It is the perfect backdrop to any style of décor, from modern to traditional. When the walls are painted with magnolia paint, a tenant can move in and personalise the place with their own soft furnishings without worrying about any nasty colour clashes.
If the thought of buying a five-litre tub of Magnolia emulsion brings you out in hives, opt for pale cream or even a very pale grey. Anything neutral will be fine.
Keep it simple
If you only have one buy to let property, this isn't too important. But if you have two or more properties, it makes sense to stick to one paint colour and brand. That way, no tin of paint will ever go to waste. Stuck with the end of a can of trade Dulux magnolia paint? Fear not! Instead of leaving it to languish in the garage for years, you can use it to touch up any one of your properties.
As long as you choose a well-known brand and a basic shade, there is no danger of the paint becoming unavailable any time soon. 'Dead salmon' or 'Rangwali' might go out of fashion in a year or two, but magnolia will always be on the shelf and available from any DIY store.
Save money on paint and accessories
Big brands often run periodic promotions on paint. These typically occur at popular times of the year when the Great British Public is dusting off their paint rollers and preparing to embrace a spot of decorating, such as spring and early summer.
Keep a close eye out for sales and promotions on paint and accessories and stock up on essentials. It doesn't hurt to keep a supply of paint and rollers on hand, and if you can save money by buying it in bulk when there is a 2-for-1 deal on, even better.
Skirting boards, architraves, and doors
Walls and ceilings are not the only things you need to worry about. There are also skirting boards, architraves, and doors to paint. These often sustain as much wear and tear as walls in high traffic areas, so will require painting between tenancies.
White gloss
Stick to white paint and go for a high-gloss finish, as this is easier to wipe down. Water-based paints are easier to work; they don't emit nasty fumes, and you don't need solvents to clean your brushes. In addition, water-soluble gloss won't turn yellow over time. Water-based gloss is also more flexible and resistant to cracks.
The downside to water-based paint is that it takes longer to 'cure' and won't be 100% hard for several weeks. In a rental property, this could be a problem, especially if you have a young family moving in.
If you want a tough, professional finish, go for oil-based paints, but if you can't stand the fumes and prefer to be eco-friendly, try water-based paints.
Non-paint finishes
When renovating a property and replacing skirting boards, architraves, and doors, consider skipping the paint altogether. Natural pine skirting boards and architraves finished with stain and varnish look attractive and tend to hide marks, scrapes, and wear and tear better.
Reducing the workload
By sticking with the same paint brand and shade, you can reduce your workload when a tenant moves out. Rather than giving every wall two or three fresh coats of paint, you can probably get away with just touching up a few areas. This will save a lot of time and effort.
If the property needs a complete overhaul, it is time to dig out the dustsheets and crack on.
Preparing the walls
Prepare the walls before you begin painting. Use sugar soap to wash away dirt and grime. This will ensure a better finish. Fill in holes and small hairline cracks. It's sometimes easier to apply one coat of paint before you do this, as holes and cracks stand out better after a coat of paint.
Rising damp
Be vigilant for damp in ground floor rooms. Check walls for damp before you begin painting. If there is any evidence of rising damp, put down your tools and consider your next move. You can't afford to ignore damp, as it creates unacceptable living conditions and will lead to mould, flaking paint, and worse.
Fix rising damp before you decorate a property. The plaster will have to come off, the walls treated with a chemical damp-proof course, before then being re-plastered. Then the new plaster will need time to dry before you paint it.
When painting fresh plaster, always dilute your emulsion 50:50 with water. New plaster is highly absorbent; a diluted first coat of paint will seal the surface and prevent the next coat from drying out too fast and flaking off several months later. This is especially important in a high-humidity area such as a kitchen or bathroom.
Always use kitchen and bathroom paint for these rooms. It is more resistant to moisture and mould.
Invest in a paint sprayer
A paint sprayer makes painting large areas much, much easier. There will be an initial investment upfront, but this piece of kit pays for itself many times over when you are managing several properties. Paint sprayers also give a nice even finish, which looks more professional.
Always protect flooring and windows before you start painting. Use drop sheets, masking tape, and plastic sheeting. Time spent preparing is never time wasted; it's much easier to mask glass and skirting boards than it is to spend hours scraping off excess paint.
Start at the ceiling and work your way down. Remember that paint needs time to dry in between coats and allow for this in your schedule.
Hire a decorator
Decorating is not for everyone and if you don't have time or can't bear the smell of paint, hire a decorator to get the job done. In fact, it is worth adding up the time it would take you to paint a property from top to bottom and comparing your hourly rate with the cost of a professional decorator.
Professional decorators can get the job done far quicker than an amateur. They have the tools and skills. The best way to find a reliable decorator is to ask for personal recommendations. Speak to family, friends, and your fellow landlords. If they know someone who is reliable, affordable and does a good job, contact this person to find out their availability and ask for a quote.
Check a decorator's reviews before you hire him/her. It's fairly standard for professional trades to have an online presence these days, whether they have a Facebook page or a website. Hit up Google to see if previous customers were happy or disgruntled. Don't be put off by the odd bad review – we all have off-days – but if there are a lot of negative reviews, walk away.
Once you have someone you trust, treat them well and keep them on speed-dial. Landlords often rely heavily on reliable tradespeople to help them run a successful business, and a good decorator is well worth keeping on-side. It is worth paying slightly above the going rate to ensure a clean and tidy decorator will be available at short notice. Most tradespeople prefer to work with a landlord who can offer them a steady stream of work, and if you pay them fairly and promptly, you can rely on them to be there for you when you need to turn a property around fast.
Finishing touches
Finally, don't forget about the finishing touches. Once you have cleared away the paint and cleaned your brushes and rollers, look at the flooring and decide whether it needs replacing. Nothing ruins a good look more than a terrible carpet. If you have followed our advice and painted your property a nice neutral colour, go with a neutral carpet too.
Grey is popular right now. Light brown is a warmer colour but for a rental property, invest in whatever neutral carpet you can find at the right price. Don't be tempted to buy a really cheap carpet for a high traffic area, as it won't last long, and you'll have to replace it within 2-3 years. In fact, you are better off fitting laminate in a hallway, as this is hard wearing and less likely to look worn after a few tenancies.
We hope these tips have helped you. As always feel free to let us know in the comments or reach out on social media. Happy decorating!
Read More Like This:
30 Brilliant Landlord Life Hacks
7 Things Landlords are Missing from Their Spreadsheets