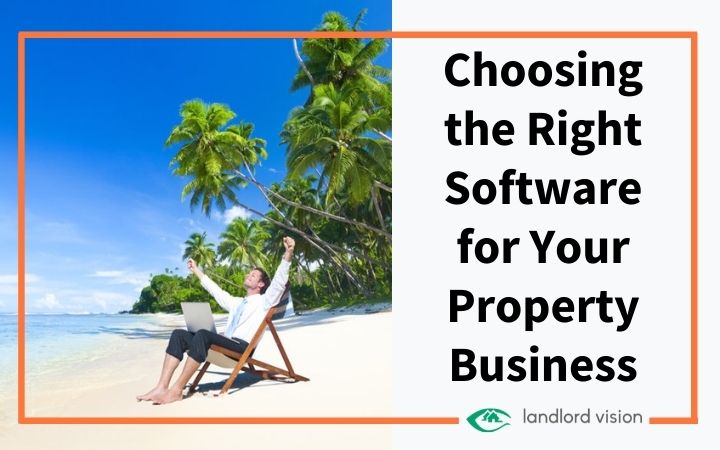 If you're a landlord operating a property business, you'll know things can get tricky quite quickly. You need to be able to stay on top of multiple communications with various people, and record all your expenses, property information, income, rent payments, and more. While many landlords have used manual systems to help them keep on top of things, there's no denying that software makes everything that little bit easier.
Why Use Software to Manage Your Properties?
The beauty of software is that it is usually designed to streamline things for you in a way that manual systems aren't. Good software designers learn about their customers and what they want from software. They take the time to understand what repetitive tasks their customers undertake, what their struggles are with manual systems, and they look to build workflows and automations that reduce these struggles.
If you originally started out by using a manual property management system and then grew your company, you might now find that you're now duplicating some information, or that your system is a lot more complex and tedious than when you first started. Software mitigates this issue and makes it easier for you to manage your portfolio as it grows.
Software is regularly updated and fixed by the people that make it. So, unlike a manual system, your software should be always improving in line with industry requirements. It should break far less often than a manual system and in the unlikely event it does, you can hold the company accountable and rely on them to get it fixed immediately.
Manual systems such as spreadsheets can break and when this happens, it's you that has to fix them. Then there's the risk of something happening to your laptop, in which case you might not be able to access the files on there, meaning you would lose saved property business documents from that device. For these reasons, manual systems can cause landlords massive inconveniences.
Most software these days is cloud-based, meaning you can access your data and files on any device. So, if you accidentally pour a cup of coffee over your laptop, you can relax knowing you haven't lost any of your important data or documents.
Is Landlord Software Really Better Than Spreadsheets?
We, of course, would say yes, but then we've spent a lot of time building our software to be better for landlords than spreadsheets!
The less biased answer would be that it depends on what you're using your spreadsheets for. If you're a landlord with just one property, then it's likely a spreadsheet is all you need. Sure, you can still benefit from software like Landlord Vision – that's why we created our Quick Start plan – but ultimately, using a spreadsheet shouldn't be too much of a time sink. In fact, we offer a free downloadable income and expense tracking spreadsheet, and we also offer a free rental payment spreadsheet too. These are great for smaller landlords with straightforward buy to let properties.
But don't just take our word for it. Check out these software reviews for Landlord Vision: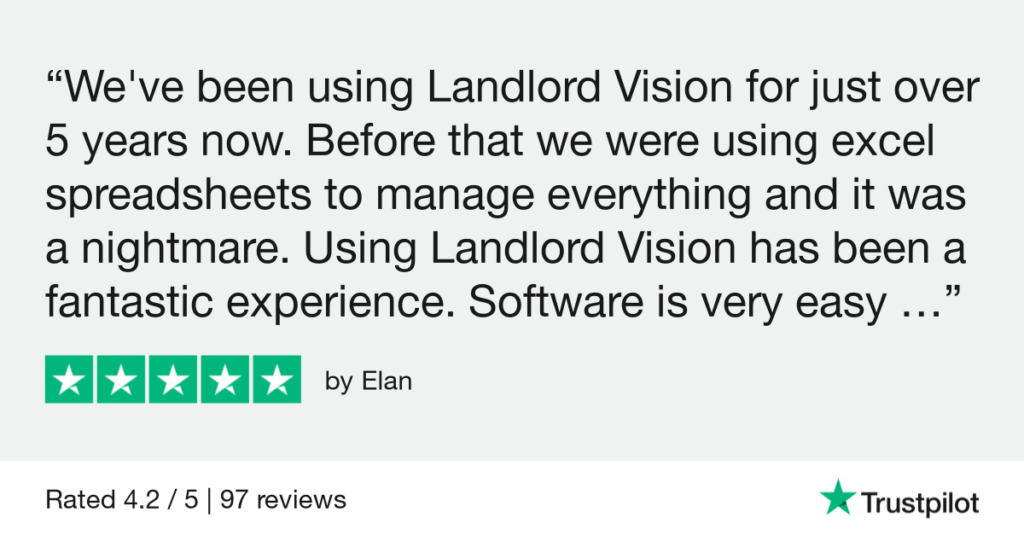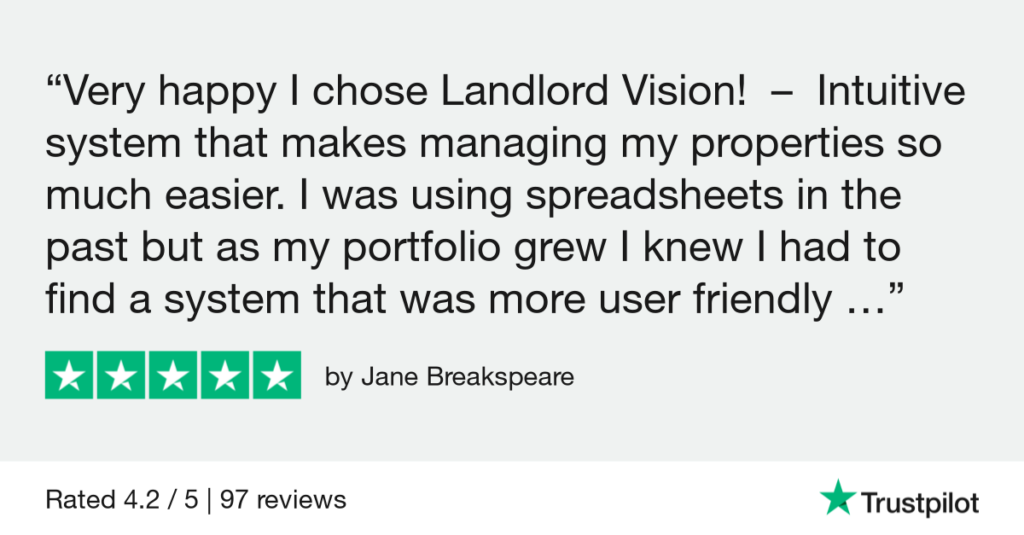 When things start to get a little more complicated, this is when landlord software will be of much more use than a spreadsheet. If you have a larger portfolio, or have HMO or non-standard tenancy types, software is likely to make property management much easier. If you have a limited company set up, or you share ownership with someone else, software will likely make that much simpler to manage. Software usually has collaborative features that make it easy to share your property and finance data with others.
If you want to grow your portfolio, it's beneficial to see reports that help you identify where you can make savings. You might want to look at how much tax you will have to pay at the end of the year or how often your properties are unoccupied, etc. Whatever information you're looking for, property software will be able to do all this for you automatically, something that is much harder to accomplish with spreadsheets.
Another way that software is more beneficial than a spreadsheet is because it keeps everything together. If you use spreadsheets, the likelihood is that you're using multiple programmes or systems. So, your spreadsheets may be for monitoring your finances, you might have word documents to store important property information, you might have a to-do list app to manage your maintenance, etc. If you're using a spreadsheet, you'll probably also be using an email or messaging app for communication, and chances are you'll be using some form of calendar to set up all your reminders and appointments. This is all great if you have one or two properties, but as you grow this style of management can take on a life of its own! Using software will mean that you just have one place to go to manage all of this, allowing you to step away from managing your properties across multiple applications.
How Does Landlord Software Save you Time?
Software can save you time in so many ways:
It saves you time having to locate important information like policy numbers, property information, and tenant details, which are all easy to find in landlord software.
It produces a variety of reports automatically, so you don't have to create graphs of your own or dig out financial data to make them.
It can reduce the time you spend filling out your tax return because it will store and tot up your financial information, income, expenses, etc. as you go along.
It automates repeated tasks, like repeating invoices, repeating rental payments, and repeating rent reminders, so you don't have to do them manually.
It allows you to set up recurring tasks and get reminders for them without having to schedule individual tasks in your calendar.
These are just a few of the ways you can save time with landlord software.
Is Landlord Software Difficult to Use?
Whether you find landlord software difficult to use or not depends on your technical ability. For every customer that tells us Landlord Vision is easy to use and intuitive, there's someone who tells us it's complicated and has a learning curve.
Any fully featured software is going to involve a bit of a learning curve. If you are not at all technically savvy, then you may find it a bit more difficult to use at first. If you've previously used accounting software, you'll likely find a programme like Landlord Vision much easier to use.
There are things you can do to make the transition into landlord software easier. Many landlord software providers will have recommended bookkeepers who can help with the initial setup of the software. You should also check out the help section of any software you're considering using as there should be plenty of tutorials to get you up and running. Finally, make sure when you try out a new software that you go with a provider that offers free training or support, some providers will charge for this, so make sure you know what you're getting into and how much help you will be given to learn the software before you commit to using it.
At Landlord Vision we pride ourselves on providing free and unlimited support to go alongside our suite of help literature. While we know that there may be a bit of a learning curve for those wishing to get started with software, there are plenty of ways to get yourself up and running quickly.
Why is Property Management Software Better Than Accounting Software?
The answer to this definitely depends on which property management software you're using and which accounting software you've been using. Generally, any comprehensive property management software should include full accounting capabilities. Some property management software packages will integrate with accounting software like Xero or QuickBooks, but where this is the case, you will usually have to purchase a subscription to the landlord software and a separate one for the accounting software. A landlord software that has a built-in accounting engine is ideal because you get the benefits of both packages in one account, for one subscription price, instead of two.
Accounting software is great for managing your income, expenditure, and taxes, and it can usually create invoices and receipts too. On the other hand, landlord software that has an integrated accounting engine will do all this as well as allow you to manage your properties as well.
So, an accounting software will not have the ability to store all your property related information and documents. It also won't be able to keep track of your email communications with your tenants, it won't be able to manage property maintenance, and it won't be able to act as a CRM to keep all your contact details and important information in one place. This is generally the advantage of landlord software over accounting software. The landlord software is built to allow you to manage all aspects of your property, while an accounting package is designed to just manage your finances.
There are pros and cons to each software option, so the one that's best for you will depend on your circumstances. If you only need to manage your finances because you have a letting agent or property manager and you truly don't need to record any property or tenant details, then accounting software is probably all you need. However, if you are self-managing or you want a bit of oversight on your portfolio even if you're using an agent, then property management software will allow you to do all of that more efficiently than accounting software.
What Type of Software is Best for Your property Business?
The type of software you use will depend on the needs of your property business and if you're planning to buy software or subscribe to a free plan. Deciding what you need from your software is the first step to finding the one that's right for you.
If you're not technically savvy then find a software that has a free trial so you can test it out. Free and simple tutorials will get you up and running. Finally, look for software that doesn't charge for support.
Should you need property management software to self-manage multiple properties then you will likely want it to be as comprehensive as possible. In this case, look for software that is fully featured and not modular, so that you get the most bang for your buck.
If you work with a lot of other people, find the solution that allows for multiple users. Or if you work with an accountant, find one that has accountant access.
Before you start looking, take a moment to understand what you need your software to do for you. Then when you're assessing options, you know exactly what you're looking for and can identify the features that you need.

How do you Find the Right Property Management Software?
Realistically there's no better way to find the right software than trying it out. Sometimes a solution can look great on paper, but it just doesn't feel right to use. There's no substitute for just giving it a go.
However, if you're weighing up various options you may not have time to try them all out. So here are a few things you can do to cut your shortlist down:
Book a demo – if the company offers a demo of the software, or if they have a webinar or Q&A session about their software, book a slot and sit in. You should get a tour of the software and a chance to ask questions.
Check tutorials – Take a look at the tutorials the company offers. If they have video tutorials, watch a few to get an idea of how the software functions and what it looks like. This can be a good indicator of whether the software functions are overly complicated and how you'd get on with the look and feel of it
Read reviews – Other people just like you are using this kind of software on a daily basis. Read their reviews to get a feel for how they're finding it. If the same issues come up again and again and these would also bother you, then it may not be the right software for you.
Ask questions – Property management software is complicated and usually has a lot of features. This can make it hard for you to understand whether or not the software offers those specific features you're looking for. Instead of taking a lot of time to scroll through all the features shoot the company a question. Not only will this speed things up for you, but you'll get a feel for the company's customer service as well.
There really is no substitute for a free trial, so once you've been through the above points and you have just a couple of contenders, take a free trial. If no trial is available, we recommend signing up for a month and seeing how you find it. The key thing is to use any free trial or test period wisely. Don't just sign up and then never log in to give it a chance. Make sure you start adding your property information and trying to get to grips with the software. It's only when you put all your information in that it will start doing the heavy lifting for you.
Don't Give up Searching for the Perfect Property Software!
The right software is out there, keep looking! Assess what's important to you and look for that in your new software. And remember, software is always evolving. If you find a software that's nearly perfect but it could do with a few tweaks, email the company and suggest that they add your requested features in. Good software evolves slowly, great software seeks user feedback and suggestions so that improvements can be made in line with what customers are asking for.
Read More Like This: