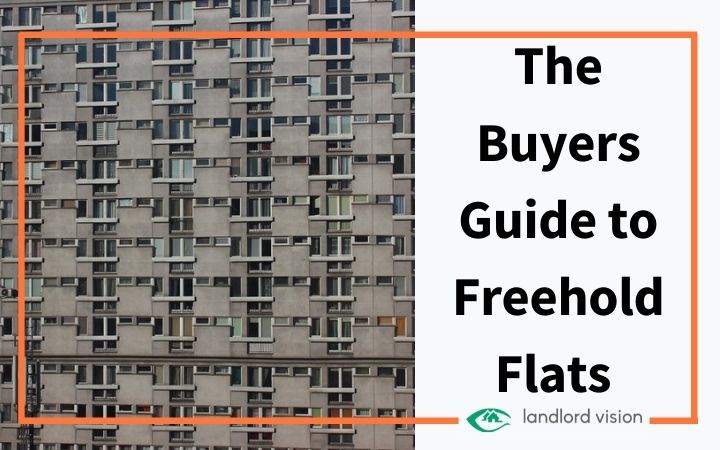 Looking to buy a freehold flat? There can be a lot to think about when it comes to these kinds of properties, so making sure you know what you're buying before you put down any money is vital.
Not to be confused with buying the freehold of a flat that you already own the leasehold of, outright buying a freehold flat is rather uncommon, but it is possible.
What is a Freehold?
If a property is freehold, it means that the owner owns both the property itself and the land that it's on. This is more common with houses, as it allows the owner to have control of the gardens/driveways, as well as the building itself.
When it comes to freehold flats, the freehold land is split horizontally so the freehold titles are stacked on top of one other. The freehold titles are then split amongst all the flats.
How Much Does it Cost to Buy a Freehold?
Freehold flats can be extremely expensive depending on the area, location and the size of the flat. However, there are some cases when it is cheaper to buy a freehold flat than the corresponding leasehold.
Even though it's possible to buy a freehold flat at auction, nearly all cases where this happens it is because there is a problem with the freehold title of the building. If this is the case, it will be worthwhile having an expert look at your potential purchase before you buy.
Advantages of Owning a Freehold Flat
The biggest advantage of buying a freehold flat is that you own your own building and land. In addition, it allows you the freedom to make changes to your exterior without having to get permission from a landlord/property manager or building owner.
Another advantage of purchasing a freehold flat is that you do not need to pay ground rent, service charges or other fees that are usually associated with leaseholds or renting. This can help save you money when it comes to monthly expenses and bills, especially in well sought after areas such as cities or town centres.
However, there are many different responsibilities of a freeholder and some of these aren't advantages.
Disadvantages of Owning a Freehold Flat
A major risk involved with buying a freehold flat is that it can be expensive. If you are going to buy a freehold flat it is probably worth hiring a lawyer or professional to make sure that you are getting your money's worth. In addition, if your freehold title is not in good condition and needs some upkeep, this could be costly.
It's also common that freehold flats are simply unmortgageable. This is because the price of buying a freehold flat is so high that it isn't possible to get a large enough mortgage to pay for it.
As well as this, it's common practice for lenders and banks to simply choose not to lend to freehold flat buyers at all. This is because of the high price, as well as the fact that freehold flats are generally seen as being a risky purchase.
There are also legal problems when it comes to owning a freehold flat, as there is often no clear agreement on how to work out who pays for what repairs, leaving the freehold owner to be reliant on neighbours. It can be hard to determine who does what and how much each should pay, and there is no clear legal obligation or agreement when the flat is purchased, which means there's no legal backing to any decisions made.
Things to Remember When Buying a Freehold Flat
When buying a freehold flat, it is important to not only take into consideration all of the positives and disadvantages, but also how much money you can afford. If you can't afford to buy a freehold flat, there may be other options such as buying into a shared freehold or purchasing a leasehold flat instead.
The biggest risk when it comes to freehold flats is the unknown future costs of maintenance and repair that may need doing to the building. If you are going to buy a freehold flat and already own your own house, make sure you take equity out on your current home before buying a new property for two reasons:
Having equity in your current house while also having a mortgage on another property can make things extremely complicated when it comes down to deciding who should pay for what. It's important that if you do decide to split equity between two properties that you get legal advice from your solicitor before you do anything.
If you are considering buying a freehold flat that requires ongoing maintenance or requires repairs, you should factor these future costs into your monthly budgets. This can help to make sure you have enough money to pay for ongoing repairs, while also making sure your monthly living costs remain within your means.
Leasehold: The Alternative to Freehold
If purchasing a freehold flat isn't do-able. Purchasing a leasehold flat might be the next best option. Leasehold flats are essentially just like freehold flats, except with a lease, rather than a title of ownership. Leasehold flats are usually purchased with a 99-year lease term, at which point the ownership of the flat reverts to the freeholder. This means that the flat will need to be purchased again, or it will revert back into freehold. Other lease terms include 999 years and a premium lease term. However, a regular flat 99-year lease term is the most common kind that buyers will run into.
Advantages of Owning a Leasehold Flat
The biggest advantage of owning a leasehold flat is that the costs are generally much lower than purchasing a freehold flat. This means that if you can't afford a freehold flat, you might be able to afford a leasehold one.
If you own a leasehold flat, you're responsible for paying a maintenance fee to help cover the costs of repairs made by the leaseholder. However, this is likely to be significantly less costly than the fees it would cost to maintain and look after a freehold flat.
Leaseholders are able to sub-lease their property, which means it can act as an additional income stream for you if need be.
It's important to remember that buying a leasehold doesn't mean you can do whatever you want with your property, but it does allow for more flexibility than renting the property would offer.
Written by: 
Mike Somekh
Mike is the founder and CEO of The Freehold Collective, with the idea originating from his own freehold acquisition
Read More Like This.