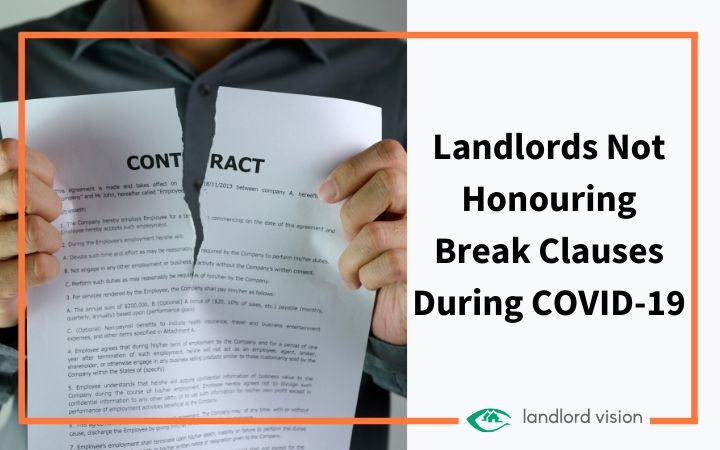 Times are tough for landlords and tenants right now. Huge numbers of people have lost their jobs or had their hours cut, which has made it very difficult for tenants to pay their rent. There is help in place for landlords with mortgages, as lenders have agreed to offer temporary payment holidays for anyone experiencing payment problems, but some tenants would rather move back in with family or find a cheaper place than stop paying the rent. If their tenancy agreement is still in place, the only way to do this is to activate a break clause. However, not all landlords are allowing tenants to move out.
A survey by Which? has found that some landlords are refusing to let tenants activate a break clause and leave their rental property early. Instead of honouring the clause, they are insisting that tenants stay put and continue paying rent. The excuse given is that the landlord won't be able to find another tenant and lockdown rules do not allow freedom of movement.
Letting Agent Refused to Honour Break Clause
One tenant living in London told Which?:
"I wanted to use the break the clause so I could move back in with my mum for a while. My tenancy agreement says it costs £300 to leave before the tenancy ends in August, but long term it would save me around £800 a month."
Unfortunately, the letting agent refused the tenant's request. They stated it was down to the landlord's discretion whether a break clause could be activated. It was suggested the tenant ask for financial help from her parents or look for a new job.
Landlord Refused to Return Deposit Because of Lockdown
In another case, the tenant was told by his landlord that his deposit would not be returned, even though the tenancy had come to an end and he was free to move out. The excuse given was that leaving would break lockdown rules and, therefore, the landlord was entitled to withhold the deposit and not provide a reference.
What is Unfair in a Break Clause?
Clearly, this is absolute nonsense and if you pull this kind of stunt it won't end well. Experts say if a tenancy agreement contains a break clause 'at the landlord's discretion', it could be argued this is unfair under the Consumer Rights Act 2015. In some cases it is OK to charge a fee for breaking the tenancy agreement early. However, the Tenant Fees Ban adds some extra rules around whether you can charge a fee and how much you can charge. If the tenancy agreement contains a break clause and the tenant activates it you may not be able to charge a fee. If the tenancy agreement doesn't contain a break clause then you may be able to charge a fee, but this has to be directly proportionate to the financial loss you've suffered as a result.
It is OK, however, to insist a tenant has to live in the property for at least six months before leaving.
Landlord's Can't Make a Tenant Stay due to Lockdown
Landlords can't hold a tenant to ransom by saying they must stay because no other tenants are available. This is not the tenant's problem. You can't use this as leverage to force your tenants to stay. Once a tenancy agreement has ended, the tenant is no longer contractually obligated to stay. They are free to leave at any time.
Do not withhold a tenant's deposit without a very good reason. Deposit protection schemes have mediation services and a tenant can use them to request their deposit is returned. It's not OK to hang on to a deposit because you're having cash flow issues. If you try, you may end up having to pay compensation on top of the deposit.
Not all tenants want to leave if their tenancy ends during the Covid-19 lockdown and some might not be able to if they are self-isolating. However, they might not want to sign up for a new tenancy term either. One way around this problem is to allow them to stay on a periodic tenancy. You can negotiate the terms with your tenant if they express a desire to stay a while longer.
If a tenant wants to activate a break clause or their tenancy agreement has ended, be sensible. Yes, you may struggle to find a new tenant right away, but you can't force a tenant to stay by holding them to ransom or threatening to without their deposit.
Work with your tenant to come to a mutually agreeable solution. Showing goodwill now might earn you some good karma later.
Remember, before acting rashly, check your tenancy agreement and make sure you know what you can and can't do before you do it, particularly when it comes to charging fees.
Stay safe, and don't forget to reach out to us on social media if you have questions, interesting stories, or just want to chat. We're always here!
Read More Like This: