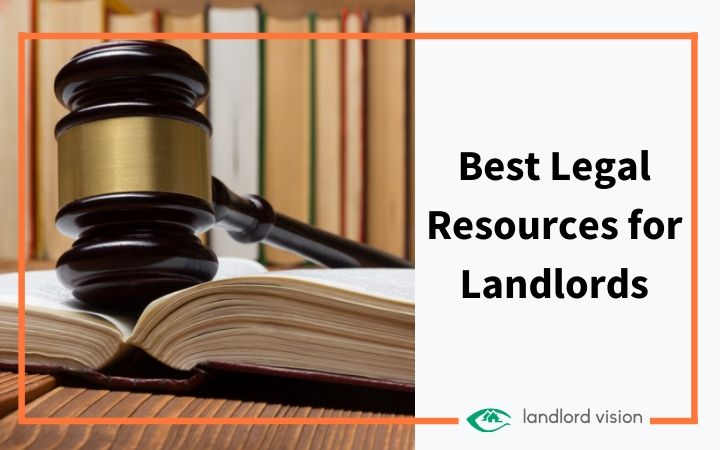 Life as a landlord means dealing with a lot of red-tape. From drawing up legal lease agreements to making sure your properties don't fall foul of the Homes (Fitness for Human Habitation) Act, if you fail to meet your legal requirements, you could end up in court.
Ignorance is no defence in the eyes of the law. If you are not sure how the law applies in your situation, it's a bad idea to ignore the issue and hope it goes away. Equally, it's sensible to know your rights when faced with a tenant eager to pull the wool over your eyes.
There are loads of places where tenants can get legal advice, such as the Citizens Advice Bureau and Shelter, but what about help for landlords?
Don't worry, we are coming to the rescue!
If you have a legal problem and you're stuck for answers, fear not, we have trawled the web in search of the best legal resources for beleaguered landlords. Some are free and others are behind a paywall. The best resource for you will probably depend on how serious and/or urgent your issue is.
Read on to find out more.
The National Landlords Association – shortly to be rebranded as the National Residential Landlords Association – is a good resource for landlords. To access legal support, you'll need to become a member, but members get access to the online library and a telephone advice line, among other things. The library includes links to Acts and Regulations, such as the Antisocial Behaviour Act 2003 and the Electrical Equipment (Safety) Regulations 1994 (SI no.3260) – perfect for a bit of light reading!
Landlord Law can help landlords and other property management professionals stay within the law. The site offers support, legal resources, and training opportunities for landlords. There are articles, videos, tips pages, documents and forms, legal cases, and more. It's great for new landlords who might be feeling overwhelmed with all the red tape.
To access the content on Landlord Law, you'll need to join. There are two membership tiers: basic and business. If you opt for the business membership, you can take advantage of a free 30-minutes advice call with the site's founder, Tessa Shepperson. Tessa also contributes a legal tip to Landlord Vision's free monthly newsletter!
Founded by Paul Shamplina, the man from Nightmare Tenants, Slum Landlords, Landlord Action is a well-respected landlord legal advice website. It helps landlords deal with all things housing law-related, including problem tenants, tenant debt, and squatters. The team includes experienced legal professionals with extensive knowledge of the property industry. The site offers general advice, but if you have a problem or need specialist advice, you can instruct their experts.
This government-funded website is useful for landlords who own leasehold properties or are considering buying one. It has sections on leasehold and park homes law and fire safety in leasehold properties. There are lots of advice guides and an FAQ page. You can also book a telephone appointment with a qualified legal expert or fill out an enquiry form if your problem is more complex.
The legal experts on lease-advice.org can't represent you in a court of law, but they can advise you of your legal rights and suggest where to find the most appropriate help. Help is available in several languages, including French, Italian, and Polish.
Property118 was formed in 2013 to take on the West Bromwich Mortgage Company after they illegally charged landlords too much mortgage interest and threatened to call in loans with only 30-days' notice. Property118 won their case and recovered more than £27million for landlords.
Today, it's been rebranded as The Landlords Union. The site is a very useful resource for landlords. It has a Legal Advice section that covers everything from beneficial ownership and deeds of assurance to evicting tenants and enforcing judgments.
The legal arm of consumer rights organisation Which? is a handy place to go if you have legal questions or problems. There is a section for landlords with advice on landlord responsibilities. If you need advice on a particular issue, you can call the legal team Monday to Friday, but you'll need to join for a monthly fee. However, you're free to cancel your membership at any time. Other handy resources include template letters.
If you need to research case law before you face off with a tenant in court, the Thomson Reuters Practical Law website is the place to go. There is a lot of useful information on here pertaining to residential tenancies, including the latest housing law updates.
More in-depth information available covers thorny topics like legal and transactional issues on the grant of an assured shorthold tenancy and an overview of different types of tenancy. Granted, this is not the site for anyone who wants a quick, fun read before breakfast, but if you have an interest in the law or would like a legal letter template, e.g. a lodger agreement, sign up for a 14-day free trial.
Landlord forums
The following sites all have active forums with sections for legal Q&As, where landlords can lurk or post (depending on your needs).
Landlord Law forum – you must be a member to post on the Landlord Law forum.
Property Tribes – Sign up to post a legal question
LandlordZONE – Sign up to post a question
Property 118 – Join in the discussion on the forum, where you can post or add comments to an existing discussion.
Moneysaving Expert – MSE has a huge and very popular forum. The House Buying, Renting, and Selling section is the best place to post if you have a legal question or problem. There will likely be a few experts who can assist.
Advice Lines
Sometimes, advice from a random person on a forum won't cut the mustard. If you need specialist advice for your exact situation and you can't find anything that fits on a general legal website, it is time to consult an expert.
Many landlord solicitors offer a free advice line or a free 30-minute consult. You'll receive some advice in the time allowed, which should be enough to help you decide whether it is worth pursuing the matter. Most solicitors will try and sign you up if they think you have a case, but it's better to talk to a few people before you decide.
You could take advantage of the free advice lines or book a consult, or you could join the NLA and utilise the independent legal advice line for paying members.
Insurance
If you have landlord insurance, be aware that most insurance policies come with legal cover. Check your policy booklet and find out what you're covered for. Often, these will come with a legal advice line as well, so make use of this when you have a problem. After all, you're paying for it!
Landlord Blogs
There are a ton of landlord blogs out there, but if you want some top-notch information on all things legal, visit the Landlord Law blog. We've already covered this site above, along with the membership options, but the good news is – the blog is free, and you'll find plenty of useful posts on there!
Nearly Legal is another useful legal blog for landlords and property professionals. Run by practicing solicitors and barristers, this blog covers everything from unlawful eviction and forfeiture to updates on statute law and landlord licencing. There is a ton of stuff in the blog archives if you have a few hours to kill.
Reddit
Reddit is a valuable resource for landlords. It's easy to get sucked into a bottomless rabbit hole of endless comment threads, but if you have a question, try posting on a relevant Reddit and see what advice you are given.
For general advice, check out r/uklandlord, but if you want legal concepts explaining or need more specialist advice, visit r/legaladviceUK. There are often posts from landlords on there.
Quora
Searching for enlightenment on Quora is a bit hit and miss, but if your query isn't time-critical or a life/death situation, it's worth posting a question on there. Some respondents will be clueless and/or well-meaning; others might be creepy or unpleasant. However, some experts like to get involved and earn kudos for answering in a coherent and authoritative manner.
Landlord Vision
Landlord Vision subscribers get access to a full suite of standard legal documents in the software. The documents are created by our partners Net Lawman. They're frequently checked and updated to ensure they are always accurate. If you've recorded all your tenant and property details in the software, these forms will also auto-fill with the information you've entered. What's more, you can also email forms from within the software and get them electronically signed. What's not to like about that?
We hope this roundup has proven useful, but if you do have a pressing legal issue to resolve, it's always best to speak to a qualified expert. There are free legal advice services available, as discussed above, but if they can't help you, look for a property lawyer with experience in landlord issues and always ask for a breakdown of their fees before you let them take on your case.
If you'd like to add your thoughts to the discussion or you think we may have missed something, contact us on Facebook or Twitter. We'd love to hear from you!
Read More Like This: